Buhari's Party Warns Pro-Biafrans Against Massive Lagos Protest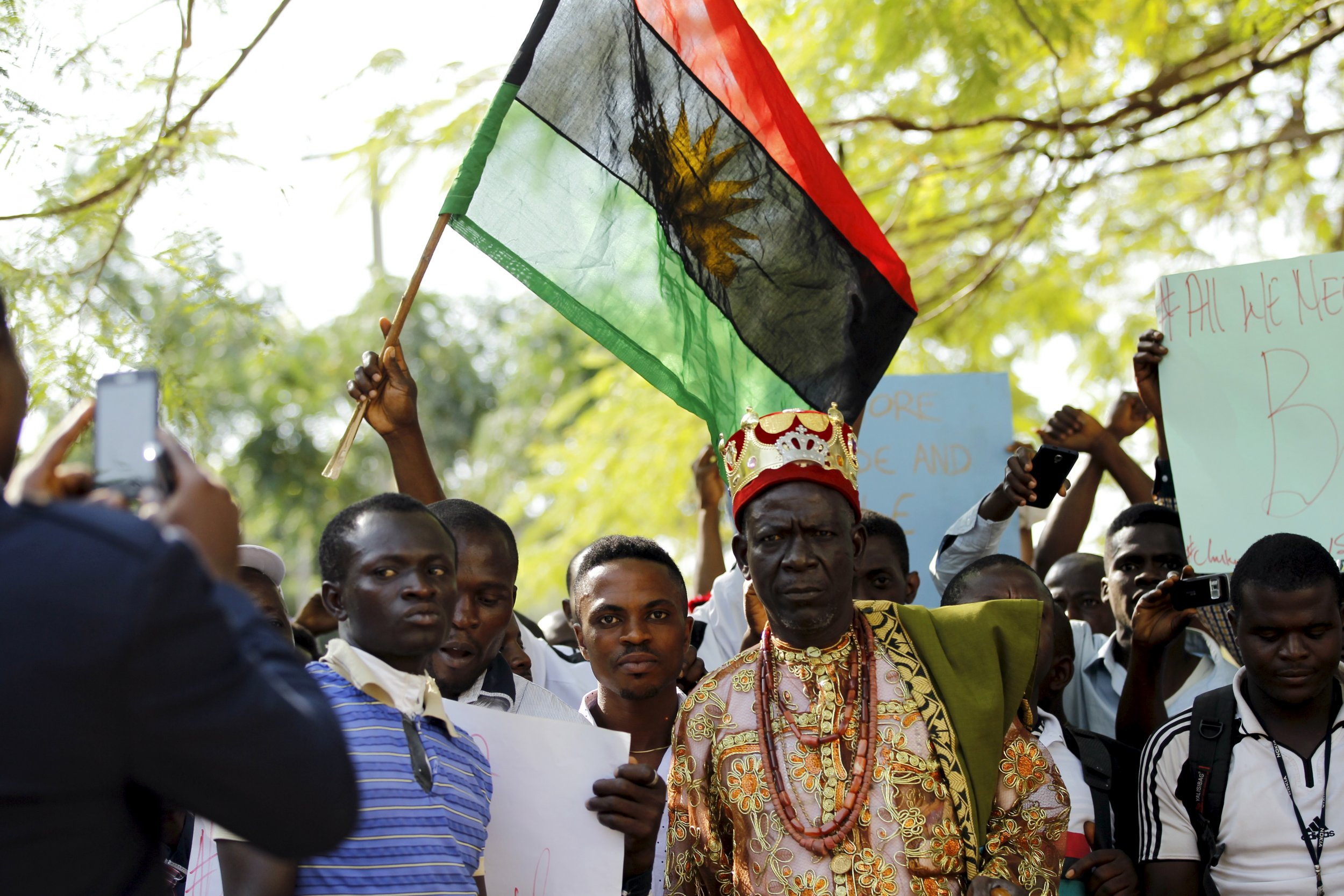 The Lagos branch of Muhammadu Buhari's party has said it will crack down on pro-Biafran protesters ahead of a mass demonstration planned for Nigeria's largest city, Vanguard reported.
Supporters of the pro-Biafran activist Nnamdi Kanu—who was arrested by Nigerian authorities in October—have been protesting across the country in recent months, demanding Kanu's release and calling for independence from Nigeria.
The Indigenous People of Biafra (IPOB), a prominent pro-Biafran group headed up by Kanu, is planning a massive demonstration in Lagos on December 16 and 17. The group announced the event on the Facebook page for Radio Biafra, an underground station that Kanu runs from London, and claimed that 20 million peaceful protesters were expected to march through the city. The protesters will move through several major markets in Lagos and visit a number of foreign embassies and high commissions, as well as the offices of humanitarian agencies, Vanguard reported.
But the government insists the protesters have ulterior motives. In a statement on Monday, the spokesman for the Lagos branch of Buhari's All Progressives Congress party, Joe Igbokwe, said it would be "derelict of us to watch a group of politically sponsored hoodlums" disrupt the state security system and the daily lives of Lagos residents.
"We cannot allow these hoodlums, sponsored by politicians that failed woefully in the last general election, to unleash mayhem on peace-loving Lagosians so as to achieve dark political aims that run parallel to the interests of Lagosians," said Igbokwe.
He also warned that anyone working at the markets and was involved with planning acts that could threaten state security would be scrutinized "to ensure bad eggs are forced out of such markets."
The increase in pro-Biafran protests and Kanu's continued detention pose a problem for Buhari, who has remained quiet on the issue apart from affirming the indivisibility of Nigeria. Lai Mohammed, Buhari's minister of information, recently commented that pro-Biafran protests were "completely legitimate," but there have been clashes between protesters and security forces. In a December 2 protest in Onitsha, Anambra state, in southeastern Nigeria, at least eight protesters and two policemen were killed in violence that broke out during the march, according to the International Crisis Group.
A region of southeast Nigeria was declared as the independent republic of Biafra by Nigerian military officer Odumegwu Ojukwu in 1967. The area was largely populated by members of the Igbo ethnic group, and the declaration led to the start of the Nigerian civil war. More than one million people died in the war, many from starvation as a result of a blockade of Biafra's borders by the Nigerian military.