Burger King Needs Help of Russian Authorities to Close Its 800 Restaurants
As hundreds of companies rush to suspend operations in Russia in response to the war in Ukraine, Burger King has become embroiled in a battle over its 800 restaurants in the country, saying it won't be able to shutter those locations without the help of Russian authorities.
On Thursday, David Shear, the president of parent company Restaurant Brands International's (RBI) international operations, explained in a statement that while Burger King would like to close its locations in Russia, RBI only has a 15 percent minority stake in the venture—meaning it would either need the cooperation of its international partners or for the Russian government to step in.
Shear said that RBI has contacted Alexander Kolobov, the main operator of their Russian restaurants, and have demanded he suspended all operations but said Kolobov has "refused to do so."
"Any current attempt to enforce our contract would ultimately require the support of Russian authorities on the ground and we know that will not practically happen anytime soon," Shear said.
Shear also stuck up for other companies that might be in the same boat and face backlash over decisions they may lack oversight on. "This is also why you may see other brands in Russia with similar structures continue to operate in the market," he said.
American companies that are still operating in Russia have come under widespread criticism in recent weeks. Many see the decision to continue business dealings in the country as indirect support of Russian President Vladimir Putin, especially as much of the world attempts to cut the country off from the global economy.
Ukrainian officials, like President Volodymyr Zelensky, have also urged U.S. corporations to pull out of Russia if they want to help the people of Ukraine.
"Would we like to suspend all Burger King operations immediately in Russia? Yes. Are we able to enforce a suspension of operations today? No," Shear said. "But we want to be transparent with our actions and explain the steps we have taken to stand with the international business community in response to Russia's attack on Ukraine and its people."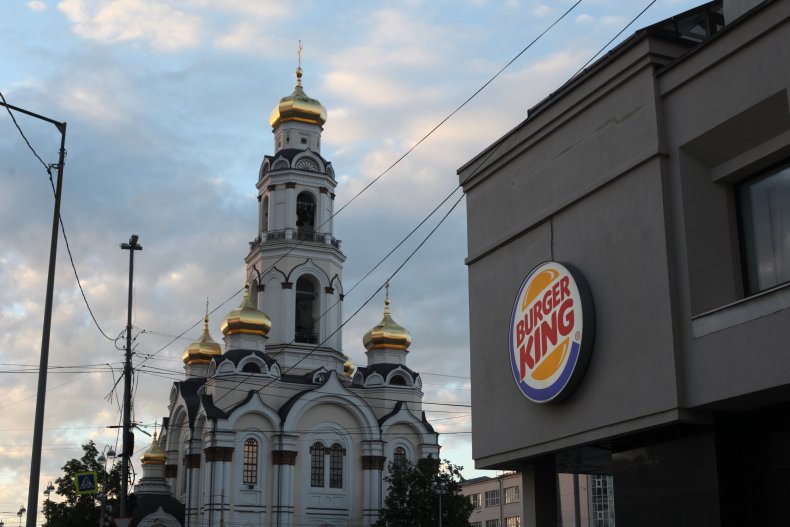 Burger King entered the Russian market 10 years ago through a joint venture with Kolobov, Investment Capital Ukraine and VTB Capital, a Russian bank that has been targeted by international sanctions. None of the partners have a majority share.
Comparably, McDonald's, which quickly exited the country last week, owns more than 80 percent of its restaurants in Russia.
While RBI has been unable to prevent its Burger King stores from continuing to serve the Russian public, the company has suspended all corporate operations and is blocking approvals for new investments and expansions.
RBI is also redirecting any profits it receives through its 15 percent ownership to the United Nations' refugee agency, on top of a $1 million donation already given as part of that commitment.
Even though RBI may be unable to completely withdraw from Russia due to the "complicated legal process," experts say their actions in supporting Ukraine may be enough to signify to their customers as to where they stand.
"What consumers would want to know is that the company was willing to absorb economic damage because they were taking a position," Cait Lamberton, a marketing professor at the Wharton School of the University of Pennsylvania, previously told Newsweek.