Burlesque, Hip-Hop and Other Alternative Nutcrackers to See This Year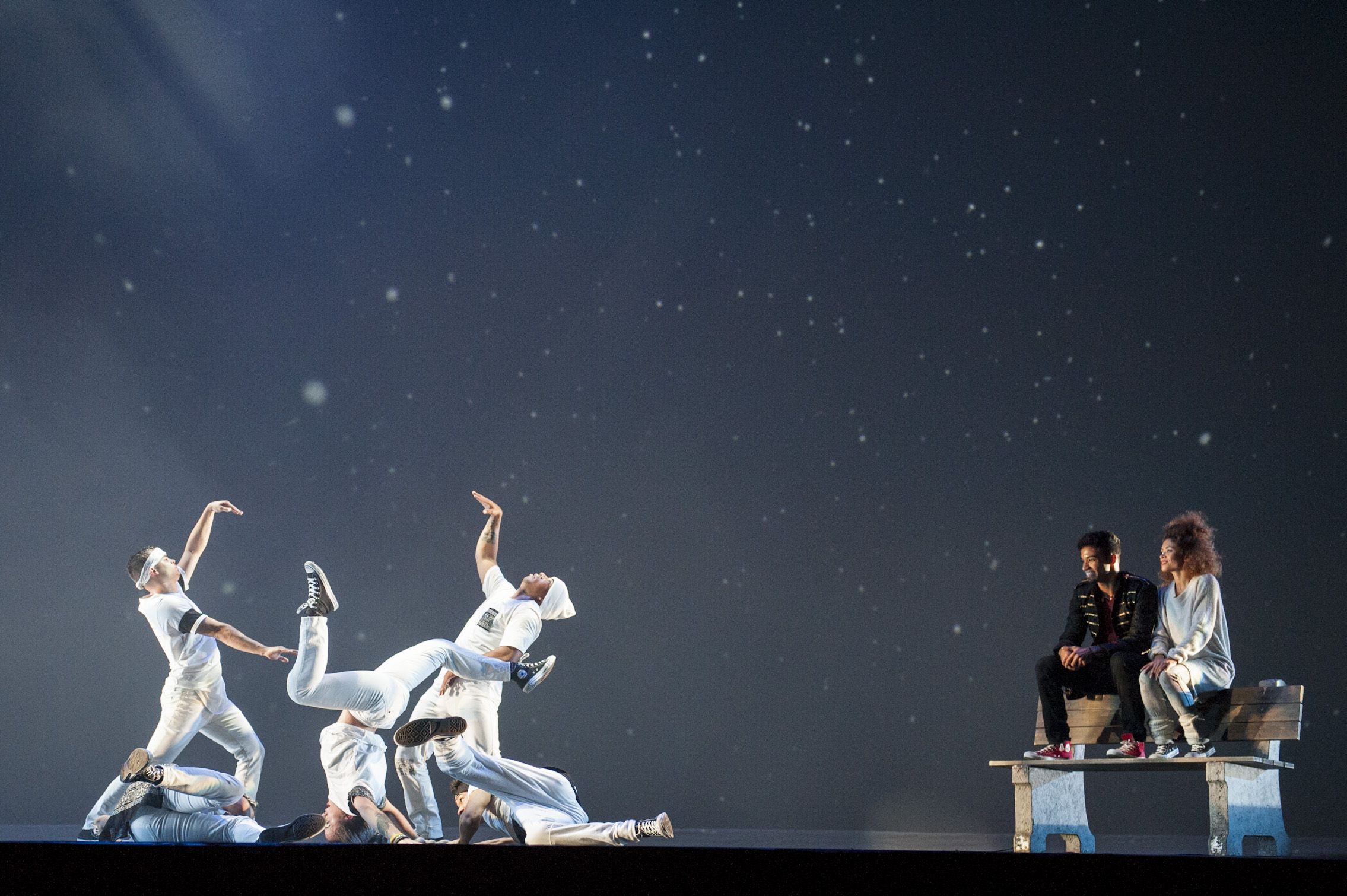 The The Nutcracker has a strange appeal. In a society that seems to ignore dance most of the year, except when someone like Misty Copeland crosses over into mainstream fame, audiences still show up every December to see Clara and her prince, the Rat King, the Snow Queen, the Sugar Plum Fairy and all the confectionary inhabitants of the Land of the Sweets.
Ask anybody in the country how many ballets they've attended and there's an overwhelming probability that their one and only experience was with The Nutcracker, whether at an amateur production by a local school (in which their sibling, child, cousin or friend was dancing) or one by a professional company nearby.
Related: A very nutty Nutcracker
The iconic music and characters are ingrained in our culture inside and outside the theater, as we're reminded time and again between Thanksgiving and New Year's, sometimes to a diabetic degree. The unmistakable twinkling score that accompanies the Sugar Plum Fairy's solo filters through speakers at stores and cafes and gets featured in commercials for brands like Baileys and Hyundai, while the Nutcracker character made a dramatic appearance several years ago in a Planters Peanuts commercial.
"Every Christmas, a world-weary dance critic once wrote, we are all 'one Nutcracker closer to death,'" starts Jennifer Fisher's 2003 book "Nutcracker" Nation: How an Old World Ballet Became a Christmas Tradition in the New World. She's quoting Richard Buckle and beginning to explain the love-hate relationship the dance world has with the ballet as well as its ritualistic inevitability and meaning in North America. "There are birthday parties, bar and bat mitzvahs, graduations, marriages, funerals, Christmas dinners...and, in North America at least, The Nutcracker, regular as clockwork, performed anywhere someone has ballet shoes, a Tchaikovsky CD and a dream. Sometimes the dream is just to survive financially, so traditionally powerful is the ballet's earning potential," Fisher writes. "But calling attention to the popularity and inevitability of The Nutcracker acknowledges the fact that it matters."
At the same time, the impulse to reinterpret and remix classics seems nearly as American as the Christmas-time obsession with The Nutcracker. We've seen Romeo & Juliet become West Side Story, Hamlet adapted as The Lion King and The Taming of the Shrew turned into 10 Things I Hate About You, and these are just a sampling of film reinterpretations in the Shakespeare category.
The Nutcracker, too, has spawned a steady stream of unorthodox and alternative versions that use dance and performance styles other than ballet or otherwise reimagine the classic.
Here's one traditional and several alternative Nutcrackers to consider seeing this holiday season. Though it's a somewhat New York-centric list, don't forget the productions put on by the country's major ballet companies, including American Ballet Theatre, San Francisco Ballet, the Pacific Northwest Ballet, Houston Ballet, Boston Ballet and Ballet West. Even though these big productions stick to ballet, each one has its own personality and twist. The Joffrey Ballet's brand new production, for example, choreographed by Christopher Wheeldon, whisks viewers to the 1893 World's Fair in Chicago.
George Balanchine's The Nutcracker
When: November 25-December 31
Where: David H. Koch Theater, 20 Lincoln Center Plaza, New York City
This one's a classic, and an enchanting one. As immortalized in its name, it was created by George Balanchine, arguably the most influential ballet choreographer in 20th-century American dance history. It premiered in 1954 and is performed by New York City Ballet dozens of times each year. Alastair Macaulay—the chief dance critic for The New York Times, who in 2010 traveled the country watching various productions for his Nutcracker Chronicles project—wrote in this year's review that "the real marvel remains the Balanchine production itself. The snow alone is exemplary, building up into an astonishing storm above the dancing then relaxing into a calmer downpour." Even adults will be captivated by the stunning snow scene, a quintessential example of The Nutcracker's power to inspire awe and nostalgia.
The Hip Hop Nutcracker
When: November 17-December 30
Where: Tours to various cities (see schedule here)
Set in modern-day New York City, this production uses but shakes up Tchaikovsky's score (there's a deejay and an electric violinist) and trades ballet for hip hop and break dancing. This year's 23-city tour includes stops in New York City; Hartford, Connecticut; Detroit; Wichita, Kansas; St. Louis; and Charlotte, North Carolina.
Nutcracker Rouge!
When: November 21-January 7
Where: The Irondale Theatre, 85 South Oxford Street, Brooklyn, N.Y.
In this alternate universe, The Nutcracker is performed in burlesque rather than ballet, and incorporates opera and circus. It should go without saying that this one's not for the kids. In addition to standard elements like Tchaikovsky's iconic score and a dance for the Sugar Plum Fairy, Nutcracker Rouge includes glitter pasties, stripper poles and "comically large stuffed penises," as David Cote wrote in a review for Time Out.
The Newport Nutcracker at Rosecliff Mansion
When: November 25-December 2
Where: 548 Bellevue Avenue, Newport, Rhode Island
The Newport Nutcracker doesn't so much reinvent the tale as redistribute it around various rooms of the Rosecliff Mansion, a la Sleep No More. "I am used to seeing The Nutcracker at Covent Garden, the Paris Opera and New York City Ballet. It was easy to imagine in advance that this Nutcracker would be crummy. Not so," wrote Macaulay in his Nutcracker Chronicles. "Even to this Nutcracker snob, the Rosecliff version provided a full experience."
The Slutcracker
When: December 2-31
Where: Somerville Theatre, 55 Davis Square, Somerville, Massachusetts.
If you couldn't tell by the title, here's another Nutcracker kids shouldn't see. As Jess Bean described in Post Somerville in 2010: "Show creator, director, choreographer and dancer Vanessa White… trained formally in ballet before finding her true calling in burlesque. She creates a magical mash-up of the two genres as tattooed male and female dancers strip down to pasties and thongs to the tune of Tchaikovsky." This parody, as it calls itself, also includes belly dancers, pole dancers, hula hoopers, dildos, pasties and a "Kingdom of Sexual Fantasy."
Nut/Cracked
When: December 3-18
Where: Various locations (see schedule here)
"The Bang Group has taken every little girl's favorite Christmas show and torn it limb from limb," reads the company's description of their eccentric take on the holiday classic, which mixes Tchaikovsky's score with music by Duke Ellington, Glen Miller and others. "The company turns the sugar coated ballet into a percussive piece of dance theatre," it promises. There's tap dancing and singing and while there are pointe shoes, they're not employed in the traditional manner.
The Brooklyn Nutcracker
When: December 7-11
Where: Brooklyn Museum, 200 Eastern Parkway, Brooklyn, New York
This year marks the premiere of Brooklyn Ballet's full-length production, though it has performed excerpts-in-progress in previous years. "Starting from the point of view of old Dutch Brooklyn and leading to our iconic Flatbush Avenue," the company describes its production as "a Christmastime love letter to the borough we call home." There will be ballet dancers in motion-sensor tutus, a street dancer playing Drosselmeyer, a hoop dancer and guest stars from Dance Theatre of Harlem.
The Yorkville Nutcracker
When: December 8-11
Where: The Kaye Playhouse at Hunter College, 695 Park Avenue, New York City
Set in New York City in 1895, this relatively traditional Nutcracker features iconic landmarks like Gracie Mansion, the Crystal Palace at the New York Botanical Gardens and the Central Park skating pond. It's "the most Gotham-centric and educational of the city's Nutcrackers," writes Rebecca Milzoff in New York magazine. Abi Stafford and Adrian Danchig-Waring, both principal dancers with New York City Ballet, guest star in this year's production.
Land Of The Sweets: The Burlesque Nutcracker
When: December 9-29
Where: The Triple Door, 216 Union Street, Seattle
It's a burlesque Nutcracker for the Pacific Northwest performed to big-band versions of "The Nutcracker Suite." A reviewer for Seattle PI called Land of the Sweets "a rollicking, frolicking, unabashed and uninhibited celebration of the season. The show is immensely entertaining." But, he warned: "If you are straight-laced and uptight, this might not be your cup of tea. You should stay home if you are easily offended by, or afraid of, nudity. If you are intolerant, close-minded, or just plain old-fashioned, then Land of the Sweets is going to completely freak you out."
Philly Nutt Crak-Up
When: December 10-18
Where: Painted Bride Art Center, 230 Vine Street, Philadelphia
There's a lot going on in this Nutcracker "spoof," as it calls itself, combining ballet with modern dance, jazz, hip hop, and comedy. This Philadelphia production by ContempraDANCE Theatre celebrates its hometown with references to places, personalities, foods and skylines associated with the city. There's a Captain Philadelphia and a Liberty Belle-Anne as well as Hip Hoppin Rats, City Hall Dolls and South Street Rocky-Ettes at the Kingdom of Prussia.
The Hard Nut
When: December 10-18
Where: BAM Howard Gilman Opera House, Peter Jay Sharp Building, 30 Lafayette Avenue, Brooklyn, N.Y.
Renowned modern dance choreographer Mark Morris's take on The Nutcracker, which premiered in 1991, is set in mid-20th century American suburbia and features party dances like the polka and the hokey-pokey, dancing G.I. Joes and barefoot snowflakes in "bikini tutus," as Macaulay wrote in the Times last year. The snow scene, "with its rhythmical sprays of stardust and its gender-blind casting of the corps," wrote Octavio Roca in the San Francisco Chronicle in 1996, "is also a sublime marriage of wit, music and movement. Morris' is the most exhilarating version of this moment since Balanchine's." Reviewing the production's west coast premiere two decades ago, Roca said "the Nutcracker will never be the same. Then again, it may just be more of everything that is wonderful about this happiest of ballets."
Read more from Newsweek.com:
- Movie night: Popcorn, soda and a major American dance company
- Pennsylvania Ballet reacts to comment from a Philadelphia Eagles fan
- A mouse king, a boy prince—and a cash cow
- Misty Copeland's historic rise to principal