A school bus driver may face jail time after she was accused of swabbing kids' cheeks for a COVID-19 test, in exchange for money.
On Tuesday, Charlotte, North Carolina's WSOC-TV reported that the Charlotte-Mecklenburg Schools Police Department issued an arrest warrant for a bus driver, who was identified as Raina McManus, 35. According to the report, the arrest warrant accused McManus of telling students on her bus that she would pay them money to swab their cheeks for a COVID-19 test.
McManus was arrested later on Tuesday and charged with soliciting without permission of a school official during school hours and privately using a publicly owned vehicle, WSOC-TV reported. Under North Carolina's criminal code, if McManus is convicted of soliciting during school hours without permission from a school official - a Class 2 misdemeanor - she could face up to 60 days in prison.
McManus' arrest on Tuesday comes a few weeks after several family members in the Charlotte-Mecklenburg School District told WSOC-TV that their children were offered money from a bus driver to swab their cheeks.
On March 8, Mone Davis, the mother of Dynasty Davis, a sixth-grader at Ridge Road Middle School told WSOC-TV that her daughter came home and said "Mom, my bus driver gave me $5 for swabbing my cheeks."
"She gave me the Q-tip thing ... and made me swab my mouth, and when I was done, I put it in the cylinder and gave it to her. Then she gave me $5," Dynasty Davis told WSOC-TV.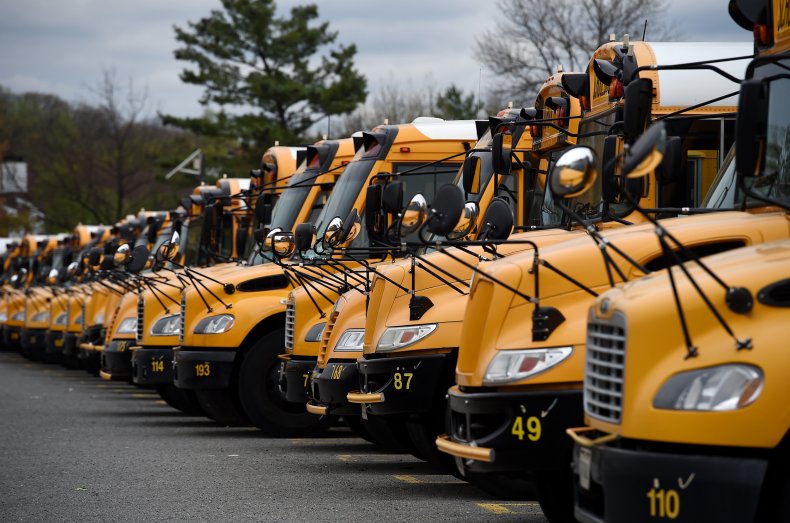 According to WSOC-TV, several other parents spoke to the news outlet and told similar stories, accusing the bus driver of paying their children $5 in exchange for the cheek swab.
Erika Sosa, another parent in the school district, told the local news outlet that a few days after the incident, the school called and informed parents that "there was an incident on the bus and they weren't really releasing information."
Sosa told WSOC-TV that her child informed her that there were two other adults on the bus "when they were giving away the $5 for these tests."
"They didn't know who they were," Sosa told WSOC-TV.
In a statement sent to Newsweek, the Charlotte-Mecklenburg County District Attorney's office confirmed that charges have been filed against McManus.
"Criminal charges have been filed against Raina McManus. CMS police presented evidence to the District Attorney's Office concerning an incident that occurred on a CMS school bus on February 15, 2022, and upon review of the investigation, the District Attorney's Office approved the filing of criminal charges pursuant to the office's responsibilities under N.C. General Statute 15A-301(b1)," the statement said. "As this is a pending criminal matter, ethical obligations prohibit the DA's Office from commenting further at this time."
A spokesperson for the Charlotte-Mecklenburg School District told Newsweek that McManus had been terminated from her post on March 22.