Bus Driver Allegedly Kidnapped Middle Schooler, Declared Love: Police
A Louisiana bus driver has turned himself in after allegedly keeping a student on his bus and professing that he loved her.
Christopher Taplin, 33, was supposed to drop the 13-year-old off on Monday morning at her middle school in Brusly, Louisiana. The bus driver let other students off but kept the girl on board alone.
The Brusly Police Department said that Taplin held the student on board for about 10 minutes, according to local news stations. He spent this time allegedly professing his love for the girl and "pouring his heart out to her," making inappropriate comments before he allowed her to leave, said police.
The driver also allegedly left a voicemail with the girl's family, declaring that he loved her and had been watching her since she began attending middle school.
After police asked for the public's help locating Taplin, officers announced that the suspect turned himself in on Tuesday night. He has been charged with kidnapping, false imprisonment and stalking of a juvenile.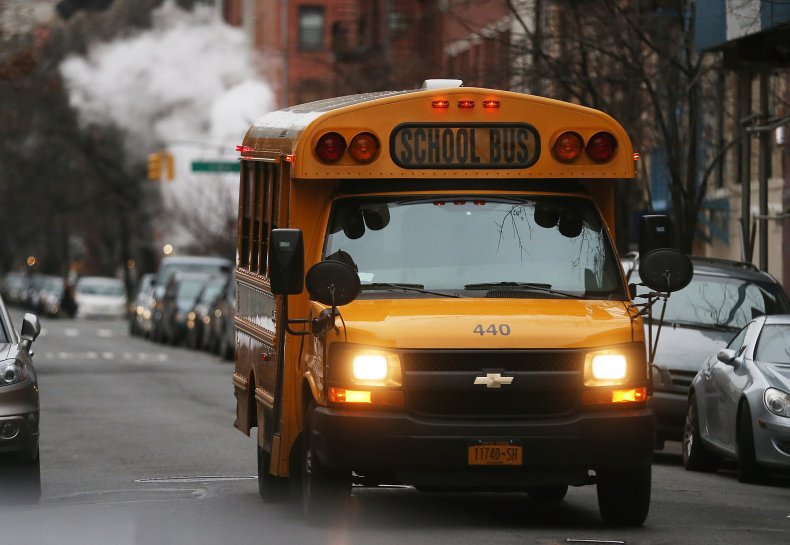 Although Taplin operated a bus for the West Baton Rouge School System, he was employed by DS Bus South. The bus service told Newsweek that it was notified of the allegations by the student's parents.
"The DS Bus South Safety Team immediately began an investigation," said a spokesperson. "The initial findings of that investigation have resulted in the termination of the school bus driver's employment with DS Bus South."
Local parents expressed shock at the police's announcement of Taplin's charges on Facebook.
"I wouldn't have thought this! He was the sweetest, but guess you really never know someone," commented Kayla Edwards Guidry, a local mom. "He came [and] watched our oldest daughter play basketball and all...makes you think now."
Mom Cierra Morales agreed, writing, "So crazy. My kids loved him. Never know someone."
School districts across the country have struggled with an ongoing shortage of bus drivers. The COVID-19 pandemic drove an exodus of drivers from the industry, as many retired or sought higher-wage jobs with less in-person, contagion-spreading interaction.
Several districts have offered incentives to attract bus drivers. In Georgia, the Hall County School District raised their hourly wage to nearly the same amount earned by teachers. In Massachusetts, members of the National Guard have been trained as bus drivers to alleviate staffing shortages.
Earlier this year, the Department of Transportation and Department of Education even temporarily waived certain requirements for driving candidates. The federal waiver has allowed states to hire less knowledgeable bus drivers.
Newsweek reached out to the Brusly Police Department and Brusly Middle School for comment.