Bus Passenger Who Broke Up Fight Charged With Murder After Man Later Dies
What started as an attempt to keep the peace turned tragic as a man is now charged with murder after helping break up a fight on a bus.
Edward Hilbert, 55, intervened in a fight on a San Diego city bus on Saturday, restraining a 28-year-old man for several minutes after he had gotten into a fight with a woman. During this time, the younger man lost consciousness and went into medical distress, police told ABC 10 San Diego, and was unresponsive when law enforcement responded to the scene.
First responders attempted to perform CPR while the man was lying on the bus floor, but he did not wake up and was eventually taken to a nearby hospital by paramedics. The fight initially began at around 8 p.m. local time, and the 28-year-old was pronounced dead at the hospital by 9:23 p.m.
"Officers from Central Division located the bus just north of F Street on 14th Street and found an unresponsive male lying on the floor of the bus," San Diego Police Lt. Steve Shebloski confirmed to CBS 8 News. "Officers called for medics and performed life-saving measures until paramedics arrived."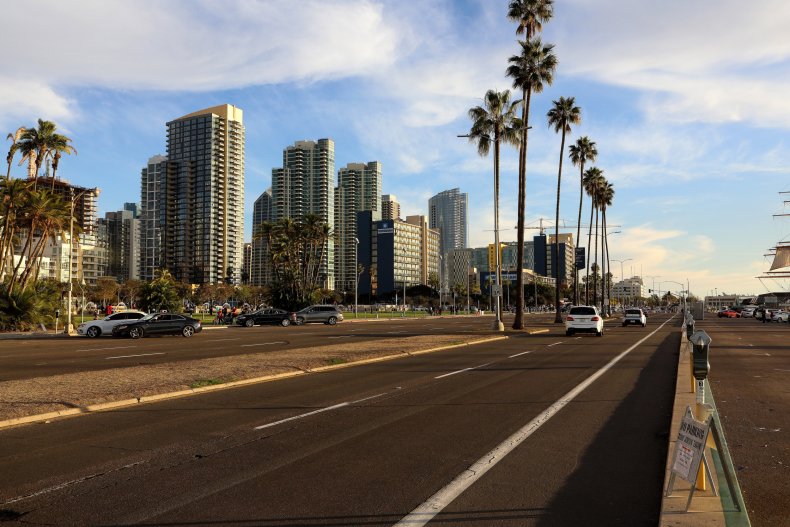 As a result of this incident, Hilbert was arrested Sunday on suspicion of murder and booked at the San Diego County Jail, according to a local CBS affiliate. He is scheduled to be arraigned in court on Wednesday.
The 28-year-old has been identified by authorities, but information about him has not been publicly disclosed, pending the notification of his family.
Members of the public with information relevant to this case are being asked to call the San Diego Police homicide unit at 619-531-2293 or Crime Stoppers at 888-580-8477.
Newsweek reached out to the San Diego Police Department for comment on this story.
Hilbert's case is not the only story of accidental deaths out of San Diego in recent years. Last month, police responded to the scene of a grim accident at an automated car wash in which a man died after exiting his vehicle during the wash cycle. The 56-year-old became pinned between his hatchback and the car wash's machinery, and it remains unknown why he got out of the vehicle in the first place.
Another strange and tragic incident in the city occurred in April 2021 near Basic Bar & Pizza. A woman, Taylor Kahle, was leaving the restaurant with a date when a suicidal man jumped from a high place and landed on her, according to the San Diego Reader, killing her in the process.