Bush Speechwriter Accuses Trump Jr. of Portraying Jesus' Teachings as 'Manual for Suckers'
A former speechwriter for George W. Bush slammed Donald Trump Jr. for saying Biblical teachings have "gotten us nothing" during a speech to young conservatives.
While speaking at a Turning Point USA conference in Arizona on December 19, Trump touched on the issue of cancel culture, arguing that Republicans have been playing "T-ball" while Democrats played "hardball."
"We've turned the other cheek and I understand sort of the biblical reference, I understand the mentality. But it's gotten us nothing. OK? It's gotten us nothing while we've ceded ground in every major institution," he said.
In an opinion piece for The Atlantic published Sunday, Peter Wehner—who served in the administrations of former Presidents Ronald Reagan, George H. W. Bush and George W. Bush—slammed Trump for the remarks. He wrote that Trump's message was "the scriptures are essentially a manual for suckers. The teachings of Jesus have 'gotten us nothing.'"
"It's worse than that, really; the ethic of Jesus has gotten in the way of successfully prosecuting the culture wars against the left," Wehner wrote.
He went on to criticize both Trump and his father—former President Donald Trump—for embracing a style of politics he called the "Trumpian ethic."
"He believes, as his father does, that politics should be practiced ruthlessly, mercilessly, and vengefully," Wehner wrote. "The ends justify the means. Norms and guardrails need to be smashed. Morality and lawfulness must always be subordinated to the pursuit of power and self-interest."
He continued, "the problem is that the Trumpian ethic hasn't been confined to the Trump family," as many other Republicans have embraced his style of politics while ostracizing those who do not.
"When Liz Cheney is more despised in the party than the crazed Marjorie Taylor Greene, Paul Gosar, Lauren Boebert, Jim Jordan, Madison Cawthorn, or Donald Trump Jr., you know that the GOP has lost its moral bearings," Wehner said.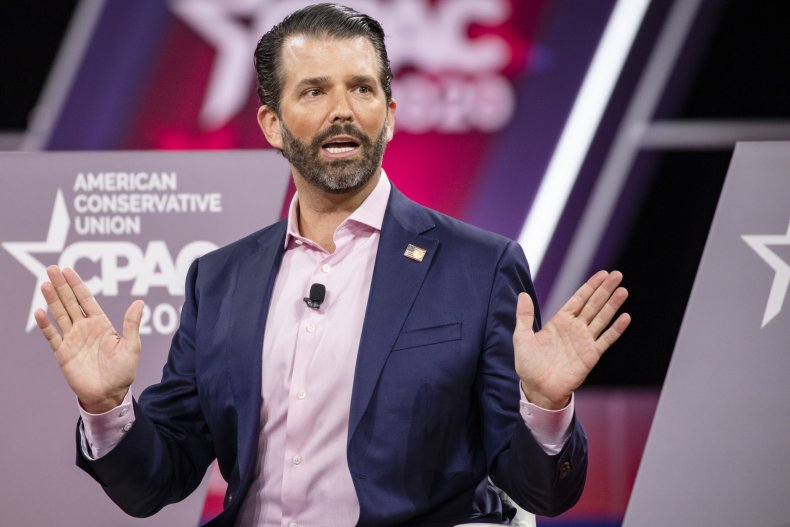 Wehner has emerged as a leading Trump critic in the Republican Party. In 2019, he criticized evangelical Christians for their support of the former president.
"I think it's been tremendously discrediting to the Christian faith," Wehner said on CNN. "I think it's shown to a watching world a tremendous amount of hypocrisy."
While appearing on the news network in 2018, he called Trump "a person who's narcissistic and has no moral center, no moral core."
"Everything in his life seems to be geared around advancing his interests, protecting him, meeting his own appetites in all sorts of different ways," Wehner said.