Busta Rhymes Throws Drink at Woman on Video, Sparking Huge Debate
Rapper Busta Rhymes has gone viral over a moment where he threw a drink over a fan who tried to grab him.
The "Break Ya Neck" rapper, 50, was walking through a crowd surrounded by his entourage. There were many people eager to get his attention, especially one woman who launched forward to grab his behind.
An enraged Rhymes turned around and launched his drink—reportedly a cup of water—at the woman, and continued to stare angrily at her while his security went to check on her.
Newsweek has reached out to Rhymes' team for comment.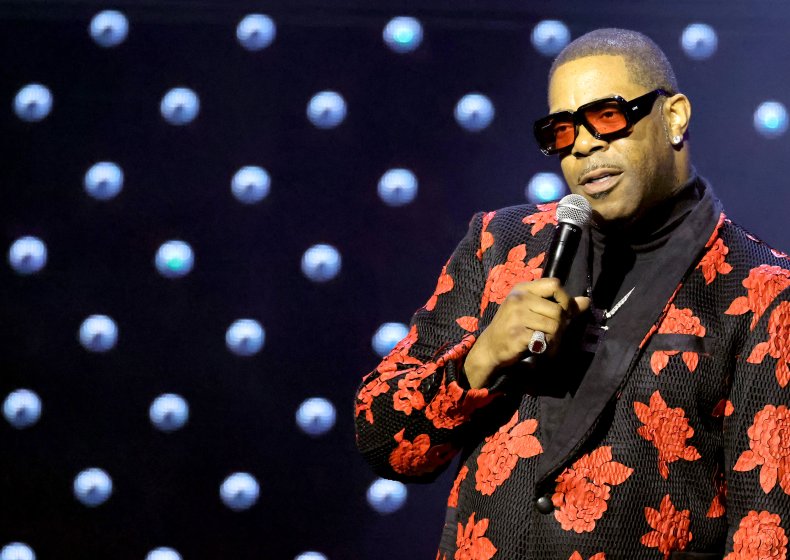 The nine-second video posted to Twitter by DJ Kam Bennett quickly went viral, racking up more than 4 million views at the time of writing.
"Busta was not feeling that 😭😭😭 had to throw the drink on her.. I don't blame him," Bennett captioned the Twitter post.
Many people in the replies agreed with Bennett, but others said the hip-hopper was wrong to react that way.
"I understand but he didn't have to throw a drinker on her. She is just a fan that went too far but he should be [used] to it after all these yrs. Disrespecting a blk woman not cool," commented one person.
Another rebutted: "First of all, her skin color don't matter secondly, she disrespected him and his body. touched him / his ass and giggles. If busta was a woman, it would be considered sexual harassment. Karma was served. She should know better! It's just water, chill out."
A third added: "Was throwing a drink necessary?"
And a fourth wrote: "So was he suppose to take it and not retaliate."
The woman who grabbed Rhymes, Nikita Mathis, spoke out after the incident saying she did not act appropriately toward the star.
"I didn't mean to touch his behind honestly, I was just happy to meet him and wanted a pic been a long-time fan I admit I shouldn't have touch him at all but he's BUSTA. I felt like I could possibly get a pic..." Mathis told the news website, The Shade Room.
The viral moment comes just days after Rhymes stole the show at the Grammys on Sunday, February 5, in Los Angeles.
He performed "Put Your Hands Where My Eyes Could See" alongside Spliff Star in celebration of 50 years of hip-hop.
Some of the other performers in the medley included Missy Elliott, Run-DMC, Salt-N-Pepa, LL Cool J, and Queen Latifah.
While Rhymes divided the internet over throwing the drink at Mathis, he is no stranger to courting controversy.
During a live show in 2021, Rhymes spoke about "little weird-a** government policies" during the COVID-19 pandemic.
"This is my second show in front of human life in the last 15 f****** months," he said at the Seoul Taco's 10th-anniversary block party in Missouri back in June that year.
"COVID can suck a d***. All these little weird-a** government policies and mandates [can] suck a d***," he said in the tirade which was posted by someone at the show to Twitter.
He claimed that the government was trying to "take our civil liberties away" and also masks stopped him from being able to flirt.
"It's called the God-given right of freedom, right?" he continued. "No human being is supposed to tell you that you can't even breathe freely. F*** your mask. ... Some of y'all might feel differently, but f*** your mask.
"I can't rhyme to you with a mask on. We can't eat food with a f***** mask on. We can't even see each other's smiles with a mask on."
He added: "I come from a time where before I used to even want to holler at a chick.
"I used to have to do s*** with my face to let her know that I'm into her. But all of that energy gets blocked when your mask is on. Energy is important, and we are all conductors of f****** good energy."