Pete Buttigieg Faces Backlash After Speech At Tea Party Event Resurfaces Online: 'He's Done. Absolutely Done'
Democratic presidential candidate Pete Buttigieg faced some strong criticism online after a 2010 video of him speaking at an Indiana state Tea Party event resurfaced this week, with critics of the South Bend mayor accusing him of "sidling up to racists" and saying he's "absolutely done."
In his remarks to the group, which came during his unsuccessful 2010 run for Indiana state treasurer, Buttigieg discussed how he understood the economic concerns of the Tea Party voters and candidates.
"There are some, especially in my party, who think that the Tea Party is a wholly owned subsidiary of the Republican Party," Buttigieg said at the time. "But there are many others who believe that the Tea Party is motivated by real concerns about the direction of our government and the responsiveness of our government to citizens—and above all, a frustration with business as usual. That is what motivated me to run," he continued. "And so, while we may come from often very different perspectives, I believe we might have a lot in common on that front."
Responding to the resurfaced clip, Jodi Jacobson, an editor and analyst, called the clip "unreal."
"@PeteButtigieg literally sidling up to racist Tea Partiers. And he's got it wrong: @GOP is a wholly owned subsidiary of the Tea Party," she tweeted.
Chris D. Jackson, Tennessee County commissioner who has endorsed Democratic presidential candidate Joe Biden, criticized Buttigieg's remarks as well.
"But did you know that just a few years ago @PeteButtigieg spoke at Tea Party event and praised them for their concerns about the "direction" of the country?" Jackson tweeted. "Just a reminder, @BarackObama was president then."
"He's done. Absolutely done," Mike Freeman, a columnist and author, posted to Twitter. "Not a single Dem of color gonna vote for a dude who backed the goddamn Tea Party."
Sean Savett, Buttigieg's campaign's rapid response communications director, pointed out to Newsweek that Buttigieg made clear in his remarks that "he 'comes from a very different perspective' and doesn't share anything close to the view of the Tea Party." The campaign representative explained that Buttigieg attended the event at the time because his Republican opponent, who eventually won the race, refused to debate him. Savett also said the remarks were similar to comments made by former President Barack Obama around the same time.
"I think there are a lot of people who are involved in the Tea Party who have very real and sincere concerns about spending that's out of control or generally philosophically believe that the government should be less involved in certain aspects of American life rather than more involved," Obama said in October of 2010. "And they have every right and obligation as citizens to be involved and engaged in this process."
Notably, Biden, who served as Obama's vice president, spoke positively about the concerns of the Tea Party as well. "Lots of people out there are frightened and scared, people have lost jobs, they're not sure if they're going to keep their homes," Biden said in remarks about the Tea Party in April of 2010.
The Tea Party rose to prominence in the early 2000s, with Republican candidates touting a "fiscally conservative" agenda winning national elections. Beyond economic concerns, many of these candidates were also staunch social conservatives, with some promoting the racist "Birther Conspiracy" that Obama was not actually born as a U.S. citizen. They received significant funding and support from the billionaire brothers, David Koch and Charles Koch, who pushed for deregulating the economy along with tax cuts that would largely benefit the wealthy as well as corporations.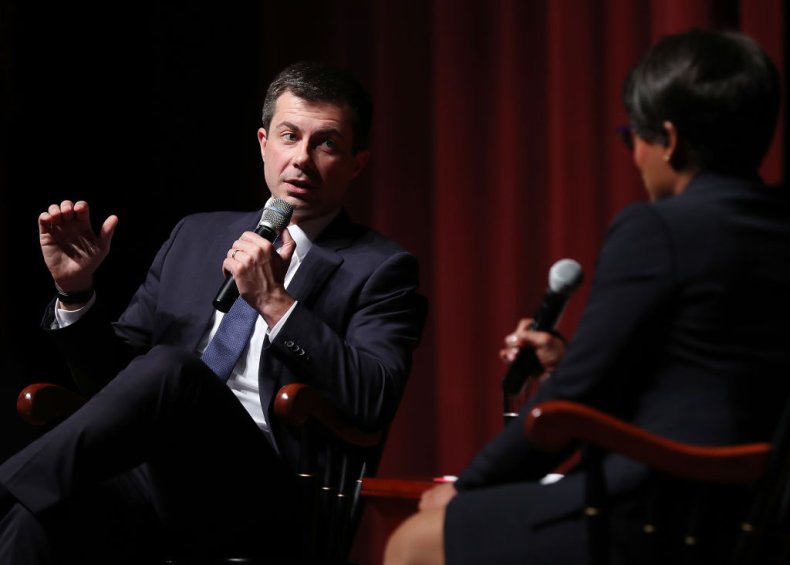 Nationally, Buttigieg is currently in fourth place among Democratic presidential candidates with 8.3 percent support, according to an aggregate of polls by Real Clear Politics. However, surveys of Iowa caucus goers released this month show the South Bend mayor has surged, and appears to be leading the pack of frontrunners in the early primary state, according to polls by Des Moines Register/CNN/Mediacom and Monmouth University. Several national polls of a projected match-ups between Buttigieg and Donald Trump show the candidate leading against the president by a significant margin as well.
At the same time, the candidate has struggled to gain support from black Democratic voters, which is seen as a key demographic to secure the party's nomination and a presidential victory in 2020.