You Can Now Buy a Florida House Which Has Its Own Ghost Called Fred
Househunters can now buy a sprawling home in Florida that comes with its own ghost named Fred.
The six-bedroom house in West Gadsden Street, Pensacola, was built in 1900 and retains numerous original features, including ornate fireplaces and gas light connectors.
It seems a former owner—Thomas Finch, who died from the flu in 1908—also comes with the property.
The home, known as the Finch House, is on the market for $750,000, listed by Re/Max.
Describing the unusual interior—and guest—the listing says: "The Finch house has been recorded at the Library of Congress and you can become a part of history! This property has also been featured on the Pensacola Ghost Tours that occur around Halloween each year - but who believes in ghosts?!?!?!"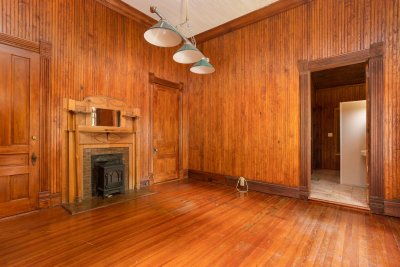 It continues: "There are a lot of stories and history behind it and they are quite interesting."
The home's current owner, Gene Church, has shared his family's experience of living in a haunted house.
He told Newsweek: "One of my sons, who appears more sensitive to the supernatural, claimed one evening to have seen two shadowy forms on the porch. The experiences with Fred have led people to refer to him as a friendly ghost."
He also spoke to website Realtor, revealing that his wife, Jeaniene, with whom he bought the house in 2012, had once heard screaming.
Church continued: "In another instance, my mother-in-law was staying in our home when we were gone, and she called to say that all of the cabinet doors in the kitchen swung open and shut. We said, 'It's probably just a draft or something,' and she said, 'No, the doors are all closed, and all of the cabinets swung open and shut.'"
Magazine Vie wrote an article on the Pensacola ghost tours, and included Fred in their round-up.
Referring to Tamara Roberts, who runs tours in the neighborhood, they said: "One of Tamara's favorites is Fred, which is the name that a young family, who moved into 14 West Gadsen Street in the 1970s, gave to their unknown entity.
"Most likely, 'Fred' was former homeowner Thomas Finch, who died in 1908 during a flu epidemic. As time passed, Fred became an endearing member of the family, which may explain why he did something shocking when a visiting aunt had long worn out her welcome.
"The couple suspects that Fred overheard them discussing the irritating situation because that night the auntie awoke to a heavy, angry presence pinning her down to the bed. Her hellish ordeal lasted until dawn, after which she immediately packed up and fled."
The 5,960-square-foot property also has four bathrooms, and the entire top floor of the three-story house has been converted into a three-bedroom apartment with its own kitchen.
Other original features include the wrap-around porch, balcony and "widow's peak" at the front of the house.
Update 6/30/21, 10:15 a.m. ET: This article was updated with comment from Church and photos of the property.