Bystander Claims Amber Heard Lawyer Elaine Bredehoft Left Trial Crying
Amber Heard's attorney, Elaine Bredehoft, broke down in tears as the final day of her client's high profile trial came to an end, a bystander has claimed.
On Friday, Heard's legal team delivered closing arguments, as did attorneys for her ex-husband Johnny Depp, who filed a $50 million lawsuit against the Aquaman star over a 2018 op-ed for The Washington Post, in which she said she was a domestic abuse survivor.
While Depp was not named in the article, his lawyers have argued that it was obvious she was referring to the actor. Heard has countersued for $100 million.
During televised proceedings at Virginia's Fairfax County Circuit Court, the former couple directed a slew of allegations at one another, with a number of claims centering around domestic abuse. Both have denied one another's allegations of violence.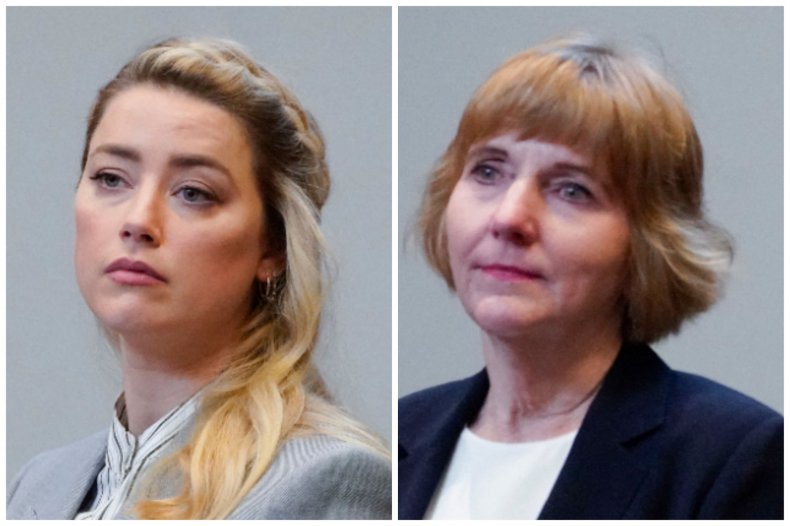 The final day of the trial saw lawyers for both sides drive home their points on why the jury should rule in favor of their respective clients, following six weeks of testimony from the stars themselves and a packed roster of witnesses.
A man using the Twitter handle @jamesfromcourt, who has been in and around the court during proceedings, took to Twitter several hours after the jury started their first day of deliberation to reveal that he saw Bredehoft in tears.
Responding to a tweet from somebody who said that the lawyer "looks like this trial has broken her," @jamesfromcourt wrote: "Late after trial, before the jury went home, #ElaineBredehoft left for the bathroom crying. We all felt terrible for her. After she came out, we tried to make her smile. I hope it helped."
In a follow-up tweet, @jamesfromcourt said that while he was unaware why Bredehoft was purportedly in tears, he and those he was with at the time "noted how it must be hard for her to deal with all of this public attention."
The tweet sparked an outpouring of support from Depp fans who stated that Bredehoft was simply doing a job she was hired to do.
After the tweet went viral and sparked debate, @jamesfromcourt made an appearance on Andy Signore's YouTube show, Popcorned Planet, to further discuss his claims about seeing Bredehoft in tears at court.
"It was around 5 o'clock, right before the jury decided they were going to go home for the day," he told his interviewer about the alleged incident. "Everyone had pretty much left, but there were a few people hanging around, just in case they had [reached] a verdict."
He went on: "Three of us were standing outside the bathroom when we saw her basically kind of not run, but go into the bathroom very quickly crying. And then one of them was going to go in after her, but another woman entered the bathroom, too."
According to @jamesfromcourt, when Bredehoft departed the restroom, "she had, like, a red nose. Maybe she had been blowing her nose or something. She seemed a little bit better, but... we noticed.
"It was very visible, because she's cried a couple of times in court as well that we've noticed. So we all had said something about it, like... we feel so bad for her.
"So after she came out, we all were like, 'Hey, you're doing a great job. It must be so hard. We understand. It's not you,' and stuff. She smiled and she said thank you and then went back into the courtroom."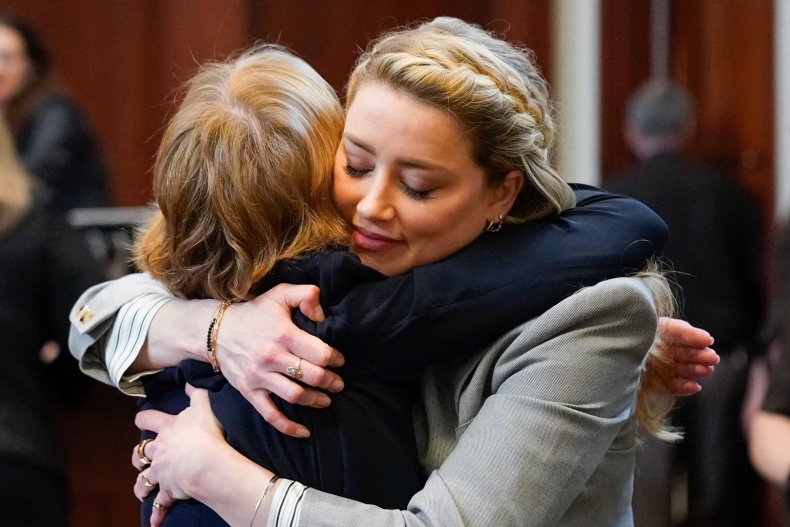 Speculating on why Bredehoft may have been emotional on the final day of the trial, @jamesfromcourt explained that the attorney had been criticized by Depp fans on social media as proceedings came to a close.
"They still have their phones in court. They're allowed to look, so I think she's getting a lot of the public attention towards her as well and she's not used to that," said @jamesfromcourt. "She's not used to defending actors and actresses and stuff."
Of the reaction to Heard's legal team by those who attended the trial, he added: "No one's rude to them, no one says anything when they walk around. But I think they know that they are the disliked team in the court, especially by the audience.
"And, you know, it's got to be hard to have all that directed at you... They're lawyers, they are doing their job. Their whole point is to do that and they would be bad at their job if they, based on their client, acted a certain way or didn't try as hard. So they definitely need credit for that."
Newsweek has contacted Bredehoft for comment.
Following the Memorial Day Weekend break, the jury will continue deliberations later Tuesday.
Update 6/01/22, 05:20 a.m. EDT: This article was updated to include the correct name of the Popcorned Planet YouTube channel.