Caeleb Dressel at Tokyo 2020: How Much Has the Swimmer Made From Olympic Gold Medals?
Two-time Olympian Caeleb Dressel won a total of five gold medals at Tokyo 2020.
According to figures from the United States Olympic & Paralympic Committee (USOPC) website, this would mean the swimmer has earned nearly $188,000 in "Operation Gold Awards" payments allocated via the USOPC.
The Team USA website explains the "Operation Gold Awards are designed to reward athletes for top-place finishes in a sport's most competitive senior international competition of the year."
The competitions for which the Operation Gold Awards apply include the Olympic and Paralympic Games as well as World Championship and World Cup events in years when there are no Olympic Games.
The Operation Gold Awards payments are among several benefits that can be awarded to U.S. Olympic athletes.
The Team USA website says: "Resources are delivered either directly to the athlete or through their National Governing Body to maximize effectiveness, efficiency and economies of scale."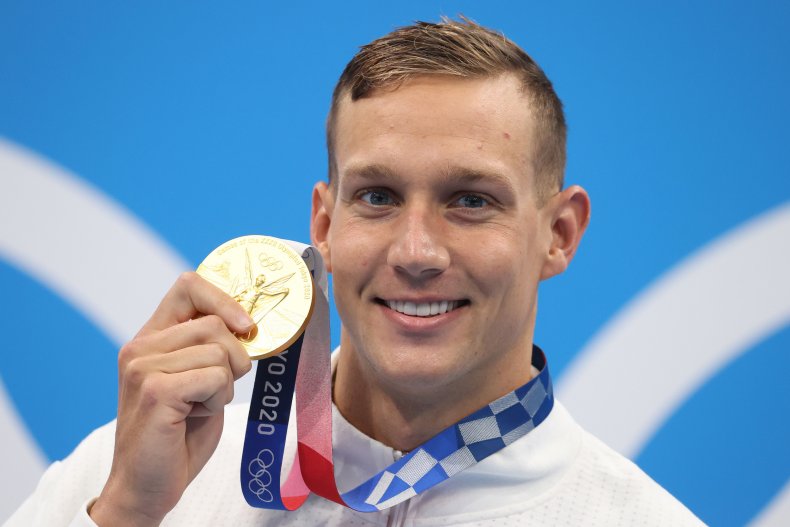 How Much Has Dressel Made From Olympic Gold Wins?
According to the Team USA website, a U.S. athlete receives a $37,500 Olympic Gold Award payment for a gold medal win, $22,500 payment for a silver medal and $15,000 for a bronze win. The same payment amounts apply for Paralympic Games medal wins.
This means Dressel has earned $187,500 in Operation Gold Award payments for his five gold medal wins at Tokyo 2020. The Olympian scored a gold in the 4x100-meter medley relay, 4x100-meter freestyle relay, 100-meter freestyle, 100-meter butterfly and 50-meter freestyle swimming events.
Had Dressel also won the mixed 4x100-meter medley race (for which he ranked fifth in the end), he would have been awarded $225,000 for a total of six gold medal wins.
Dressel is now a seven-time gold medalist (he won two in 2016), which means he has made a total of $262,500 under the Operation Gold Awards program.
The financial rewards of Dressel's gold medal wins at Tokyo 2020 are likely to increase in other forms, including via commercial partnerships, such as his latest with Omega. The luxury watchmaker on Monday welcomed Dressel as the company's new ambassador.
Dressel joins the brand's other swimmer ambassadors, which include fellow U.S. Olympic swimming champion Michael Phelps, who is now retired, Swiss swimming athlete Jérémy Desplanches and South African swimmer Chad le Clos, the company said in a statement Monday.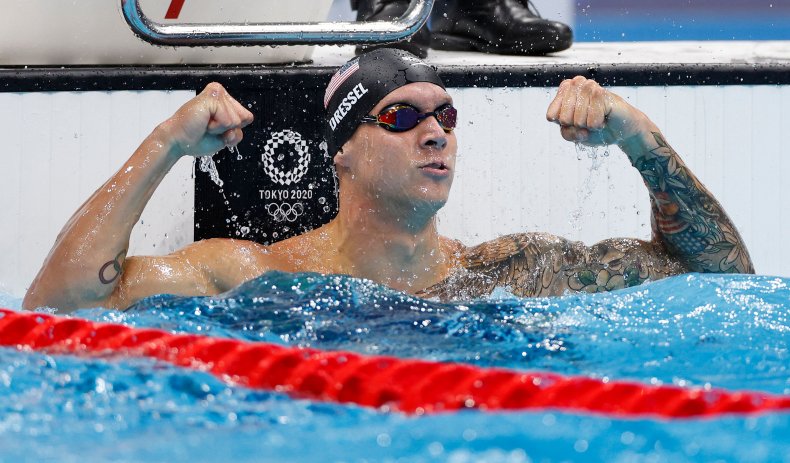 What Other Benefits Do U.S. Olympic Athletes Receive?
The Team USA website says the USOPC "strategically allocates grants to give the greatest number of American athletes the opportunity to reach the podium using a results-driven resource-allocation process."
Grants are awarded to National Governing Bodies (NGBs) and administered through "Performance Partnership Agreements," according to the website. "The USOPC allocates millions in grants to NGBs and High-Performance Management Organizations every year in support of sport programming."
The USOPC offers several resources that "promote performance and personal development" to help meet the "needs of America's elite athletes."
NGBs designate their best athletes to join the "USOPC's Athlete Performance Pool," which qualifies these athletes to receive "direct funding in the form of grants, medical benefits, Operation Gold payments and tuition assistance," according to the Team USA website.
Those eligible can receive "Elite Athlete Health Insurance" as well as access to "top-tier medical institutions" through the USOPC's National Medical Network, "which are designed to provide access to medical care while minimizing out-of-pocket expenses," the Team USA website says.
Does the IOC Pay Athletes for Olympic Wins?
While the U.S. and other countries award their athletes for Olympic medal wins, the International Olympic Committee does not offer payment to athletes.
In addition to medals, the IOC issues a "commemorative diploma" to athletes.
According to the Olympic Charter, "no prizes or awards" are given to athletes other than the medals and diplomas.