Last Original Caesars Palace Employee Gets Red Carpet Sendoff
Caesars Palace, an iconic Las Vegas hotel and casino, gave a red carpet retirement send-off Wednesday to Benny Figgins, a blackjack dealer who has been at the company since it opened. Figgins is the last "year-one team member at Caesars Palace" and began working there in 1967, according to the company.
"Today we celebrated Benny Figgins, a blackjack dealer and the last remaining year-one team member at the Palace," Caesars Palace wrote on Twitter on Wednesday.
The hotel and casino shared a video of an interview with Figgins in which he was asked about his favorite memory from working at the casino.
He answered that his favorite memory was "dealing with the celebrities."
"People like Sinatra, Sammy Davis, Diana Ross, Henry Belafonte, and Joe Lewis," Figgins said.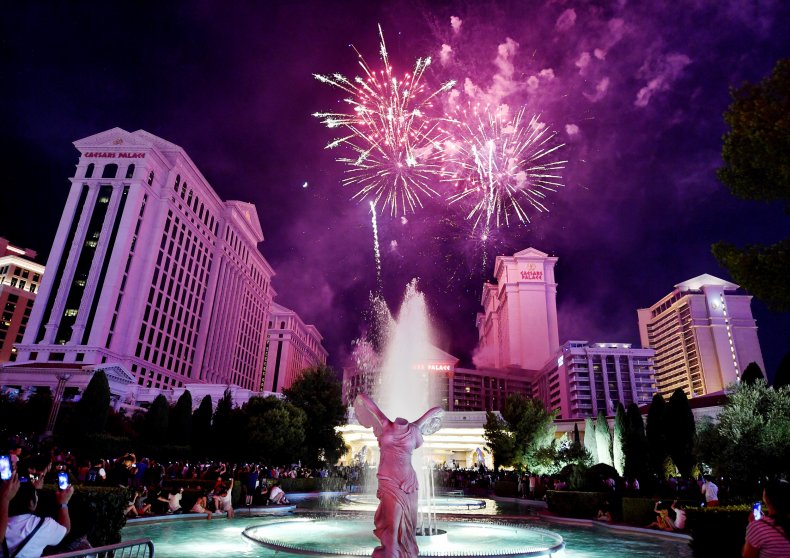 When asked what he'll miss about his job, he called Caesars Palace a "home away from home."
"I'm going to miss all my co-workers and everything," he said.
He also said that he met his wife at Caesars Palace 48 years ago. "That was very special," he said.
In another video posted to Twitter by the casino, Figgins can be seen exiting the building, walking on a red carpet and shaking hands until he enters a limousine.
"At the conclusion of his final shift, Caesars Palace team members and Caesars Entertainment leadership sent Figgins on his way through the resort's main entrance with good wishes and cheers. He left work for the last time with a special limo ride to his home," Caesars Palace said in a statement to Newsweek.
The company noted that Figgins was hired on April 27, 1967, and has worked in five different departments at Caesars Palace.
"He began as a casino porter, assisting with maintaining cleanliness throughout the casino floor. Then, Figgins became a convention porter and helped set up a variety of events. Later, he worked as a dishwasher at the original Bacchanal restaurant kitchen and a busboy in the Circus Maximus showroom," the company said.
Since 1971, he worked as a blackjack dealer.
"Figgins also met his wife while working at Caesars Palace in the early 1970s. She retired after working at the resort for 38 years as a PDX operator and a table games dealer. They are happily married and have three daughters," the company added.
This summer, Caesars Palace was one of several Las Vegas hotels and casinos to be impacted by storms that caused flash flooding in Las Vegas. A viral video posted on Twitter at the time showed rain entering through holes in the ceiling of the casino.