Heavy rain poured through a Las Vegas casinos on Thursday night, only two weeks after flash floods had left the iconic Strip under water.
The National Weather Service (NWS) Las Vegas issued a warning on the evening of August 11, cautioning residents of the Las Vegas Valley against heavy rain, nuisance flooding, gusty winds and frequent lightning.
According to the agency, LAS Airport officially picked up 0.58 inches of rainfall with last night's downpour, bringing this year's monsoon season rainfall total to 1.28 feet—a record for the city.
The total amount of rainfall fallen so far this year makes this monsoon season the wettest since September 11, 2012.
Videos from Las Vegas residents show the gaming floors of the city's casinos getting wet with the rain, with the legendary Planet Hollywood on the Las Vegas Strip leaking rainwater through the casino ceiling.
It was almost a familiar scene, as similar images were shared only a couple of weeks ago when a massive flash flood to hit the city, and the entire Las Vegas Strip was submerged.
"You're not going to believe this, but I'm not sure if it's raining more inside Planet Hollywood or outside," wrote a Twitter user, sharing a clip of gushes of rainwater leaking through the ceiling of the casino.
A flood watch is in place in Las Vegas and other cities in Nevada until August 13, 1 a.m. PT.
According to NWS forecasts, there's still a 40 percent chance of heavy rain falling over Las Vegas after 1 p.m. on Friday, with showers and thunderstorms 50 percent likely to continue on Saturday morning and afternoon.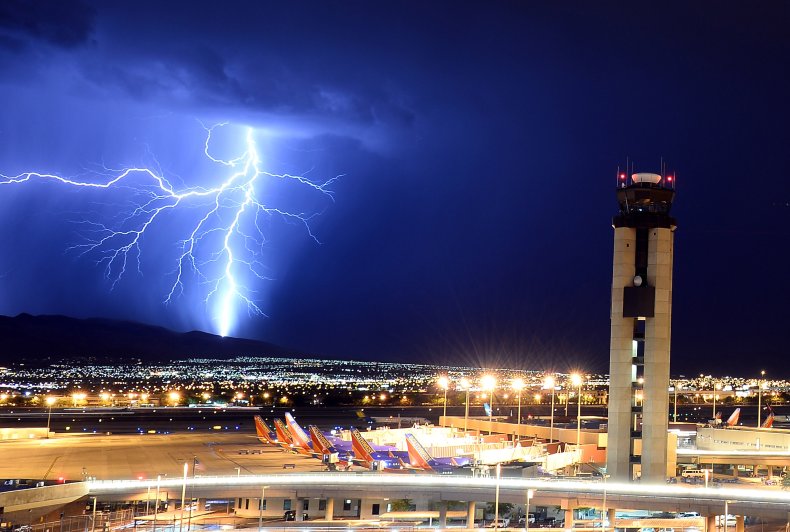 Las Vegas receives just over four inches of rain a year on average, and the entire state of Nevada is currently experiencing severe drought conditions. But as soon as it rains during monsoon season, it's common for even the small amount of rain to turn into flash floods.
The monsoon rain offers a brief moment of respite, but it unfortunately doesn't turn the tide on the current situation completely, as the megadrought in Nevada—and across much of the West—is far from over.