California gubernatorial hopeful Caitlyn Jenner voiced her opposition to transgender girls competing in female sports on Saturday, saying "it just isn't fair."
Republican lawmakers in state legislatures across the country have pushed through, or are working to pass, bills that ban transgender girls and women from competing in sports with other women. Jenner, a former Olympic athlete and prominent transgender celebrity, is running as a Republican to unseat California's Democratic Governor Gavin Newsom in an expected recall election later this year.
On Saturday, she spoke briefly to TMZ and shared her views about the GOP-backed measures targeting transgender athletes.
"This is a question of fairness," Jenner said outside her vehicle in Malibu. "That's why I oppose biological boys who are trans competing in girls sports in school. It just isn't fair. And we have to protect girl sports in our schools."
When the TMZ journalist pressed her further, Jenner simply responded, "Have a good day." She then proceeded to get inside her vehicle.
In a follow-up Twitter post, Jenner wrote: "I didn't expect to get asked this on my Saturday morning coffee run, but I'm clear about where I stand. It's an issue of fairness and we need to protect girls' sports in our schools."
Newsweek reached out to Jenner's campaign for further comment.
Multiple states—including Tennessee, Mississippi, Arkansas, South Dakota, West Virginia and Idaho—have already approved legislation to ban trans girls from competing in female sports. Florida's Republican Governor Ron DeSantis has promised to sign a law pushed through by GOP lawmakers in his state this past week as well.
The success of the Republican-backed legislation has come as the U.S. has seen an unprecedented number of state bills opposing transgender rights in 2021. Since the start of the year, more than 250 anti-trans proposed bills have been introduced in state legislatures throughout the country, according to the Human Rights Campaign.
Republican supporters of the anti-trans legislation generally use arguments similar to the one put forward by Jenner on Saturday. They argue that transgender girls have an unfair advantage over other girls, often saying they must "protect" children. However, advocates for transgender rights push back, noting that the number of young trans athletes is incredibly small across the country. They also point out that many trans girls do not excel at sports any more than other girls.
West Virginia's Governor Jim Justice, a Republican who signed a transgender sports ban this past week, was unable to point to even one example of a transgender athlete gaining an unfair advantage in his state when asked to do so in a Friday interview with MSNBC.
"I can't really tell you one, but I can tell you this, Stephanie. I'm a coach, and I'm with—and I coach a girls' basketball team, and I can tell you that there—you know, we all know—we all know what an absolute advantage boys would have playing against girls," Justice said in an interview with MSNBC anchor Stephanie Ruhle.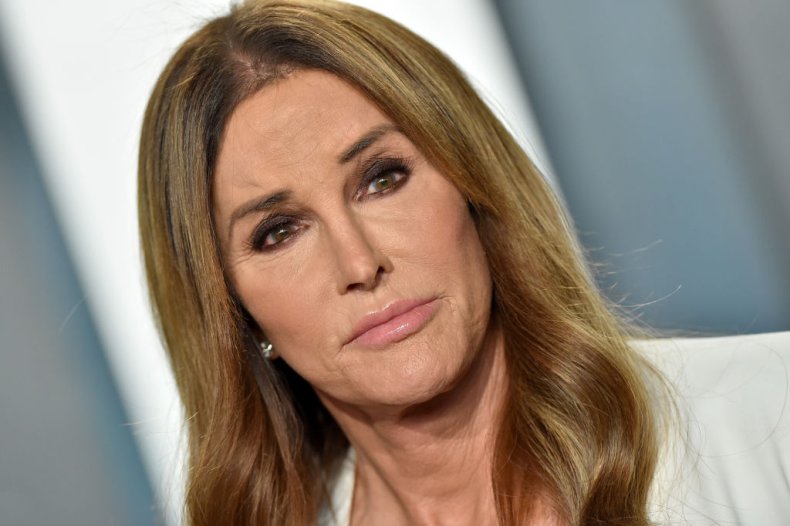 Former President Donald Trump's ex-campaign manager, Brad Parscale, who has helped Jenner assemble her political team in California, praised the Republican contenders comments.
"As a father of a daughter who played high school sports. This is the only logical answer. #ProtectGirlsSports," Parscale tweeted, sharing a link to a Fox News article about Jenner's remarks.
Charlotte Clymer, an activist who identifies as a lesbian, condemned Jenner's remarks in a Saturday Twitter post.
"Caitlyn Jenner is anti-trans. She doesn't understand the science, and she is pandering to the ignorance of anti-trans people. I have absolutely no problem saying Caitlyn Jenner supports and directly benefits from transphobia," Clymer wrote.
This article has been updated with additional information.
About the writer
Jason Lemon is a Weekend Editor at Newsweek based in Brooklyn, New York. Prior to taking on the editor role, Jason's reporting focused on U.S. politics and international affairs. He joined Newsweek in 2018, and had previously worked as a founding editor at a Middle Eastern media startup called StepFeed. He also worked a year as a contributor to The Atlanta Journal-Constitution and has bylines in The Christian Science Monitor, The Palm Beach Post, Al Fanar Media and A Magazine. He is a graduate of the American University of Beirut in Lebanon and Andrews University in Michigan. You can get in touch with Jason by emailing j.lemon@newsweek.com. Languages: English, Spanish, French and Levantine Arabic