Caitlyn Jenner Ducks Trans Girls Sports Question: 'I Don't Know Why They Keep Asking Me'
California gubernatorial candidate and 1976 Olympic gold medalist Caitlyn Jenner ducked a question about her position on transgender athletes playing in girls' and women's sports.
Fox News host Sean Hannity asked Jenner about the topic during a Wednesday night interview on his program, Hannity. Legislators in 30 states have introduced laws banning transgender girls and women from female sports teams.
Jenner initially responded by asking Hannity to wish her 95-year-old mother a happy birthday. She later said, "I don't know why they keep asking me that question."
"I stick with my statements that I made," Jenner said. "I think we have to make sure that the integrity of girls' sports is there. I think that's extremely important."
Elsewhere in her response, Jenner said that transgender youth are nine times more likely to attempt suicide than cisgender youth. She said she wanted to be a role model for transgender youth. She also said that California is facing bigger problems than trans athletes, like wildfires and immigration reform.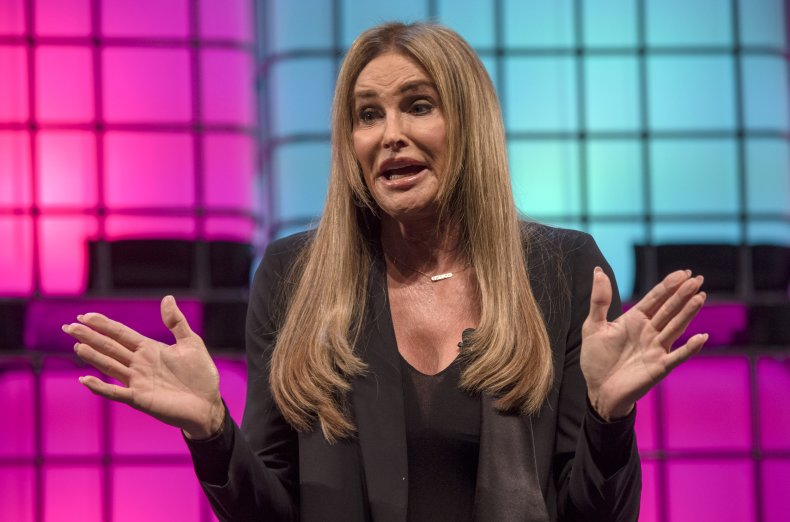 On May 1, Jenner told TMZ that she opposes "biological boys who are trans competing in girls' sports in school."
"It just isn't fair. And we have to protect girls' sports in our schools," she said. "This is a question of fairness."
Jenner came out as transgender in 2015. That same year, she made statements supporting transgender athletes playing in sports teams matching their gender identity.
During her 2015 ESPY acceptance speech for the Arthur Ashe Courage Award, Jenner said, "I also want to acknowledge all the young trans athletes who are out there—given the chance to play sports as who they really are."
She also made similar statements supporting transgender athletes in April 2020 on The Trans Sporter Room podcast for the LGBTQ sports website Outsports.
"I think every trans person, if they're into athletics, should have an opportunity to compete and to improve themselves. I think sports is such a great way to learn a lot about yourself. And yeah, I want to, hopefully they'll have the opportunity in the future to do whatever they can do. I'm all for it. I'm all for it," she said.
Elsewhere in her interview with Hannity, she refused to directly answer whether she was a Republican or a Democrat, preferring instead to call herself a "compassionate disrupter."
She also told Hannity that she would like California to no longer act as a "sanctuary" for undocumented immigrants. She promised that, if elected governor, she would do everything in her power to remove the state's sanctuary policies.
She said she wanted local and state law enforcement to cooperate with Immigration and Customs Enforcement to deport arrested undocumented immigrants. She also said she wanted to find a path to citizenship for undocumented immigrants who have lived for a long time in California.
Jenner also said she supported defunding public transportation in the state to invest in desalination plants. The plants would remove salt from seawater in order to help the state overcome its water shortages.
Newsweek contacted Jenner's campaign for comment.