Caitlyn Jenner, Ted Lieu Trade 'Condescending' Barbs Over California Crime
Republican California gubernatorial hopeful Caitlyn Jenner and Representative Ted Lieu, a California Democrat, engaged in a Twitter feud on Saturday evening, resulting in both accusing the other of being "condescending."
Jenner, a prominent reality-TV star and former Olympic athlete, announced on Friday her campaign to challenge California Governor Gavin Newsom, a Democrat, in an expected special recall election later this year. The Republican contender solicited the help of personal friend Brad Parscale, who previously worked as former President Donald Trump's campaign manager, to help her assemble a campaign team. On Saturday, the GOP contender took aim at Newsom on Twitter by criticizing decisions made by district attorneys throughout the state.
"This is horrible and also avoidable. Gavin's District Attorneys across California are releasing dangerous criminals back on to our streets. Enough is enough," Jenner wrote, retweeting an article by San Francisco Chronicle columnist Heather Knight. The article raises concerns about San Francisco District Attorney Chesa Boudin, a Democrat, after a man arrested twice this year for domestic violence was released and now has been charged with the murder of a seven-month old baby.
Lieu later retweeted Jenner's criticism of Newsom, pointing out that district attorneys are elected by the voters in their respective districts and operate independently of the governor.
"Dear @Caitlyn_Jenner: District Attorneys are elected by voters, not appointed by Gov @GavinNewsom. Also, do you know how a bill becomes a law? Here is a cool Schoolhouse Rock video for you to educate yourself," Lieu wrote, sharing a link to a YouTube video. "Do you know what 'veto' means? Or 'budget'?" the congressman asked.
Jenner then fired back, accusing Lieu of being "condescending."
"Ted, that kind of condescending tone is whats wrong w/ politics. Of course I know DAs are elected, but as the CEO of the state, the buck stops with Newsom. If you want to defend the status quo then fine, but if you want to talk solutions to the crime in our streets, call anytime," the celebrity wrote, retweeting Lieu's post.
The Democratic lawmaker replied again, expressing disbelief in Jenner's claim that she knew district attorneys were elected, while also accusing her of being "condescending."
"Dear @Caitlyn_Jenner: Actually, I don't think you realized DAs are elected. If you did, you would not have made your condescending statement about DAs. District Attorneys are not beholden to the California Governor. For example, the Orange County DA happens to be a Republican," Lieu tweeted.
Newsweek reached out to press representatives for Jenner and Lieu for further comment, but they did not immediately respond.
A final determination of whether the recall campaign against Newsom has been successful is expected later this week, after California officials finish confirming all the signatures submitted by the organizers of the campaign opposing the Democratic governor. Although it appears that the recall campaign has been successful, Newsom currently looks well-positioned to defeat any challenger. A poll in late March conducted by the Public Policy Institute of California showed that 56 percent of the state's voters said they'd back Newsom in the special election, while just 40 percent said they'd support an opponent.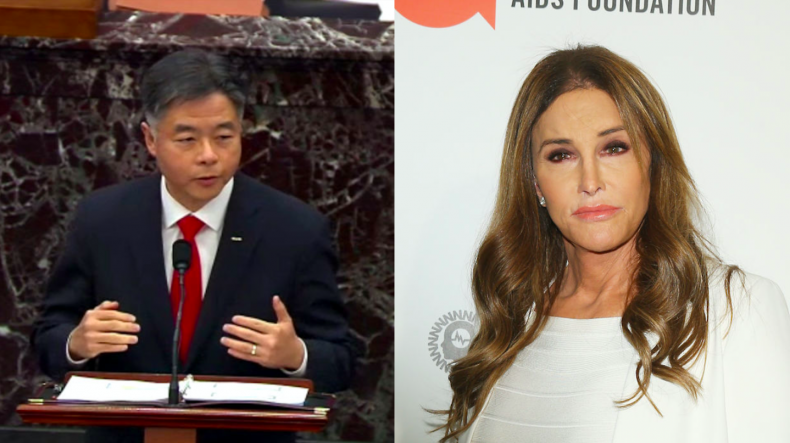 Jenner, a prominent transgender celebrity, has launched her Republican campaign at a time when GOP lawmakers across the country are pushing through unprecedented anti-trans legislation in state legislatures. The bills largely target transgender minors, attempting to block them from playing on school sports teams that align with their gender identities and ban doctors from treating them with gender-affirming care, among other controversial proposals.
Although Jenner initially voiced support for Trump, and spoke favorably of the former president, she came out against him and his administration in 2018 after he rescinded federal guidance allowing transgender students to use the bathrooms they choose. She penned an opinion article for The Washington Post at the time entitled "I thought Trump would help trans people. I was wrong."