Calif. Lt. Gov Eleni Kounalakis Dismisses GOP 'Fantasy' of Replacing Newsom With Republican
California's Lt. Governor Eleni Kounalakis dismissed the effort to recall Governor Gavin Newsom as a Republican "fantasy" aimed at replacing the Democrat with a GOP candidate.
Newsom, who took office in January 2019, has faced significant backlash and criticism due to California's response to the COVID-19 pandemic. Although California is viewed as a solidly Democratic state, the recall effort has gained steam, with those pushing the effort saying they've gathered more than the 1.5 million required signatures to trigger the recall. But Kounalakis expressed her hope that voters would continue to back the current administration.
"It does look as though there's a likelihood that it [the recall] will qualify, and then the governor's going to have to make his case," the Kounalakis told CNN. "He is still quite popular in this state. People recognize he's been dealt a very tough hand," she added, asserting that she fully supports Newsom's leadership.
"I'm also very hopeful that Californians will recognize that this is a Republican-driven effort built on a fantasy that they can slip a Republican governor into the bluest state in the country," the California official said.
Randy Economy, the official media spokesperson for the recall campaign, pushed backed against Kounalakis' assessment in an email to Newsweek. Economy described the campaign as "the people's recall."
"Lt. Governor Eleni Kounalakis has been Gavin Newsom's political sidekick for the past two years, and her total blind support of his failed policies is downright laughable. She is misguided when she says this recall is a Republican recall," he said. "The arrogance of power of Sacramento politicians like Kounalakis will not be tolerated as acceptable behavior."
Two polls published earlier this month showed somewhat different perspectives of Newsom's popularity in the state. One survey conducted by the Berkeley Institute of Governmental Studies showed that just 46 percent of the Western state's voters approved of the governor's job performance, a steep drop from a September poll carried out by the institute which showed about two-thirds approving.
But another poll by the Public Policy Institute of California put Newsom in a somewhat better position, with a slim majority of the state's voters approving. That survey had the governor's approval rating at 52 percent. But again, that represented a notable drop from a previous November poll by the institute when nearly 60 percent of California voters approved of Newsom.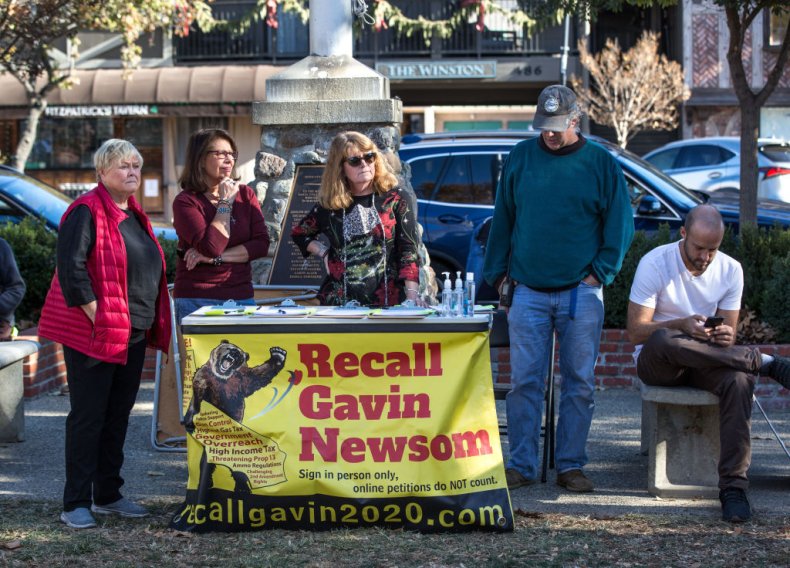 Even if Newsom were to be recalled, it would seem unlikely that a Republican would successfully win election to replace him. In 2018, the Democratic governor won with nearly 62 percent of the vote compared with just over 38 percent going to his GOP opponent. President Joe Biden also easily beat former President Trump in the state during the November election. Biden was backed by 63.5 percent of the state's voters compared to 34.3 percent who supported Trump. Both of California's senators are Democrats as well.
But California did have a GOP governor a decade ago. Actor Arnold Schwarzenegger, a Republican known best for his starring role in the Terminator franchise, served as the state's governor from 2003 to 2011. Schwarzenegger actually first became governor during a 2003 recall election against the then–Democratic Governor Gray Davis.