California Outages Reported Despite Newsom Saying They Were Avoided
A text alert has prevented California from plunging into darkness on Tuesday, as grid operators asked residents to reduce their energy consumption and turn down their air-conditioning amid a deadly heatwave that's brought demand for electricity up to record levels.
But while the emergency didn't reach a level where rolling blackouts became necessary in large areas of California to reduce the strain on the power grid, two outages were reported in the San Francisco Bay Area cities of Palo Alto and Alameda, with several thousand customers reportedly affected for about an hour.
On Tuesday evening, just before 5:30 p.m., California's grid operators issued an emergency alert, warning power providers to get ready to "shed load", but not begin rotating power outages.
Less than 20 minutes later, at 5:48 p.m., the state's Office of Emergency Services sent out a text alert to people in counties at risk, asking residents to save energy if possible.
Residents appeared to react immediately, as within minutes power usage plunged across the state.
According to the California Independent System Operator (CAISO), power usage hits its new highest record at 3:20 p.m. on Tuesday, with a total demand of 50.6K megawatts. Demand then peaked at 3:55 with 51.4K megawatts used, a number which was still reported at 5:00 p.m.
Between 5:20 and 5:50 p.m., when California's grid operators ordered a stage 3 Energy Emergency Alert (EEA) to "arm firm load"—the step before an EEA 3 "firm load interruption", the order to begin rotating power outages—and state authorities sent the text alerting residents, demand was stable at 50.4K.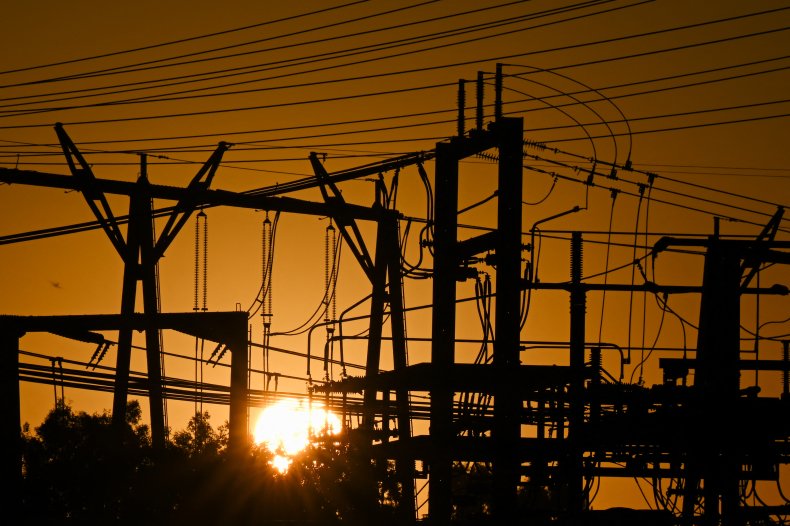 But after the text alert was sent out, power usage dropped significantly: at 5:55 p.m. it was at 49.2K, at 6:00 p.m. at 48.8K, at 6:05 p.m. at 48.3K.
Within a little over two hours from the announcement, at 8:00 p.m., demand had dropped down to 46.0K megawatts.
The grid's operators thanked residents for their efforts on Twitter.
"At 8 p.m., the grid operator ended its Energy Emergency Alert (EEA) 3 with no load sheds for the night. Consumer conservation played a big part in protecting electric grid reliability. Thank you, California!," wrote CAISO on Tuesday night.
California's governor Gavin Newsom celebrated an avoided catastrophe with a tweet that patted both state's officials and residents on the shoulder.
"Record-breaking temperatures. More demand on our energy grid than ever before. But we avoided emergency power outages tonight. We can do this. If we keep it up we can get through this unprecedented heatwave," he wrote.
But while the state's grid operators didn't order rolling blackouts, there were outages on a local level, according to reports.
Palo Alto Utilities, the supplier of gas, electricity, water and sewer services for Palo Alto, wrote on Twitter on Tuesday evening that "in order to meet the State's load shedding requirements for today's Stage 3 Flex Art, our Electric Operations team has had to shut down power for about 1700 customers in Midtown, Old Palo Alto, and Industrial Park. We expect to have power restored by about 9."
An hour later, the supplier wrote that they had been given "the green light from the State Independent System Operator to restore the impacted customers." Palo Alto Utilities asked residents to continue saving energies to avoid future blackouts.
Some 35,700 people also lost electricity in Silicon Valley and southern and inland areas of the San Francisco Bay Area, the Associated Press reports. Most of the outages were heat-related, said Jason King of Pacific Gas & Electric.
The risk of power outages has been raised by authorities and grid operators since August 30, when the brutal, week-long heatwave began and its impact was assessed by experts.
The National Weather Service (NWS) warned that extreme temperatures increase the risk of health-related illnesses, with young children and infants, pregnant people, the elderly and those with chronic medical conditions at higher risk of suffering heat exhaustion and heat strokes.
But another major threat in California was that of blackouts driven by increased energy consumption.
On Tuesday, CAISO issued the seventh consecutive "Flex Alert" asking consumers to reduce usage between 4 p.m. and 9 p.m. to avoid energy outages.
The "Flex Alert" has been extended to Wednesday, September 7, from 4 to 9 p.m.
Correction, 09/09/2022, 5:15 a.m. ET: This article has been updated to clarify that grid operators did not issue an alert that blackouts were incoming.