California to 'Build Firewall' for Abortion Rights Following SCOTUS Draft
Three top California officials proposed legislation on Monday that would "build a firewall" for abortion rights in the state following a leaked Supreme Court draft opinion on overturning the Roe v. Wade decision.
In a joint statement, Governor Gavin Newsom, state Senate President Pro Tempore Toni Atkins and Assembly Speaker Anthony Rendon said they are proposing legislation "to enshrine the right to choose in our state constitution so that there is no doubt as to the right to abortion in this state."
The statement comes shortly after Politico released a draft copy of a majority opinion, written by Justice Samuel Alito, that aims to overturn Roe, the 1973 decision that established a constitutional right to an abortion and legalized the practice nationwide. A closely watched case now before the Court concerns Mississippi's attempt to ban most abortions after 15 weeks of pregnancy.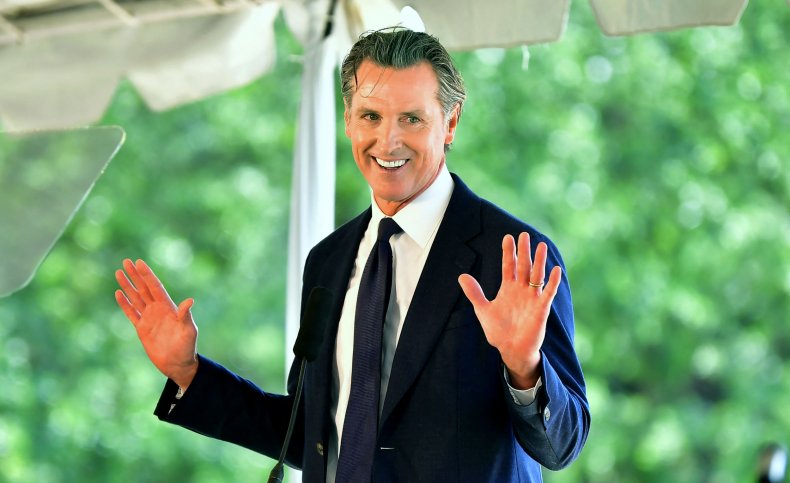 "California will not stand idly by as women across America are stripped of their rights and the progress so many have fought for gets erased," the California officials said in their joint statement. "We know we can't trust the Supreme Court to protect reproductive rights, so California will build a firewall around this right in our state constitution. Women will remain protected here."
Newsweek reached out to Newsom, Atkins and Rendon for comment.
In the first-draft opinion, Alito wrote, "We hold that Roe and Casey must be overruled," according to Politico. "It is time to heed the Constitution and return the issue of abortion to the people's elected representatives." The opinion also discussed the Court's 1992 ruling in Planned Parenthood v. Casey, which reaffirmed the Roe decision.
Alito added, "Roe was egregiously wrong from the start. Its reasoning was exceptionally weak, and the decision has had damaging consequences. And far from bringing about a national settlement of the abortion issue, Roe and Casey have enflamed debate and deepened division."
Justices Clarence Thomas, Neil Gorsuch, Brett Kavanaugh and Amy Coney Barrett voted in favor of Alito's opinion, Politico reported, citing anonymous sources familiar with the situation.
This is the first time a Supreme Court draft opinion has been leaked to the public before a final decision on a case, Politico noted.
The legislation proposed in California is not the first time Newsom has expressed his support for abortion rights in the state. In March, the Democratic governor signed a law making abortions cheaper for individuals using private insurance plans.
"As states across the country attempt to move us backwards by restricting fundamental reproductive rights, California continues to protect and advance reproductive freedom for all," Newsom said after signing the bill, according to ABC News.