As coronavirus cases in Los Angeles County surpass one million, with 13,848 reported deaths, air quality regulations have been temporarily lifted to accommodate the county's growing backlog of cremations, which poses a threat to public health.
The South Coast Air Quality Management District (AQMD) has suspended "permit conditions limiting the number of cremations or amount of human remains cremated for qualifying human crematoria that are located in Los Angeles County," through January 27, according to an executive order released Sunday.
"The Los Angeles County Department of Public Health has confirmed that the growing backlog of cremation cases within the county constitutes a threat to public health.
"The Los Angeles County Coroner has requested that South Coast AQMD suspend such limiting conditions in order to protect public health and respond to the emergency.
"The Coroner has determined that the current rate of deaths in Los Angeles County is more than double that of pre-pandemic years, and anticipates that another surge is approaching as a result of the New Year's holiday, since deaths tend to occur four to six weeks after gatherings," the order noted.
The latest move comes as the first case of the COVID-19 variant B.1.1.7, the same variant first discovered in the U.K., was reported in L.A. County on Sunday.
"This more contagious variant makes it easier for COVID-19 to spread—any activity outside of one's household carries more risk of exposure now than ever before," Los Angeles County Board of Supervisors Chair Hilda L. Solis, Supervisor to the First District, warned in a statement Sunday.
"To date, we've had over one million confirmed cases in Los Angeles County. This number is almost too astronomical to comprehend," Solis said Sunday.
The B.1.1.7 variant is expected to become the dominant strain of the virus in the U.S. by March, according to the U.S. Centers for Disease Control and Prevention (CDC).
Another new strain of the virus (the 452R variant)—different from the one found in the U.K.—has been linked to several large outbreaks in Santa Clara County. It has been detected in at least 11 other California counties including L.A., San Francisco and San Diego counties, the California Department of Public Health (CDPH) noted Sunday.
The 452R variant was identified last year in other countries and states, including California, but the department noted "it's too soon to know how prevalent the 452 variant is statewide, nationally or globally."
The department said: "As the number of specimens tested to monitor for variant strains has increased at California labs, including UCSF, the 452R variant has been identified more frequently since November."
Dr. Erica Pan, state epidemiologist for CDPH, noted: "It's too soon to know if this variant will spread more rapidly than others, but it certainly reinforces the need for all Californians to wear masks and reduce mixing with people outside their immediate households to help slow the spread of the virus."
Santa Clara County Health Officer Dr. Sara Cody warned: "The fact that this variant was identified in several large outbreaks in our county is a red flag and must be investigated further.
"This virus continues to mutate and adapt, and we cannot let down our guard. This news underscores the need for everyone to follow all prevention measures and get vaccinated as soon as they are offered the vaccine," she added.
Total confirmed cases in California are approaching three million, with 33,615 reported deaths, as of Monday, according to data compiled by Johns Hopkins University (JHU).
The state's seven-day average of deaths has been rising sharply from early December, peaking at 536 on January 15, according to data compiled by Worldometer.
Even with "rapid vaccine rollout," which would see vaccine distribution scaled up over 45 days, the state's daily death toll is projected to peak on February 3 at around 640, according to the latest forecast by the Institute for Health Metrics and Evaluation (IHME) at the University of Washington.
"Daily deaths is the best indicator of the progression of the pandemic, although there is generally a 17-21 day lag between infection and deaths," the IHME notes.
The wider picture
The novel coronavirus has infected more than 95 million people, including just over 23.9 million in the U.S., since it was first reported in Wuhan, China.
More than two million people have died worldwide and more than 52.3 million have recovered as of Monday, according to JHU.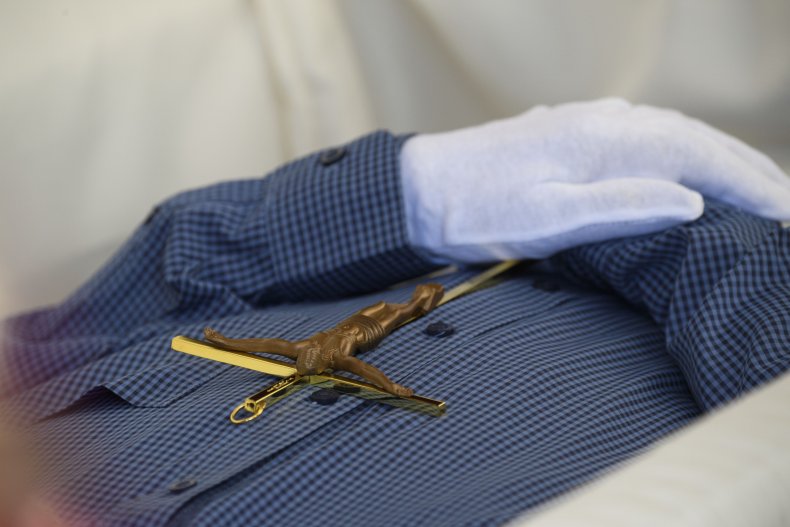 The graphic below, produced by Statista, illustrates the spread of COVID-19 in the U.S.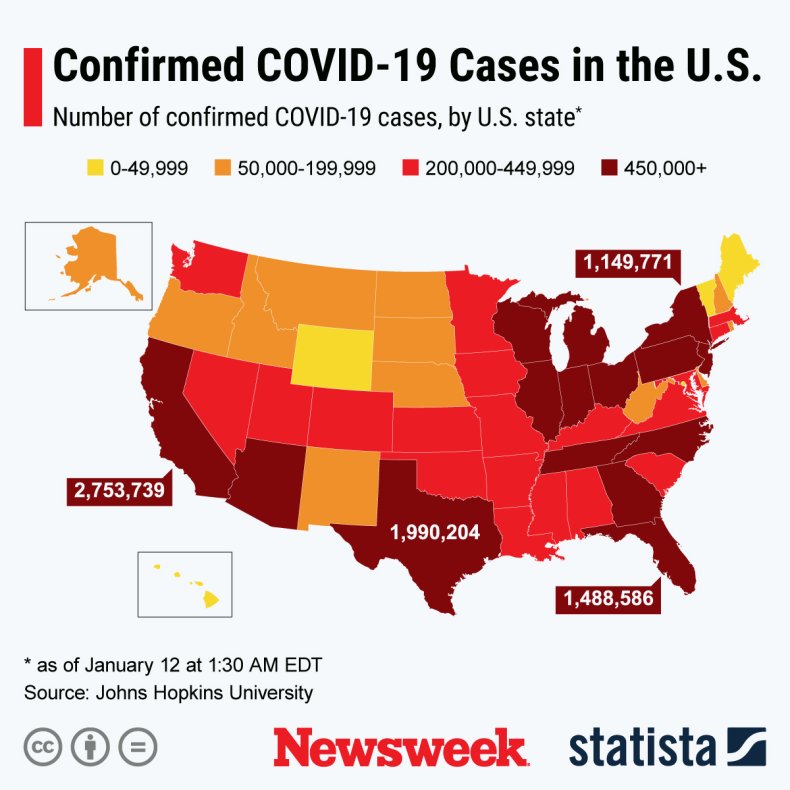 The graphic below, produced by Statista, illustrates U.S. adults' opinion of the country's rollout of the COVID-19 vaccine.