California County Counsel 'Disappointed' Over SCOTUS Decision to Resume Indoor Worship
The county counsel of Santa Clara, California, said it was "disappointed" over a U.S. Supreme Court ruling that allowed indoor worship services to continue at 20 percent capacity, despite local coronavirus orders.
On Friday, the high court ruled that Santa Clara County could not enforce a ban on indoor religious worship, bypassing the county's decision to restrict all indoor activity. Now, churches can resume indoor services while they await a decision in the U.S. 9th Circuit Court of Appeals, Fox News reported.
"We are disappointed in the U.S. Supreme Court's order regarding indoor worship services," County Counsel James R. Williams said Friday, according to NBC News.
"Indoor gatherings of all kinds remain very risky, and we continue to urge all religious institutions to carefully follow the public health recommendations to avoid spread of COVID-19 among their congregations and the broader community," he added.
The Supreme Court decision came after a group of churches in Santa Clara County sued the county for enforcing a ban on religious services on February 17.
The lawsuit followed a Supreme Court ruling earlier this month that declared that California could not order a complete ban on indoor worship due to the pandemic. In that ruling, the court said that completely prohibiting indoor services was a violation of First Amendment rights, but the state could still implement capacity limits on gatherings.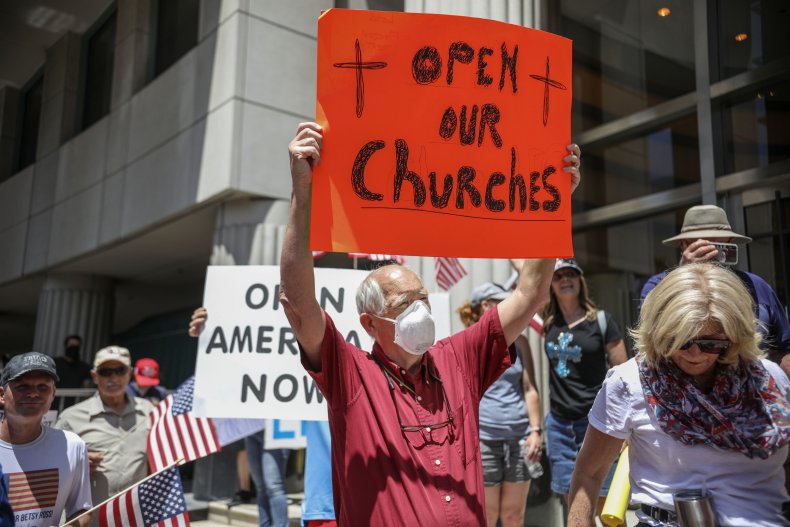 But Santa Clara County continued to restrict indoor worship through COVID-19 restrictions that "prohibit all indoor gatherings of all kinds at all places." The county argued that the restrictions were constitutional because it did not specifically single out religious institutions.
Under those restrictions, the county said that people could go into houses of worship to pray or go to confession, but could not gather with groups of others, TheLos Angeles Times reported. Those standards were also true of retail establishments, where shoppers can go, but not gather, for an event such as a book reading.
"The Supreme Court order was issued without any analysis at all of the County's gathering rules, which have always been neutral and applied equally to all gatherings across-the-board," Williams added on Friday.
On Thursday, Santa Clara County told the Supreme Court that it was inching toward lifting its restrictions on indoor gatherings as soon as next week, but would not do so unless coronavirus cases continued to decline.
Rather than waiting to see if the county would do so, the court ruled against the ban in a 6-3 decision, citing their decision from earlier this month.
Associate Justice Elena Klagan, who previously opposed the court's ruling on indoor worship bans, dissented along with the court's other two liberal justices.
"Justices of this Court are not scientists. Nor do we know much about public health policy. Yet today the Court displaces the judgments of experts about how to respond to a raging pandemic," Klagan wrote on February 5.
"Under the Court's injunction, the State must instead treat worship services like secular activities that pose a much lesser danger," she wrote, saying that the mandate "risks worsening the pandemic," she added.
Newsweek contacted the Santa Clara County counsel for additional comment, but did not hear back in time for publication.