California $600 Stimulus Check Eligibility—How to See if You Qualify
California Gov. Gavin Newsom announced Wednesday that 5.7 million Californians will receive $600 stimulus checks as part of the state's COVID-19 relief package.
Under the plan, those in the following categories qualify to receive the $600 payment:
Those receiving a CalEITC (California Earned Income Tax Credit) for 2020
Households with individual Tax Identification Numbers (ITINs) and an income below $75,000
Households enrolled in the CalWORKS program
Recipients of Supplemental Security Income/State Supplementary Payment (SSI/SSP)
Recipients of aid through the Cash Assistance Program for Immigrants (CAPI)
The governor's office noted: "ITIN taxpayers who also qualify for the California EITC would receive a total of $1,200. The payments will be provided to these households shortly after they file their 2020 tax returns."
Below we outline how to check if you qualify for California's $600 stimulus check under the aforementioned categories.
Those receiving a CalEITC in 2020
CalEITC is a "refundable cash back tax credit for qualified low-to-moderate income Californians," the California Department of Community Services & Development (CSD) explains.
Residents can check whether they qualify for CalEITC at the CSD website. The CSD explains you may qualify for CalEITC if​ "you're at least 18 years old or have a qualifying child, you have earned income within certain limits and the amount of CalEITC you may get depends on your income and family size."
You must also meet the following criteria to qualify for CalEITC:
Have taxable earned income
Have a valid social security number or ITIN for yourself, your spouse and any qualifying children
Not use "married/RDP [Registered Domestic Partner] filing separate" if married
Live in California for more than half the year
Earned income can be from "W-2 wages, self-employment, salaries, tips and other employee wages subject to California withholding​," the CSD website notes.
Those with ITINs
Those with ITINs who were precluded from receiving the $1,200 federal stimulus check last spring and the subsequent $600 federal payment are also eligible to receive a $600 relief payment under California's relief plan.
The state will provide $600 payments to households with ITINs and income below $75,000.
An ITIN is a tax processing number issued by the Internal Revenue Service (IRS) to "individuals who are required to have a U.S. taxpayer identification number but who do not have, and are not eligible to obtain, a Social Security number (SSN) from the Social Security Administration (SSA)," the IRS explains.
Residents need to have an ITIN if the following apply:
"You do not have an SSN and are not eligible to obtain one, and
"You have a requirement to furnish a federal tax identification number or file a federal tax return, and
"You are in one of the following categories:
"Nonresident alien who is required to file a U.S. tax return
"U.S. resident alien who is (based on days present in the U.S.) filing a U.S. tax return
"Dependent or spouse of a U.S. citizen/resident alien
"Dependent or spouse of a nonresident alien visa holder
"Nonresident alien claiming a tax treaty benefit
"Nonresident alien student, professor or researcher filing a U.S. tax return or claiming an exception," the IRS advises.
Residents who need an ITIN can find instructions for how to apply for one at the IRS website.
Those part of CalWORKS/CAPI and receivers of SSI/SSP
California's relief package "now provides direct relief to more lower-income Californians through a $600 one-time grant to households enrolled in the CalWORKS program and recipients of SSI/SSP and Cash Assistance Program for Immigrants (CAPI)," the governor's office stated.
"Grant payments for CalWORKS households are expected by mid-April; timing for the delivery of SSI/SSP and CAPI grants is currently under discussion with federal officials," the governor's office added.
CalWORKS
CalWORKs is a public assistance program providing cash aid and services to eligible families with children. Those who qualify receive money each month to help pay for housing, food and other necessary expenses.
Generally, the following people qualify for services under the CalWORKs program, as outlined by the California Department of Social Services (CDSS):
Families with children at home who have been deprived of parental support or care because of the absence, disability or death of either parent.
Families with children where both parents are at home but the principal earner is unemployed.
Needy caretaker relatives of a foster child or foster children.
SSI/SSP
The SSI Program is a federally funded program providing income support to those eligible who are 65 or older, blind or disabled. "SSI benefits are also available to qualified blind or disabled children. The SSP Program is the state program which augments SSI," CDSS explains.
"Eligibility for both programs is determined by SSA using federal criteria. If an eligible individual qualifies for SSI, they qualify for SSP. The benefits are in the form of cash assistance," the CDSS notes.
Individuals eligible for SSI/SSP include those who:
"Are aged 65 or over or blind or disabled;
"File an application for SSI/SSP;
"Meet income and resource limits;
"Are a U.S. citizen, or a non-citizen who has been lawfully admitted for permanent residence and meet certain special conditions, and are a U.S. resident;
"Do not reside in a public institution;
"Apply for benefits from all other programs for which they may qualify," according to the CDSS.
CAPI
CAPI is a fully state-funded program providing monthly cash benefits to "aged, blind, and disabled non-citizens who are ineligible for SSI/SSP solely due to their immigration status," the CDSS notes.
You may be eligible for CAPI if you meet all of the following requirements:
"Are a non-citizen and meet the immigration status criteria in effect for SSI/SSP as of 8/21/96.
"Are 65 or over, blind or disabled.
"Are ineligible for SSI/SSP solely due to their immigration status. (This means they must either apply for SSI/SSP and have a notice of denial based on their immigration status alone, or submit other proof of ineligibility from the Social Security Administration.)
"Must reside in California.
"Their income must be less than the CAPI standards.
"Their resources must be below the allowable limits of $2,000 for an individual or $3,000 for a couple.
"They must successfully complete the application process," according to the CDSS website.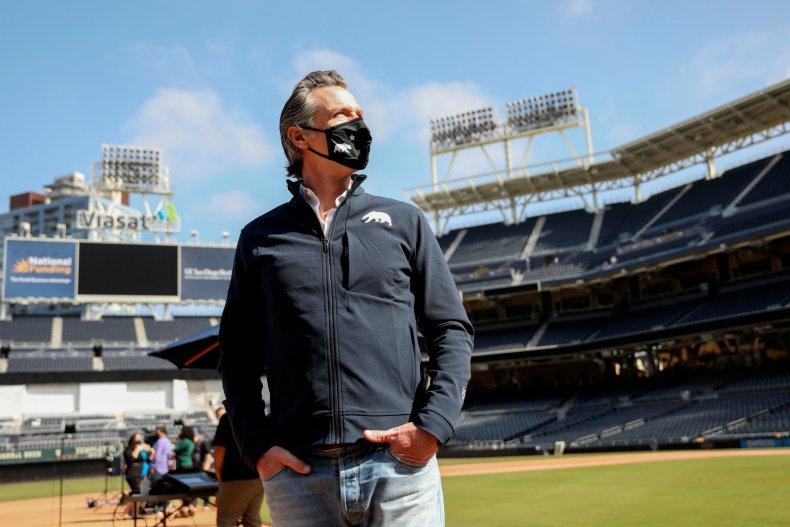 The wider picture
The novel coronavirus has infected more than 110 million people, including over 27.8 million in the U.S., since it was first reported in Wuhan, China.
More than 2.4 million people have died worldwide and more than 61.9 million have recovered as of Thursday, according to Johns Hopkins University.
The graphic below, produced by Statista, illustrates the spread of COVID-19 in the U.S.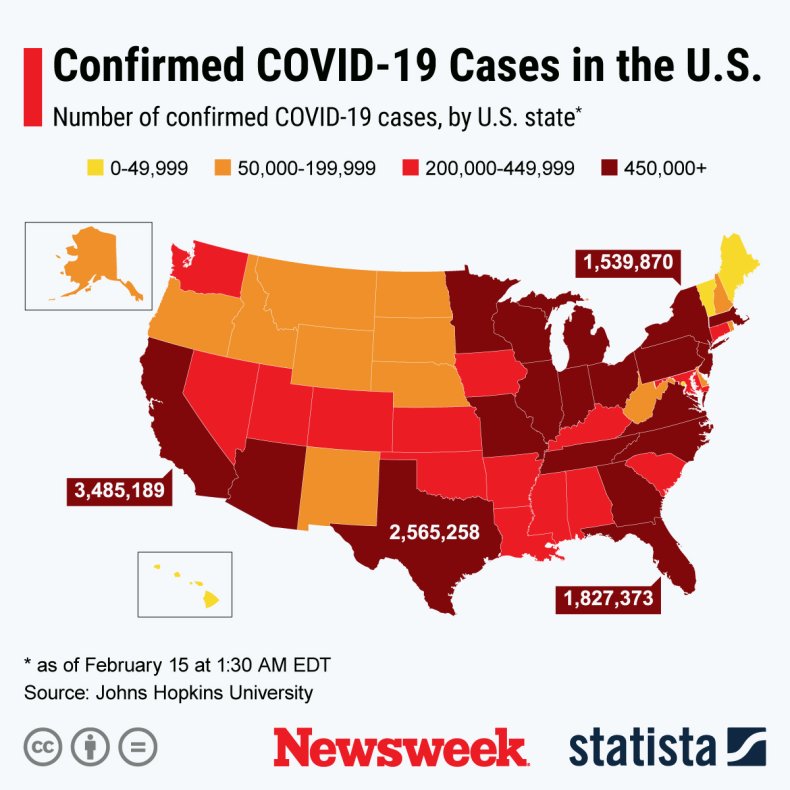 Newsweek, in partnership with NewsGuard, is dedicated to providing accurate and verifiable vaccine and health information. With NewsGuard's HealthGuard browser extension, users can verify if a website is a trustworthy source of health information. Visit the Newsweek VaxFacts website to learn more and to download the HealthGuard browser extension.