California Fire Map, Update as Fairview Blaze Near Hemet Quadruples in Size
Two people have been killed and 1,500 homes evacuated as the Fairview Fire rips through Riverside County near Hemet, to the east of Los Angeles.
The 2,000-acre inferno is just one of several that are blazing across California, with National Weather Service extreme heat warnings in place for much of the state.
Riverside County Fire Department (RCFD) first reported the Fairview Fire at 3.37 p.m. on Monday, when it was burning across "20 acres of light to medium vegetation at a rapid rate."
The fire grew quickly, first to 500, then 2,000 acres by the evening, according to emergency responders.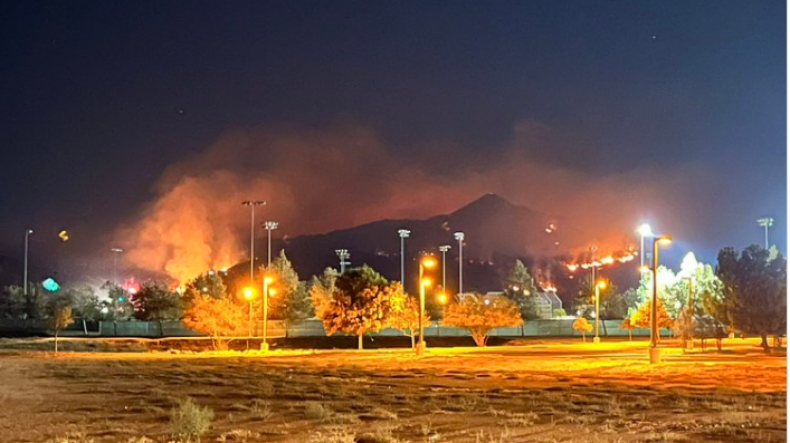 Captain Richard Cordova of the RCFD said two residents had been killed by the fire, with another evacuated to hospital with severe burns on their face, arms and back.
Several people were rescued from Gibbel Road where they had been trapped by the inferno.
Seven structures have been confirmed destroyed by the Fairview Fire, with several more damaged and around 5,000 under threat.
About 1,500 homes have been evacuated, with evacuation orders covering a large area from Stetson Avenue in the north to Cactus Valley Road in the south, and State Street in the west to the foothills of Hemet Valley in the east.
Tahquitz High School, on 4425 Titan Trail, has been turned into a care center for evacuees.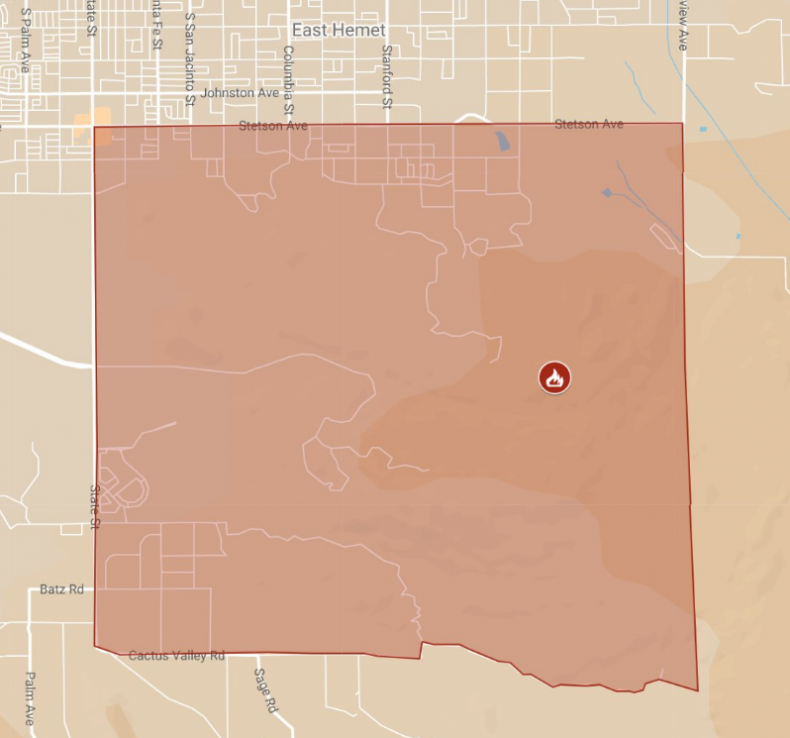 The Fairview Fire, which is currently just five percent contained, is being battled by 265 fire fighters with 38 fire engines according to the RCFD. They are receiving aerial support from four helicopters and six air tankers.
All schools across the Hemet Unified School District have been closed until further notice.
On Monday, education authorities said: "After considering local authorities' advisement and evacuation orders, transportation impacts, the current level of fire containment, and the possibility of power outages with anticipated high temperatures, we feel that closing schools tomorrow is necessary to ensure the safety of students, staff, and families. The closure will continue until conditions improve."
Separately, two partially contained wildfires are burning across Siskiyou County in northern California.
The Mill Fire, which is now 55 percent contained, has consumed 4,263 acres and killed two women, aged 77 and 73.
Further east the Mountain Fire is burning across 11,464 acres and is currently only 20 percent contained.
The western United States, including California, is in the grip of a heatwave that began on August 30 and is expected to continue until Wednesday.
On September 1 the temperature in Death Valley reached 127 degrees Fahrenheit, the hottest temperature ever recorded in September anywhere in the world.
The same day saw the Route Fire blaze through 4,600 acres near Castaic, in LA County, leading to the evacuation of more than 100 homes.
Several small fire tornadoes forming part of this inferno were filmed by the Los Angeles County Fire Department.