California Man Dubbed a 'Genius' for Using Trash Bags to Get A/C in His Bedroom
A man has been described as a "genius" after coming up with a novel way to get air conditioning in his boiling-hot bedroom.
Anyone in the southwestern U.S. will know it has been scorching lately, with record-breaking temperatures across California and Nevada in recent weeks.
Heat warnings have been in force in the Bear Flag State, with the National Weather Service recording a whopping 130F in Furnace Creek, Death Valley, on Saturday.
Unsurprisingly, Californians have been struggling to sleep in the extreme heat. Although most apartments are fitted with air-conditioning units, one man, named Tengo on TikTok, had only one—in the kitchen.
It wasn't powerful enough to reach his bedroom, which had turned into a sweltering box. In the middle of the night, unable to drift off, he came up with an idea to extend the unit so it would blow cool air into his bedroom.
He used trash bags to create a makeshift ducting system and shared his efforts to TikTok last week, in the midst of the heatwave. The on-screen text read: "Check this out, we taped a bunch of trash bags together to make the kitchen AC blow into the bedroom."
Tengo's video, shared with the caption "Bedroom was too hot and we only have A/C in the kitchen," has been viewed more than 3.1 million times.
The clip showed the tunnel of taut bags filling with air, then the other end in his bedroom. A breeze is clearly audible on the microphone, suggesting his DIY ducting had worked.
Responding to questions in the comments, Tengo confirmed that it was "100 degrees" in the bedroom.
He added: "Took a good part of an hour to cut up the trash bags and carefully tape them. Not easy, worth the effort 100%."
Raving about the design, TikTok user Kate wrote: "I have to say, this is pretty damn smart!"
TopBottom300 posted: "If it works it's a solid idea."
Raul Carmona joked: "That's some NASA stuff right there."
If you were wondering why he didn't simply buy a second A/C unit, commenter Heidi Joline had the answer, writing: "A lot of rentals won't allow another unit in rooms. Some it just doesn't fit (window size, opening etc) I live in L.A. and it's common not to have."
Tengo replied: "Exactly."
Atila Horvath described the idea as "Smart and ghetto all at the same time," while a man named Brad Canning said it was simply "genius."
Kerryn Obersteller had another idea, however. She wrote: "You know it would have been easier to drag the mattress to the kitchen."
Newsweek has reached out to Tengo for comment.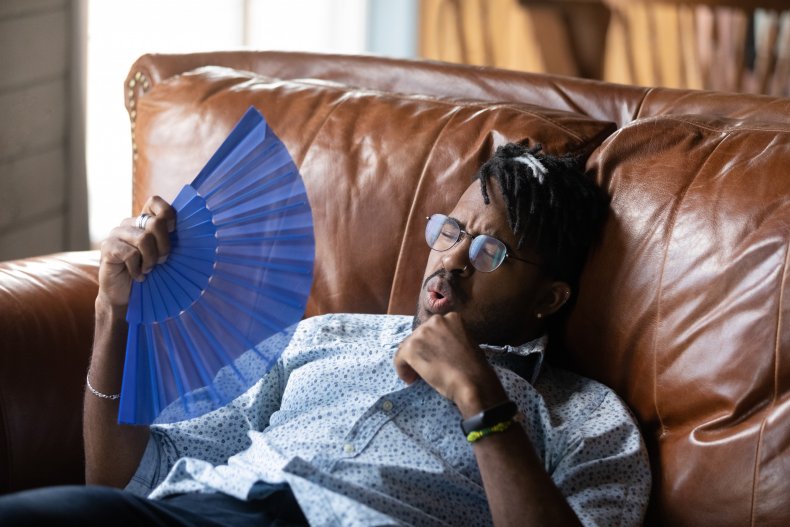 Correction (9:10 p.m., 7/14/2021): This article has been corrected to refer to the heat wave in the southwestern U.S. rather than the northwestern. Newsweek regrets the error.