California Stimulus Check: Who Is Eligible for New $600 Payments?
California Governor Gavin Newsom signed further coronavirus relief legislation this week, which will provide $600 stimulus checks to the majority of his state's residents as well as additional payments to dependents.
In early May, Newsom first promised that two-thirds of Californians would receive the $600 direct payments. The Democratic governor then reached an agreement with state lawmakers to approve the direct payments, as well as billions in other economic relief, at the end of June.
"$600 checks are coming to 2/3 of Californians. And if you have a kid, you can benefit from an additional $500," Newsom tweeted on May 11.
Thanks to the state's economic relief legislation, California residents earning up to $75,000 a year will receive a $600 direct payment. And, as the governor noted back in May, parents or guardians will receive further payments of $500 for dependent children. Undocumented immigrant families will also receive payments of $500. In total, about $8.1 billion has been set aside to cover the costs of all the new stimulus checks.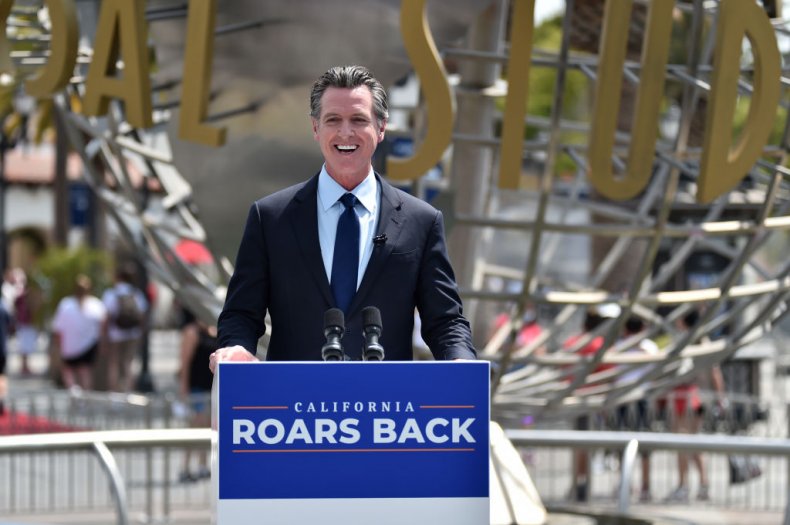 "In partnership with the Legislature, we're providing direct relief to struggling families and money into the pockets of small business owners across the state. Your incredible resilience and perseverance have brought our state to this moment, and California is committed to making you the foundation of our recovery," Newsom wrote to Newsweek.
On Monday, Newsom said that "harnessing the largest surplus in state history, we're making transformative investments across the board that will help bring all our communities roaring back from the pandemic—and pay dividends for generations to come," according to Los Angeles Times. The governor explained that the stimulus plan was made possible by a more than $80 billion budget surplus.
As the governor highlighted when he announced the plan, state officials estimate that two out of every three residents in California will receive a direct payment. Considering that California is home to about 39.5 million people, this means more than 26 million residents should receive stimulus checks. Officials have said the payments will arrive sometime in September.
The new $600 stimulus checks are the second direct payments to be approved in California. A previous round of $600 payments was sent to lower-income Californians earlier this year, but the new plan expands on that first relief package to provide checks to significantly more residents of the state.
Most California residents should have already received three federal stimulus checks as well. In March 2020, Congress approved $1,200 direct payments that were sent to most Americans. A round of $600 federal stimulus checks was later sent out through a December relief plan.
After President Joe Biden took office in January, Democrats pushed through a third round of stimulus checks—without any Republican support. Those most recent payments, which were approved in March, provided up to $1,400 to most Americans.
This article has been updated with additional comment from Newsom.