California Teacher Goes Viral After Threatening to Kill Protester in Front of Crying 8-Year-Old Daughter
The Bakersfield City School District is investigating Carrie Maxwell, a second-grade teacher at Wayside Elementary School caught threatening to kill a crying 8-year-old and her mother in a now-viral video following a racial justice protest last Friday.
In the video, a woman named Erika Baze took her daughter to the protests which had been peaceful thus far for Danyelle. While walking, Baze claimed that Maxwell "jumped out" in front of her in a muumuu and began yelling at the mother and child, both of whom are white.
"Do not film my daughter!" Baze yelled as Maxwell began filming the interaction on her cell phone.
"I'll f*cking kill you," Maxwell responded before being dragged away by her shirtless husband.
As Kimberly started crying, Baze yelled to Maxwell, "Do you see what you did to a child? Good job!"
"Get a job!" Maxwell yelled back.
"Really?" Baze asked. "You just traumatized a child for walking. Look at this! Are you proud?"
Baze reassured her daughter, "She's not killing anyone, babe," as her red-haired daughter cried, "I'm scared!"
The video of their encounter, posted by Baze onto Twitter, has since gained over 2.7 million views and 15,300 shares. Some Twitter users identified Maxwell and provided the email address to her school's principal.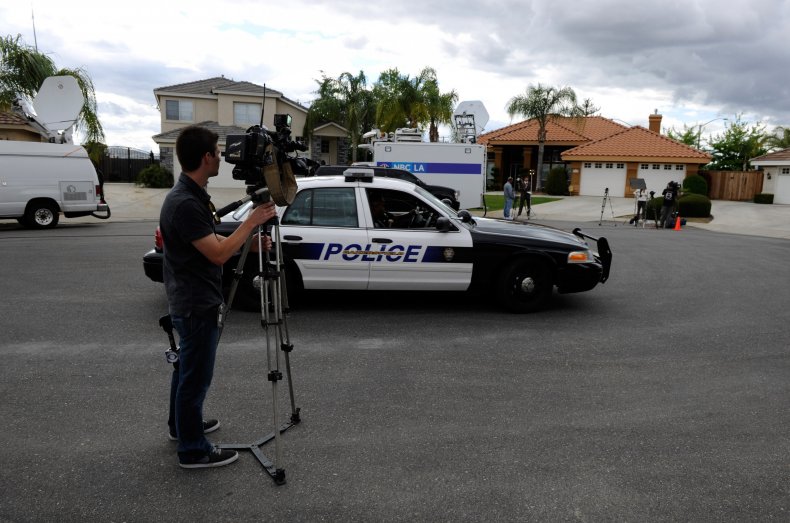 "I am humiliated by my actions," Maxwell said while apologizing for her actions through her lawyer.
Maxwell claimed she reacted out of panic after hearing protesters chant obscenities near her home where she cares for her autistic son and elderly mother.
"I called the police and was told there was nothing they could do. I went out to ask the protesters to move the protest away from my home. This was not shown on the video that was posted," Maxwell said.
The teacher claims she never directly addressed Kimberly and adds that she herself felt "heartbroken" that she might now be perceived as racist despite 12 years of predominantly teaching students of color.
Maxwell added that she didn't want her actions to diminish the ongoing nationwide protests in the memory of George Floyd, the 46-year-old Black man killed by a Minneapolis police officer who knelt on his neck for nearly nine-minutes.
Newsweek reached out to the Bakersfield City School District for comment. This story will be updated with any response.
This is merely the latest of several viral videos of non-black people attacking racial justice protestors. One video from McAllen, Texas showed a Latino man brandishing a chainsaw at protesters while screaming swears and the n-word.
Another such video showed a Kensington, Maryland resident named Anthony Bernard Brennan III assaulting a young girl and her family while the family hanged protest flyers at a local bike trail. After video of the incident went viral, Brennan was arrested and charged with three counts of second-degree assault.
Correction 6/10/20, 6:40 a.m. ET: This article was updated to correct George Floyd's age as 46 years old and the recorder's name as Erika Baze.