California Weather Videos Show Cars Flooded While Other Areas Hit With Snow
Videos of cars flooded in California have begun circulating on social media on Friday after intense weather struck the state.
In addition to the heavy rain and flooding, some areas in California like Los Angeles have seen heavy snow and wintry conditions.
Earlier in the week, the National Weather Service (NWS) issued blizzard warnings for Los Angeles and Ventura counties, which are typically used to hot and dry conditions with occasional rain.
One video clip highlighting the weather conditions in Los Angeles showed one motorist being forced to the roof of their car. CBS Los Angeles political reporter Tom Wait shared the video on Friday to Twitter, which has viewed more than 325,000 times as of Saturday morning.
In the clip, the motorist is seen sitting on the roof of their car speaking on the phone as other cars drive out of the water to their left.
Another video, which has been viewed more than 525,000 times since being posted to Twitter, shows multiple cars trapped on a flooded road.
The video, posted by photojournalist for CBS Los Angeles John Schreiber, was captioned: "At least 6 vehicles flooded and stuck on Vineland Avenue in North Hollywood right on the western end of Burbank Airport, including a Maserati. LAFD was on scene to help. Steer clear of Vineland if possible."
California Weather Forecast
The wintry weather conditions are set to remain across California over the coming days, according to reports.
According to the Associated Press, San Francisco could see record-breaking cold temperatures on Saturday morning according to the NWS, which projected temperatures of 38 degrees Fahrenheit.
Meteorologists have called the recent weather in the state "unbelievable," and that the temperature drop would see the city at its coldest since 2009, according to the NWS.
The Weather Prediction Center of the NWS also predicted heavy snow over the Cascade Mountains and the Sierra Nevada into the weekend. The Sierra Nevada area was also issued an avalanche warning, the AP reported.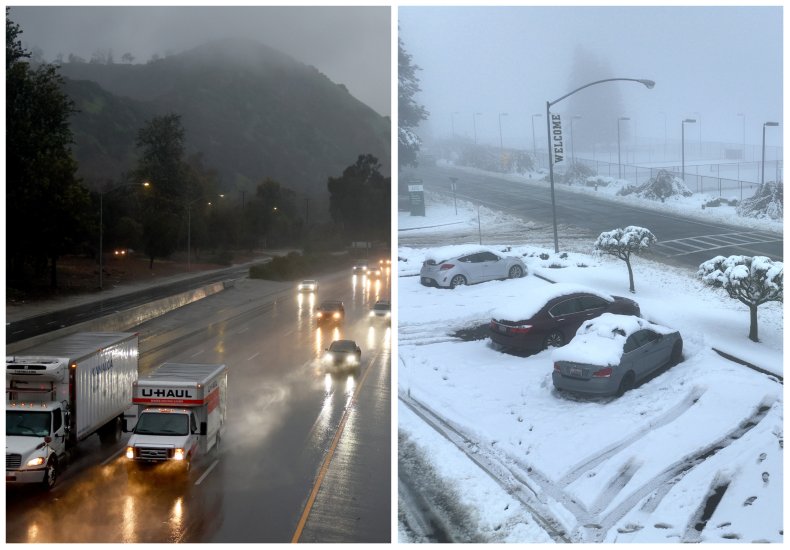 Some local news reports also noted that smaller communities may close completely due to the unforeseen impact of the storm.
Sharing a video on Twitter, ABC News' national correspondent Mireya Villarreal detailed how residents of Wrightwood, California, which has had heavy snowfall already, could wake up to more snow.
"It is an absolute whiteout here, cars are moving very slowly, the ploughs are out in full force, the wind is brutal on my face and this is only the beginning," she said. "Overnight they are expecting to get 60 mile per hour winds on top of that and up to 5 feet of snow. This hasn't happened since the 80s."
She added: "Most of the town has shut down, a couple of grocery stores have stayed open just to help people out but it is going to shut down pretty quickly in Wrightwood."
Meanwhile, the NWS warned on Saturday of more intense weather and significant travel disruptions.
"An anomalous low pressure system will continue to produce heavy rainfall and thunderstorms over parts of southern California where a Slight Risk of excessive rainfall is in effect for today," the NWS said. "This system will also shift its focus of heavy snowfall to portions of the central/southern Sierra Nevada and Transverse/Peninsular Ranges, where Blizzard Warnings are in effect for today."
It continued: "Additional accumulations of around a foot of snow are likely with locally higher amounts possible. Expect continued impacts to travel and infrastructure. Snow and strong winds will then shift into the Great Basin, Southern Rockies/Plains on Saturday night into Sunday before the surface low re intensifies into a sprawling mid-latitude cyclone over the mid-section of the country."
On Sunday, Californians could expect further showers and thunderstorms in addition to possibly more severe storms in the late afternoon and evening.