California Wildfires Threaten Nearly All of State's Cannabis Crops
Cannabis crops are disproportionately impacted by wildfires in California compared to other major crops in the state, according to a study by the University of California, Berkeley.
Wildfires have ravaged California, with many of the active fires burning in the northern part of the state, according to reports from Cal Fire. Cannabis farmers often locate in northern California because of regulations that restrict growing in low-wildfire-risk areas such as the Central Valley.
More than 94 percent of legal cannabis is projected to grow in hot spots in California by the end of the century, the study published in Ecosphere last week found, and that for a variety of reasons, cannabis is "uniquely vulnerable" to wildfires.
Although cannabis was legalized for recreational adult use in California in 2016, much of the state's crop is still farmed in rural areas because of its illicit history. Regulations restrict cannabis farmers from growing in certain counties, such as in the Central Valley area where the threat of wildfire damage is very low. This often influences cannabis farmers to locate in rural areas more prone to wildfires.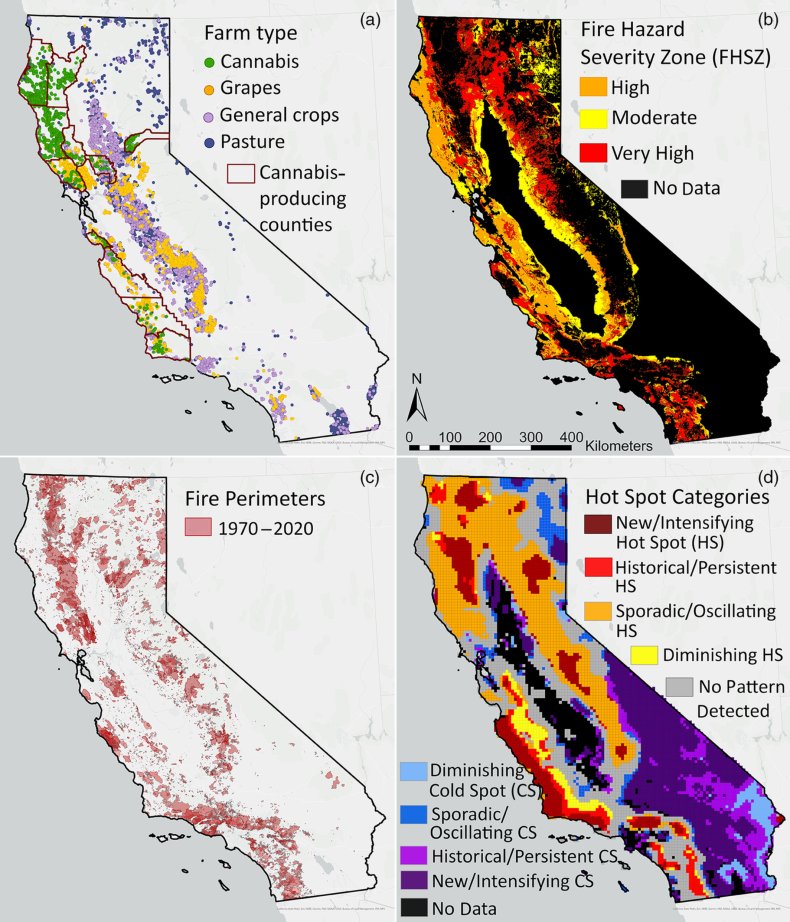 In nine of 11 cannabis-producing counties in the state, 75 percent or more of cannabis farm area was located within wildfire risk zones. Some counties such as Humboldt, Trinity, Mendocino and Nevada saw 100 percent of cannabis farm area located in hot spots. Other counties such as Sonoma and Yolo had less than 25 percent of their cannabis farm areas concentrated in hot spots.
Hit To The Economy
The Department of Cannabis Control (DCC) told Newsweek in a statement that the economic impacts of wildfires impacting cannabis crop require further study but could potentially "significantly" impact the state's economy.
"Based on this report, we understand that widespread cannabis crop damage due to fire or other weather-related issues could be severe, especially to local economies that rely on cannabis tax revenue," the statement said.
The study found that legal sales for cannabis in 2019 neared $3 billion.
"Cannabis is already one of the top five grossing agricultural sectors in California, with rapid growth expected in the coming decade," the study said. "In 2020, tax revenues from legal cannabis sales amounted to over $780 million. Considering cannabis' increasing economic importance at state and county levels, crop losses from wildfire have the potential for significant impacts, particularly in rural communities with a higher direct social and economic dependence on cannabis agriculture."
Opportunities for cannabis farms to invest in crop insurance to mitigate risk are scarce as cannabis is federally illegal. Insurance premiums also are on the rise for farms located in high-risk-wildfire areas.
"This could disproportionately impact already marginalized small-scale cannabis farmers who may not have resources to recover from wildfire-related losses," the study found. "As evidenced by insurance premiums rising exponentially [or policies being terminated altogether] for vineyards and other agriculture in fire-prone areas, the prospect of cannabis being insured in similarly hazardous areas appears unlikely."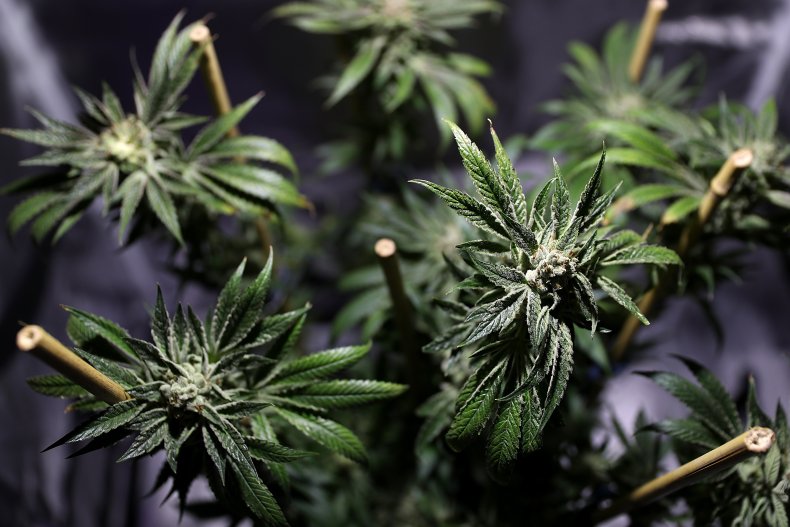 Underestimated damage
The study examined the number of cannabis farms directly damaged by wildfires in 2020. Although the direct impact was relatively small at less than 1 percent, the authors said that a much larger percentage could be affected just because of the crop's proximity to wildfires.
Smoke exposure often impacts other crops, such as grapes, but little analysis has been done on similar effects to cannabis crops. Study authors said that the true impact to cannabis crop was likely "underestimated" because the study examined only cannabis farms directly impacted by wildfires.
"While the adverse effects of wildfire smoke on the chemical composition and quality of wine grapes ['smoke taint'] are well documented and have been shown to cause significant economic impacts the effects of smoke on the quality of cannabis products are less well understood," the study said.
Wildfire smoke could lead to a need for more testing protocols from the state in a sector that is already strict.
"Given California's stringent testing requirements for cannabis flower, the effects of wildfire smoke add further uncertainty to newly established testing protocols and there is no publicly available guidance on potential mitigation measures," the study said. "The potential economic impacts to farmers due to testing failures are, at present, even more difficult to estimate given the lack of available data."
Attention should be directed toward alleviating location regulations to encourage cannabis farming in areas less prone to wildfires, the study said.
"Attention should also be given to the social, political, and regulatory barriers that are excluding cannabis from more traditional and less fire-prone agricultural areas (e.g., the Central Valley)," the study said. "For farms already established in high-risk areas, fire-safety programs are needed to reduce the impacts of wildfire to crops and human health. These could include traditional fire-risk reduction actions, such as vegetation management and fire breaks, but should also include measures that address the risks of wildfire smoke exposure to crops and farm workers."
The study also encouraged California to pursue avenues for crop insurance available to cannabis farmers who are not eligible for federal programs.
"Collectively, these steps will help bolster the resilience of the developing regulated cannabis industry to wildfire," the study said. "If successful, efforts to address wildfire vulnerability of cannabis farms could potentially serve as a model for reducing the vulnerability of other forms of rural agriculture, and their dependent communities, especially in a changing climate."
Newsweek reached out to the University of California, Berkeley for comment.
Update 09/12/22 2:38 p.m.: This article was updated with a link to study by the University of California, Berkeley.