Californians Will No Longer Have to Wear Masks Inside as of February 15
California Governor Gavin Newsom said he's dropping the state's indoor mask mandate for vaccinated people as COVID-19 case numbers decrease.
Newsom said on Twitter Monday the requirement will expire on February 15, following other governors who have also announced a similar easing of COVID-19 protocols that have been part of daily life for nearly two years.
As the highly contagious Omicron variant began surging in December, Newsom and other governors reinstated masking requirements and other measures intended to slow the virus' spread. But Newsom said Thursday that California's case rate has decreased by 65 percent since its peak from the Omicron wave. Hospitalizations have also stabilized.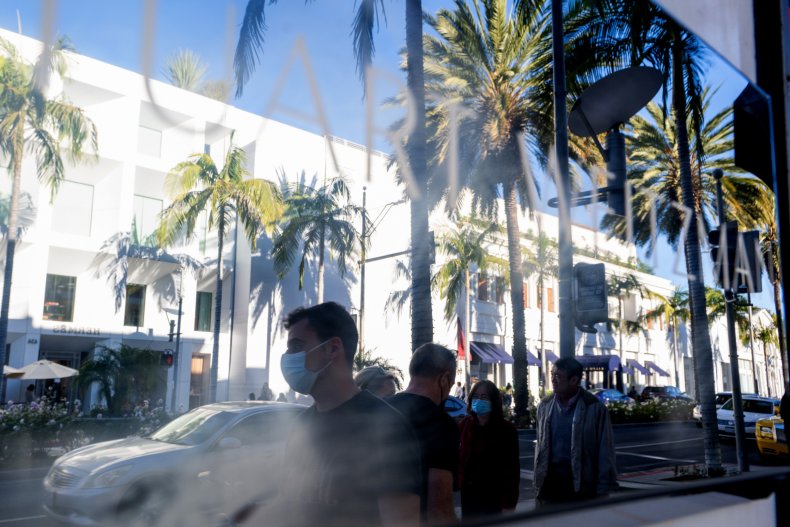 "Unvaccinated people will still need to wear masks indoors," said Newsom. "Get vaccinated. Get boosted."
Masking requirements for schools will also stay in place. The governor will allow local jurisdictions to keep mask requirements in place.
Los Angeles County health authorities said during a media briefing last week that they'll keep the requirement until the county reaches certain benchmarks.
"When transmission is lower, we will appropriately be relaxing some masking requirements, but we're not there yet," Los Angeles Health Director Barbara Ferrer said at the briefing.
California saw 1,065 cases as of February 5, the most recent day state data is available. That's down from the state's January 10 peak of 135,942 cases.
The state saw a similar trend for hospitalizations. As of February 5, the state's 14-day hospitalization average was 13,620. On January 15, that number was 21,471.
Nationally, the U.S. recorded 73,625 cases on February 6, down from the 433,561 recorded on January 15, according to numbers from the U.S. Centers for Disease Control and Prevention (CDC).
Despite the declining case numbers, CDC data still shows the level of community transmission remains high across the U.S. with a seven-day test positivity rate of 15.85 percent. For California, the seven-day test positivity rate is 10 percent, down from the peak rate on January 9 of 22.7 percent.
Newsom's announcement came the same day Oregon officials said the state's mask mandate for schools would expire in March. The governors of New Jersey and Delaware also said they'd lift their school mask mandates.
In addition to California, eight other states and Washington, D.C., have indoor mask requirements currently in place, including Delaware, Hawaii, Illinois, Nevada, New Mexico, New York, Oregon and Washington state.
As the pandemic has continued and vaccination rates have increased, the public and government officials have said it's time to move on. A Monmouth University survey, released last month, found that 70 percent of U.S. adults agree that "It's time we accept that COVID is here to stay and we just need to get on with our lives."
Newsom may be tiring of the requirements himself. Last month, he was criticized after a photo of himself appearing maskless with Magic Johnson made its rounds on the internet. Newsom defended himself saying he was very "judicious."
Newsweek has reached out to Newsom's office for additional comment.