Rick Caruso Shines, Chesa Boudin Falls As Progressives Face Urban Revolt
Democratic voters in California took their frustrations to the ballot box on Tuesday, boosting a former Republican in Los Angeles' mayoral race and removing one of the nation's most progressive district attorneys from office in an urban revolt.
As the world has moved out of the pandemic, the atmosphere in two of California's biggest and historically most progressive cities has shifted significantly. Tuesday's primary election featured two local races that have revolved around the rising rates of crime and homelessness in San Francisco and Los Angeles, creating a problematic situation for progressive candidates.
What's happening in the L.A. mayor's race and in the San Fransisco district attorney race is "consistent with the trend we are seeing nationally: that voters feel that the Democratic Party has moved too far left and want elected officials to shift back towards the center," Democratic pollster Carly Cooperman told Newsweek.
In Los Angeles, billionaire Rick Caruso, who is running to fill the vacancy being left by Mayor Eric Garcetti, managed to pull ahead and secure his place as one of two Democrats advancing to the runoffs. Caruso was able to jump ahead of a pack of other candidates despite entering the crowded field late in the election and only joining the Democratic Party for the first time this year.
Caruso, who received 41.2 percent of the vote by 9 p.m. PT, will likely face off against progressive Representative Karen Bass, who had nearly 38 percent of the vote at the same time, in November's general election. No other candidate had reached double digits with 40 percent of the precincts reporting.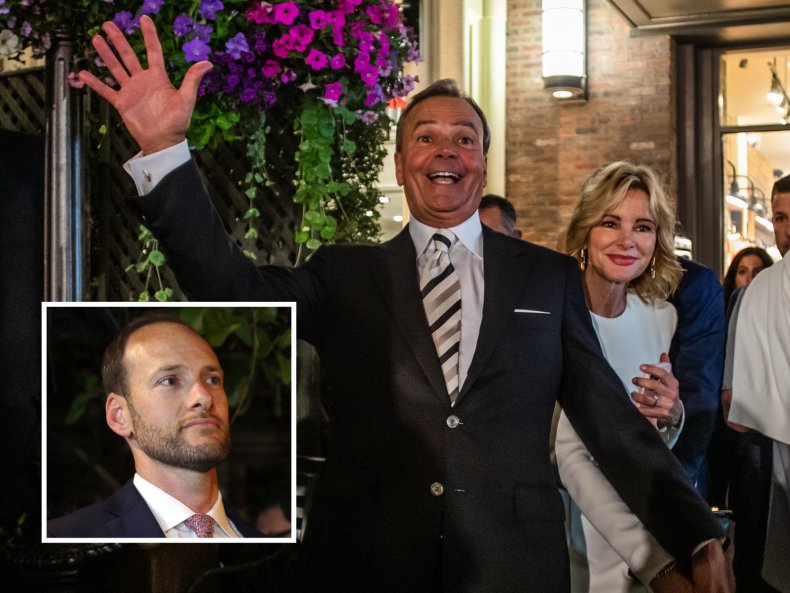 Caruso only registered as a Democrat for the first time in January, just weeks before announcing his bid. Between 2011 and 2019, he switched between Republican and independent three times, according to Politico, and his previous party affiliation has been a focus of his opponents' attacks.
But despite the efforts of progressives to paint Caruso as a Republican in sheep's clothing, his vision of a safer and cleaner city has appealed to many Angelenos who are worried about the city's soaring crime rates and homeless encampments.
UC Berkeley's Eric Schickler told Newsweek that uncertainty among Democratic voters on the issue of rising rates of crime and homelessness is creating opportunities for more moderate Democratic candidates, adding that it doesn't necessarily mean Republicans have a greater chance at winning in California.
Positioning himself as the candidate with the skills to solve the problems facing the city, Caruso's more moderate Democratic stance served him well.
However, Robert Shrum, a political science professor at the University of Southern California, noted that if Caruso's former GOP status pegged him as a "Trump Republican," he would have been disqualified. And because his views never aligned with the former president, Los Angeles' status as a progressive city is still "intact."
While Caruso's likely to be attacked for his contributions to Republicans, Bass will probably be targeted for being too far left. Shrum expects the police league to hit her hard for not being tough enough on crime. So far, though, her campaign has proved fairly resilient, making it to the runoff election despite reports that it had been outspent 10 to 1 when compared to Caruso, who has poured $39 million of his own money into his campaign.
Angelenos don't seem to be the only ones drawn to moderate candidates. Less than 400 miles northwest in San Fransisco, District Attorney Chesa Boudin—a leader in the national movement for criminal justice reform—was facing a recall effort over concerns that he was not prosecuting crimes aggressively enough amid an ongoing public safety debate.
On Tuesday, Boudin lost the challenge to unseat him in what Shrum called a "huge upset" to California voters. Boudin only had 39 percent of the vote to keep him in office with about 70 percent of the precincts reporting at midnight ET.
"To some extent, I think it's unfair because in a lot of areas, crime is not worse than it was before [Boudin] became DA," he said. "But people are frustrated, and he may very well pay the price for that frustration."
In the last couple of years, residents in the Golden City have become troubled over the perception of crime and homelessness across the city at a time when there are also groups pushing for far-left change.
"There's a fringe element that does not represent the mainstream Democratic Party—it certainly doesn't represent mainstream California—that has created an atmosphere in San Francisco where people want to send a message: We don't like this stuff," Shrum added. "And [Boudin] is collateral damage."
The attack on Boudin and Caruso's popularity as a self-described "centrist, pro-jobs, pro-public safety Democrat," however, are testaments to how local policy questions can help politicians rebrand when there's less focus on their partisan history and predispositions.
Schickler explained that if a politician has a clear history as a Republican or Democrat on a national level, voters will be worried that the candidate will fall in line and side with the party's leader on major issues—even despite their campaign promises. Thus, it is easier for voters to separate a candidate from their previous party affiliations when it comes to state and local leaders.
"I don't think it means that Republicans can just rebrand as Democrats and win—but it does say something about the longstanding potential in cities for moderate candidates (even with some conservative views) to compete at times as long as the party label is not made relevant," Schickler said.