Rick Caruso, Ex-Republican Backed by Elon Musk, Surges in L.A. Mayor Race
Billionaire Rick Caruso, a former Republican, has mounted a significant challenge to Democratic Representative Karen Bass in the Los Angeles mayoral race.
The most recent poll, published two days before this week's primary, shows that Bass and Caruso are likely headed to a November runoff. A candidate needs more than 50 percent of the vote to win Tuesday's election, which isn't expected for either Democrat.
With 38 percent of support from likely Democratic voters, Bass has an edge over Caruso, who is backed by 32 percent, according to the Sunday poll from the University of California, Berkeley, and the Los Angeles Times. In April, Caruso had 24 percent to Bass' 23 percent.
This past Friday, Elon Musk endorsed Caruso—a rare move from the Tesla CEO, who has spent the past few weeks publicly criticizing the Democratic Party and vowing to vote Republican. But Musk isn't the only high-profile figure to back the billionaire, who has run a campaign on fixing the city's homelessness and rising crime rates. Caruso, a self-described "centrist, pro-jobs, pro-public safety Democrat," has been endorsed by Kim Kardashian, rapper Snoop Dogg and actress/businesswoman Gwyneth Paltrow.
On the other hand, Bass, a well-known California congresswoman, has gained support from top Democrats—like House Speaker Nancy Pelosi, Senator Cory Booker and Representative James Clyburn—as well as some big Hollywood names—including Steven Spielberg, filmmaker J.J. Abrams and actress Jennifer Garner.
Caruso and Bass are running to fill the vacancy created after Mayor Eric Garcetti was nominated by President Joe Biden to be the U.S. ambassador to India.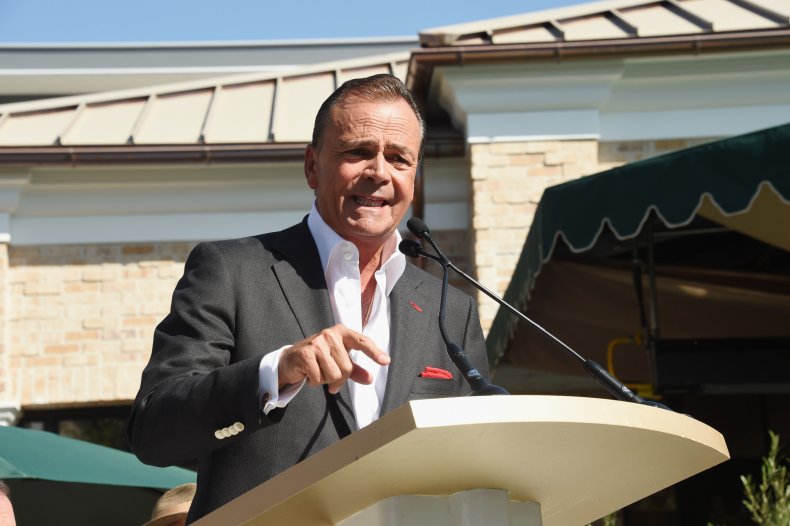 The endorsements are only a glimpse of the immense amount of media attention the two front-runners have attracted since Caruso announced his candidacy in February. The former Republican, who has also registered as an independent in the past, became a Democrat in January, just weeks before announcing his mayoral bid.
Caruso has spent more than $39 million of his own money funding his campaign and flooding the airwaves with ads. Meanwhile, Bass' supporters have frantically spent the last weeks pointing to her rival's switching parties and record of donating to anti-abortion politicians.
While Caruso initially drew strong support from conservative white voters, Sunday's poll indicates he has won over a growing number of Latino and Black male voters.
For her part, Bass has maintained a strong lead among Black women and has continued to gain support among Democrats, liberals and women in the weeks leading up to Tuesday's election, according to the new survey.
If elected, Bass would be the first woman to hold the office and the second Black person. She was floated as a potential running mate for Biden during his 2020 campaign.
But despite Bass' activism in L.A. and the state's Capitol, as well as the city's history of being one of the nation's most progressive, "many voters in heavily Democratic Los Angeles are seething over rising crime and homelessness and that could prompt the city to take a turn to the political right for the first time in decades," the Associated Press' Michael Blood wrote last month.
Correction 06/06/22, 1:32 p.m. ET. An earlier version of this story had incorrect poll numbers for Rick Caruso and Karen Bass in April. That month, Caruso had 24 percent of support from likely Democratic voters and Bass had 23 percent, according to polling from the University of California, Berkeley, and the Los Angeles Times.