'Call of Duty: Warzone' Nuke Event Date Possibly Set In New Dam Teaser
Call of Duty: Warzone's Verdansk map has been slowly flooding with zombies, with leaks suggesting the onslaught will eventually lead to the entirety of the classic arena getting nuked. Now, following the arrival of new influencer teases, we may know when the alleged nuke event is expected to take place. The news arrives courtesy of a tweet from Call of Duty shoutcaster, Joe "MerK" DeLuca.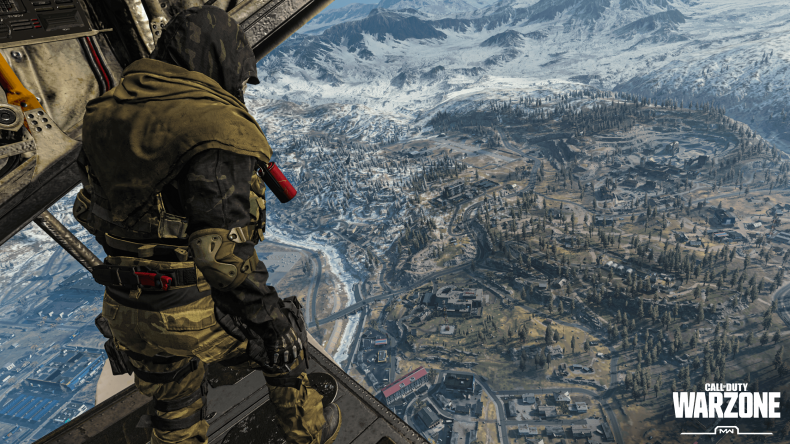 The tweet, which DeLuca simply captions with April 21, features a picture of a Verdansk dam helmet with a gas mask symbol on it. Packed in alongside the helmet is a typed message that reads "once the hostiles reach here, we levee a guess that Verdansk is all but gone to the damned." The tease is punctuated with a date and time of April 21 at 12 p.m.
When it comes to determining precisely what this tease might mean, there are a few different possibilities. The first and most exciting proposition is that April 21 at 12 p.m. may be the kickoff time of the fabled nuke event. It's possible the event starts with zombies overrunning and potentially toppling the Verdansk dam. Without the wall in place to hold back the undead threat, this might be what causes the rest of Verdansk to become entirely overwhelmed.
That being said, given that this official tease doesn't reveal its full intentions, there are other more tame possibilities to consider as well. Followers of the event may remember that, leading up to the zombie invasion of Prison in early March, Call of Duty content maker PrestigeIsKey was sent a similar package with gulag-related puns.
With that pattern in mind, it's possible the dam is just one more step in the ongoing zombie outbreak, with the actual nuke event happening shortly thereafter. Past rumors from VGC suggested the nuke event would take place around April 22, so it's possible these two influencer bundles were dispatched to set up the first and last stages of the invasion.
Something that makes this new tease a bit different from the other, however, is that this dam-focused one is paired with an exact date and time, suggesting that what happens at that time may be significant.
Should this date prove to be the start of the nuke's arrival, we'll likely see further teases featuring similar indications in the coming days. After all, given that the ultimate destruction of Verdansk amounts to the biggest Warzone live event players have seen yet, its developers at Raven Software will presumably want to be sure fans know it's happening.
In combination with data mines and accidental leaks from official sources, the nuke event in Call of Duty: Warzone is one of battle royale's worst kept secrets. Over the past few weeks, voice lines and a trailer of the reworked Verdansk map have found their way to the internet. We'll leave those details out in an attempt to keep this article spoiler-free, but you can click the respective links if you'd like to learn more. As late April inches closer, there's little doubt that Warzone is about to undergo some major changes.
Call of Duty: Warzone is available now on PS4, Xbox Series X|S, Xbox One and PC.
What are your thoughts on this latest nuke event teaser? Will this be the date and time we finally say goodbye to Modern Warfare Verdansk? Tell us in the comments section!