Season 1 of Call of Duty: Warzone Pacific is about to begin and will see the old Verdansk map being replaced by the more tropical Caldera Island.
If you have not been keeping up to date with Warzone recently, you might be surprised to learn that it is about to embark on its "first season" of content, given that it's been around for nearly two years already. Rest assured that this will all make sense in a minute.
To wrap your head around the news, it's first important to note that the battle royale is going to be integrating with Call of Duty: Vanguard soon and will be winding the clock all the way back to World War II. There will be era-appropriate weapons, different characters, fighter planes dogfighting in the sky and, most importantly, a brand-new setting.
Known as Caldera, this dense jungle environment represents a massive change of scenery for the game which, up until now, has been set exclusively within the gloomy industrial complex of Verdansk.
According to the official map artwork, there will be 15 regions for you to learn and master in Caldera. Among these various points of interest are an expansive mining operation, a paradisal resort, archaeological ruins, and a treacherous lagoon. That last one promises to open up plenty of dynamic gameplay opportunities in terms of tactics, as you can wade through the water to cover your footprint trail or use fire equipment to produce a thick smokescreen.
To reflect how the Caldera map is going to dramatically shake up proceedings, the battle royale is being rebranded as Call of Duty: Warzone Pacific. That's why the imminent update is being called "Season 1," as it is the first season of this particular era of Warzone. It's comparable to how Fortnite just wiped the slate clean with its own Chapter 3 update.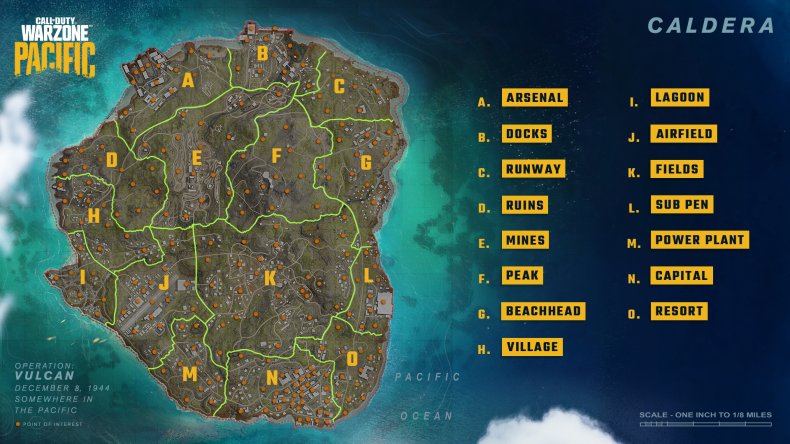 'Call of Duty: Warzone Pacific' Caldera Map Release Time
Call of Duty: Warzone's servers will "go dark" at 12 a.m. ET on Wednesday, December 8. This translates to 9 p.m. on December 7 for those in PST time zones.
As such, you have just a few more hours left to conclude any unfinished business you might have with the Verdansk map, before it's taken away for good.
The servers will then be reactivated 12 hours later (noon EST), but you won't be able to join Caldera matches straight away (not without early access privileges anyway). Instead, players will have to duke it out on the temporary "Rebirth Island" map, which will be the only viable arena for a 24-hour period. This marks the official beginning of Warzone Pacific Season 1.
Then, at 12 p.m. EST on December 9, you will finally be able to join Caldera matches. At this point, Rebirth Island will be removed from rotation, until an unspecified time later on in the season.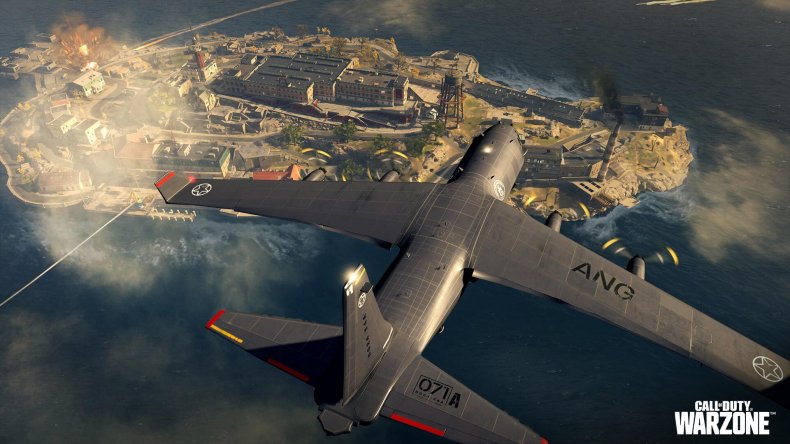 How To Get Early Access to the Caldera Map
You can get access to the Caldera map 24 hours early (at midday on December 8) if you meet certain criteria.
More specifically, you will need to buy a copy of Call of Duty: Vanguard if you have not done so already. As a reward for your purchase, you will be able to get a head start learning the lay of the land at Caldera, while everybody else is stuck on Rebirth Island.
Incidentally, any progress that you make in Vanguard's multiplayer will also carry over to Warzone Pacific, as the battle pass and seasonal prestige unlocks are fully integrated between the two games.
Call of Duty: Warzone is available now on PC, PlayStation 4, PS5, Xbox One and Xbox Series X.