Chiké Okonkwo Praises 'Call of Duty: Vanguard' For Its 'Diverse, Global Perspective' On WW2
Chiké Okonkwo believes that Call of Duty: Vanguard will take Activision's mega-franchise in a bold new direction, particularly when it comes to historical representation.
Speaking to Newsweek in an exclusive interview, the British Nigerian actor (who plays special forces operator Arthur Kingsley) talked about how proud he is to be associated with the upcoming game, taking on the role of the first Black protagonist in the entire franchise. He also expressed his hope that it will give younger audiences a fresh perspective on World War II and the role that people of color played in the allied victory.
He explained: "[The] narrative focuses on characters from different parts of the globe, all of whom are based on real people. There's a Russian sniper named Paulina Petrov, there's me as a Black officer, there's a U.S. air force pilot, and my dear friend Marty Copping is even playing an Australian infantryman.
"I for one had not even heard much about Australia's involvement in World War 2 until now, and it is utterly fascinating. It was so great to hear about all this research [Marty] had done, and what it meant for him to represent his country in this game.
"That idea of showing the lesser-known parts of World War 2 was what Sledgehammer initially pitched me on and it was the main reason that I signed up for the project [...] I was thrilled that I would be getting to represent the black British soldiers of the period, of whom there were so many. That's really gratifying to me. Kids all over the world are going to be experiencing the war through a different lens here and I am really proud of that."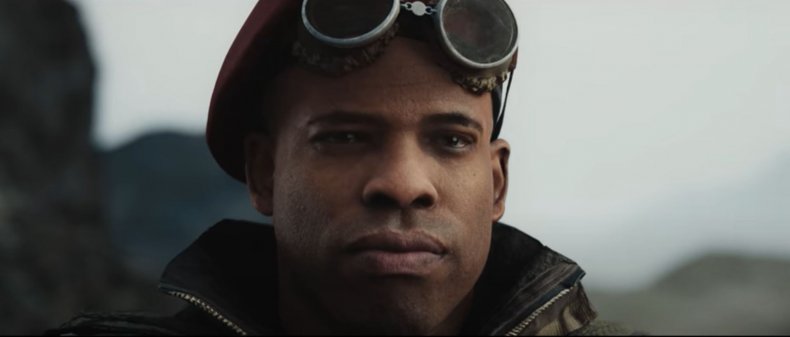 Born in South London, Okonkwo has an East Nigerian heritage, with both of his parents being of Igbo descent. At the age of 6 he was captivated by pantomime, which he admits to only half-remembering now, and subsequently decided to pursue a career on the stage.
Cutting his teeth in the field of amateur dramatics as a teenager, Okonkwo eventually joined the British National Youth Theater which, among others, has provided big breaks for the likes of David Oyelowo, Gugu Mbatha-Raw and, newly retired 007, Daniel Craig. After graduating from the University of Surrey, he then went on to build a strong résumé in U.K. television and on the stage.
In his twenties, Okonkwo migrated over to the U.S., settling down in New York so that he could get work in blockbuster movies and prestige TV.
While he has definitely enjoyed successes in this area (with a part in 2016's The Birth of a Nation) he also managed to carve out a niche for himself as a prolific voice actor. On that note, he has credits in many AAA games including Anthem, Mass Effect: Andromeda and the PlayStation Vita exclusive Killzone: Mercenary.
You might also recognize Okonkwo's voice from your own daily routine if you happen to be into meditation. As the actor himself points out: "In some circles, I have become known for narrating the sleep stories in the Calm app, which is kind of like the polar opposite of Call of Duty! It's a platform that has really gained traction in these past couple of years, ever since the onset of the pandemic, and it's really been a joy to do."
Kids all over the world are going to be experiencing the war through a different lens here and I am really proud of that.
With all this voice acting experience under his belt, Okonkwo auditioned for a major role in an undisclosed video game, which later turned out to be Vanguard. Describing the secretive casting call, Okonkwo said: "My voice over agent told me about this mysterious audition that was being held. They wouldn't tell us what it was for, only that it was extremely high-profile.
"I was later given the unbelievable news that I was going to be part of the new Call of Duty and they pitched this amazing story about how it [was] going to show World War II in an entirely new light."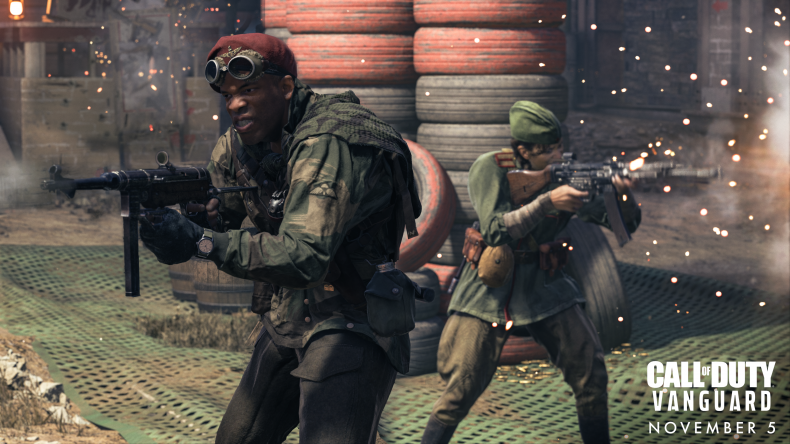 For Okonkwo, the biggest draw of working on Call of Duty: Vanguard was its approach to representation. In particular, he was intrigued by how the game's campaign was going to focus on the untold stories of World War II and shine a spotlight on aspects of history that have largely been glossed over.
For the actor, this was not just an opportunity to have a new backdrop for the franchise or to explore battles that we haven't seen before (although that is an undeniably exciting prospect). Instead, he sees the single-player campaign as a way of addressing certain gaps in history and for raising awareness about all the different groups that were integral to the war effort.
Elaborating upon this, Okonkwo continued: "It's always interesting for me to think about where the camera is focussed in any given story. [The Second World War] is a topic that we learn a lot about at school. Probably more so for Brits than for Americans. That entire period has been so intensely memorialized and it's something that we can just never forget.
This was a 'World War' and we often forget that.
"You have also got films - like Pearl Harbor, Saving Private Ryan and The Thin Red Line- that are incredibly well done, but the focus has always been very much on a male, Eurocentric POV [...] This was a 'World War' and we often forget that. It was fought on every front, and you had people from diverse backgrounds involved. Whether it was the Gurkhas or the infantryman in North Africa, everybody did their part.
"With Call of Duty: Vanguard, I was blown away by how Sledgehammer was finally going to show this global perspective on the conflict. It's the first Call of Duty game to look at the Eastern Front, the Western Front, the North African Front and the South Pacific. We get to explore all of these places [and] for once the camera is shifting away from that European male."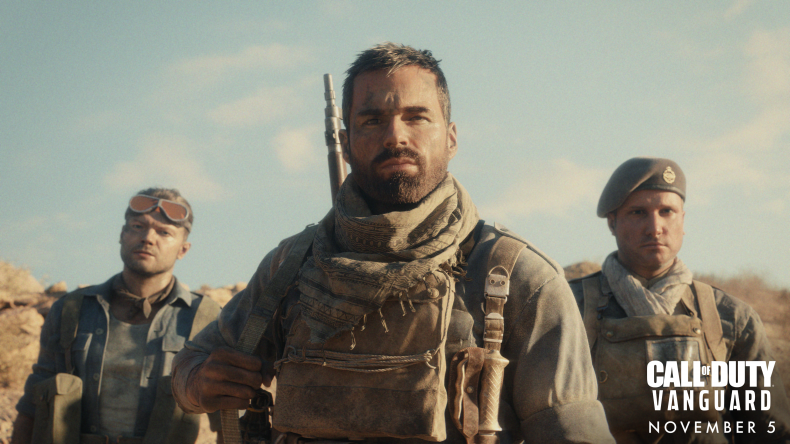 He continued: "I think it's important that, in 2021, Call of Duty has taken this bold move to give their very passionate audience a fresh perspective on history. It was the main factor in getting me signed on to the game. When I heard about the story they wanted to tell, I knew that it was my opportunity to be in Pearl Harbor, to be in Saving Private Ryan and to have the camera focussed squarely on a British man of African descent."
Speaking of which, Arthur Kingsley is not only the first black character to have a prominent role in a Call of Duty story (and one of the few black protagonists in the entire video game medium) but he is also placed front and center in all the promotional materials.
When asked how it feels to be the face of the game's marketing, Okonkwo said: "As a Brit it is really bizarre. I have always aimed to do work that is embraced on a global stage, and to make stories that reach big audiences. It's been my goal ever since I was that kid at the pantomime.
"You know, I am in New York City right now and the marketing campaign is really starting to kick into gear. It will be strange to see my face up in Times Square, but also really nice. It just feels right. I will also just be proud to see that black British soldiers [are] having their moment in video games after all these years."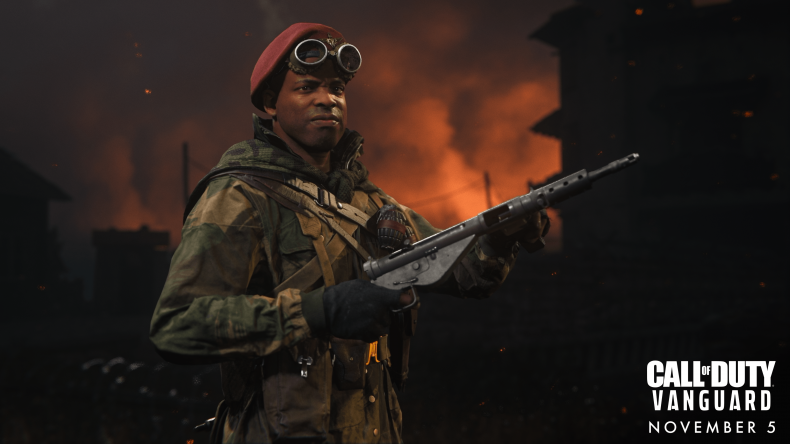 Another aspect that really appealed to Okonkwo about Vanguard was the opportunity to stretch his acting muscles in exciting new ways. Like many video games nowadays, the character animations in Vanguard are based on motion-capture reference material, with actors actually performing the scenes together in a studio environment.
Describing this, Okonkwo said: "Not only did I get to voice the character of Arthur Kingsley, but I also provided his physicality with the motion capture suit. That was a first for me. The technique is entirely different to that of TV or film and is more like theater than anything else.
"The volume that we filmed Call of Duty in was essentially like a black box theater and we were free to act in a 360° way, given that our performances were recorded no matter where we are facing. I have done a bunch of plays in the round before and so I think I had an advantage in that respect.
"It also enabled me to go back to being a kid again and to use my imagination. I think I was very well prepared for that as a stage actor, but I will also say that the creative team did such an incredible job too. They built the scenes for us out of chairs and little platforms and described in minute detail what we were supposed to be reacting to. It was amazing and, now that I've seen the game in action, I can say that everything is just as I was picturing it in my head. Only better and even more detailed!"
Call of Duty: Vanguard will be released on November 5 for PlayStation 4, PlayStation 5, Xbox One, Xbox Series X Xbox Series S, and PC.