Calls for Marvel To Replace Chris Pratt Spark Debate on Christianity
Chris Pratt's Christianity is once again at the center of a debate on social media, following calls for Marvel to replace him with Patrick Wilson.
The discussion appeared to stem from the release of a clip from the upcoming movie Thor: Love and Thunder on 18 April, which showed Pratt's character Star-Lord, also known as Peter Quill, giving his team a pep talk.
He was then seen telling them that if ever they felt lost, they should "look into the eyes of the people that you love," at which point titular character Thor, portrayed by Chris Hemsworth, stares intensely into Star-Lord's eyes.
The clip sparked a strong reaction among fans, some of whom pointed out that Star-Lord had been portrayed as bisexual in a 2020 edition of the Guardians of the Galaxy comic book series, which Entertainment Weekly reported at the time.
While former Parks and Recreation star Pratt has never publicly expressed his views on sexuality, a host of Twitter users took aim at the actor, accusing him of being part of a church whose leading figures espoused homophobic views. He has said that is not true and that the church he attends welcomes everyone.
Sharing side-by-side photos of Pratt and Aquaman star Wilson, one Twitter user wrote: "Marvel. Hear me out. Just... replace him."
Amid a wave of responses opposing and agreeing with the statement, one person wrote: "I'm so lost. Everyone loved him a few years ago then you guys found out he went to church and that's it?"
"It's not 'because he's religious,'" responded another. "It's because he attends and supports a mega church that believes in conversion therapy."
"I would pay real life money to see what kind of conversations Chris Pratt and Taika [Waititi, the film's director] had on the set of Thor," wrote one commenter, suggesting that the actor would object to his character's sexuality being depicted on screen.
However, Oliver Jia, who is social media editor at North Korea-focused outlet NK News, spoke out in defense of Pratt, pointing out that the screen star has never once publicly expressed any form of homophobic sentiment.
"People have been attempting to cancel Chris Pratt for years based on nothing. Not over anything he's actually ever said or did," tweeted Jia. There is zero evidence to suggest he holds any kind of homophobic or bigoted views. You're trying to cancel someone who doesn't exist."
"This really just shows you how fickle all of this is," Jia went on. "You can be canceled purely on rumors, speculation, or literally made up scenarios and no one will question it. It's also quickly forgotten only to be brought back whenever someone is about to achieve something."
Jia added: "You can also be canceled for *not* taking a stance or position on something, even when you're not qualified to do so. Imagine being canceled for doing nothing.
"This is a religion for vengeful people who think they're achieving something by ruining innocent people's lives."
Newsweek has contacted a representative of Pratt for comment.
Elliot Page's Criticism
Actor Elliot Page, who in December 2020 publicly revealed that he is transgender, responded to a tweet from The Hollywood Reporter about Pratt discussing his faith with Stephen Colbert during an appearance on his show.
"But his church is infamously anti lgbtq so maybe address that too?" Page wrote in February 2019. Reports have linked Pratt to Zoe Church, which has been accused of sharing views not in favor of the LGBTQ+ community.
"If you are a famous actor and you belong to an organization that hates a certain group of people, don't be surprised if someone simply wonders why it's not addressed," Page added in a follow-up tweet. "Being anti LGBTQ is wrong, there aren't two sides. The damage it causes is severe. Full stop. Sending love to all."
Chris Pratt Defends Himself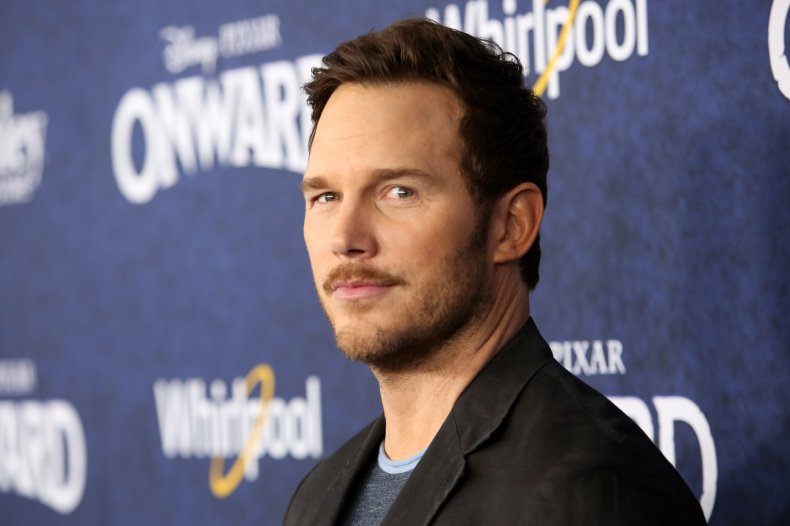 In response to the backlash that the tweets ignited, Pratt took to his Instagram Stories to defend his church, as he said that he was part of a welcoming congregation.
"It has recently been suggested that I belong to a church which 'hates a certain group of people' and is 'infamously anti-LGBTQ.' Nothing could be further from the truth," he wrote, per a screenshot published by People at the time. "I go to a church that opens their doors to absolutely everyone."
Pratt, who tied the knot with Katherine Schwarzenegger in 2019 after his divorce from Anna Faris was finalized the year before, went on: "Despite what the Bible says about divorce my church community was there for me every step of the way, never judging, just gracefully accompanying me on my walk.
"They helped me tremendously offering love and support. It is what I have seen them do for others on countless occasions regardless of sexual orientation, race or gender."
He went on to state: "Faith is important to me but no church defines me or my life, and I am not a spokesman for any church or any group of people."
"My values define who I am. We need less hate in this world, not more. I am a man who believes that everyone is entitled to love who they want free from the judgment of their fellow man," he wrote.
Pratt added: "This is what guides me in my life. He is a God of Love, Acceptance and Forgiveness. Hate has no place in my or this world."
Multiple reports have also linked Pratt to Hillsong Church, though founder Brian Houston tweeted in February 2019 that the actor "is not now, and never has been a member of Hillsong Church."