What Happened to Gabbie Hanna? Calls for Trisha Paytas Apology Spark Debate
Gabbie Hanna is trending on Twitter Thursday morning as fans question whether she deserves an apology, with the hashtag #ApologizeToGabbieHanna tweeted more than 6,000 times at time of writing.
The hashtag appears to have started after Hanna uploaded a new video to YouTube from her podcast The Gabbie Show on June 16 about her feud with fellow YouTuber Trisha Paytas titled: "The Fight I Tried To Hide From You—Trisha Paytas vs Gabbie Hanna."
Both Hanna and Paytas are currently at the center of YouTube controversies with both being accused of hypocrisy in their defenses of other influencers.
On June 8, Paytas dramatically exited the Frenemies podcast and had a very public blowout with co-host Ethan Klein. Meanwhile, a revealing call between Hanna and her ex-friend Jessi Smiles was leaked. The call focused on the fact that Hanna had sided with Smiles' ex-boyfriend Curtis Lepore, whom she accused of raping her in 2013.
In her new video, Hanna writes of Paytas: "She's successfully convinced millions that I am a delusional, dangerous, obsessed stalker who imagined a years-long friendship with her."
In the 21-minute-long video, Hanna shares a previously unseen clip, from February 2021 when the two recorded a podcast together and appeared to hash out their differences. In this previously unseen clip, the pair argue over text messages when Paytas accused Hanna of harassment.
This video seemed to spark the hashtag #ApologizeToGabbieHanna on Thursday morning, which in turn sparked a debate about whether the 30-year-old deserves an apology from Paytas.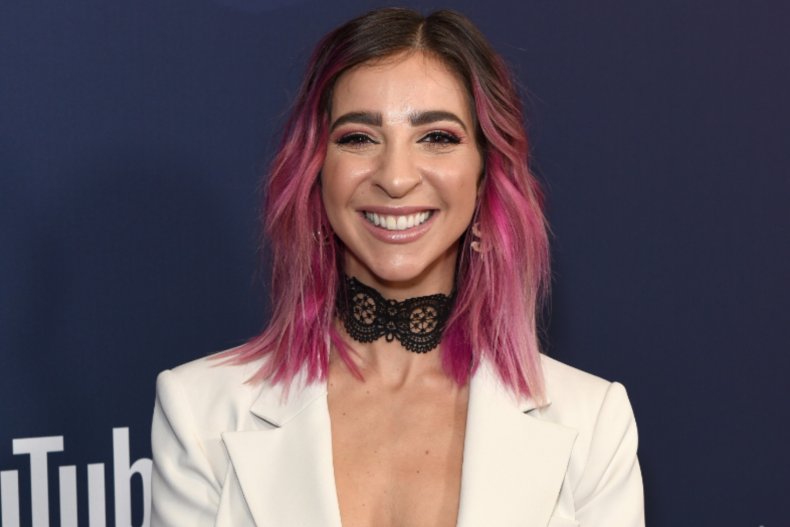 Many fans seem to still resent Hanna for her defense of Lepore and have dubbed her a "rape apologist."
Smiles filed charges against Lepore in 2014 and dropped them a weeks later when he pleaded guilty to felony assault.
"So are we forgetting that not a week ago we got solid proof that she's a rape apologist and a victim-blaming gaslighter or??? #ApologizeToGabbieHanna," reads one tweet.
While another added: "y'all are really tweeting #ApologizeToGabbieHanna as if she isn't a rape apologist that sends her fans to bully and harass small creators that simply don't like her..."
Meanwhile, one of Hanna's supporters tweeted in her defense: "She was bullied by the tea community and Trisha for years and everytime she defended herself she get called every name in the book, time for them to apologize #ApologizeToGabbieHanna."
While another added: "Gabbie just destroyed trisha with receipts. #ApologizeToGabbieHanna."
"Who didn't I apologize to," Hanna said in a Buzzfeed profile published on June 4. "I gave Jessi Smiles an apology. I gave Beyoncé an apology. It feels like I'm always dishing out apologies and I've never once received one, and that to me feels a little chaotic."