Video shows camels caught in a blizzard after a rare winter storm blanketed swathes of the Middle East, from Saudi Arabia to Syria and Libya to Lebanon, in snow.
Parts of the region saw their first snowfall in years, blocking roads and cutting off vaccination centres.
Footage showing the unlikely scene of camels being buffeted by a snow flurry outside the city of Tabuk in Saudi Arabia was shared widely on social media.
Tourists reportedly came from as far away as the UAE to witness the snowfall, which is not uncommon in the mountainous area surrounding Tabuk but marks a stark contrast to the dry, desert-like conditions elsewhere in the region.
Saudi authorities on Wednesday issued weather warnings including thunderstorms, snow showers and high winds across much of the country.
Weather expert Abdullah Al-Misnad said snow in the Tabuk region would see the permanent snow line drop to 1,000 meters.
In January, thick snow blanketed the Aseer region, which is south of Saudi city of Mecca along the coast of the Red Sea.
The weather event was said to have been the first time in more than 50 years that snow had fallen there.
Elsewhere this week, in northern Jordan, 20 centimeters of snow fell while wintry showers also affected the capital, Amman.
There, severe weather conditions closed schools and universities and the COVID-19 vaccination programme was suspended.
Gale force winds also hit the region with Storm Joyce bringing gusts of more than 60mph (100kmh) to Jordan and Lebanon.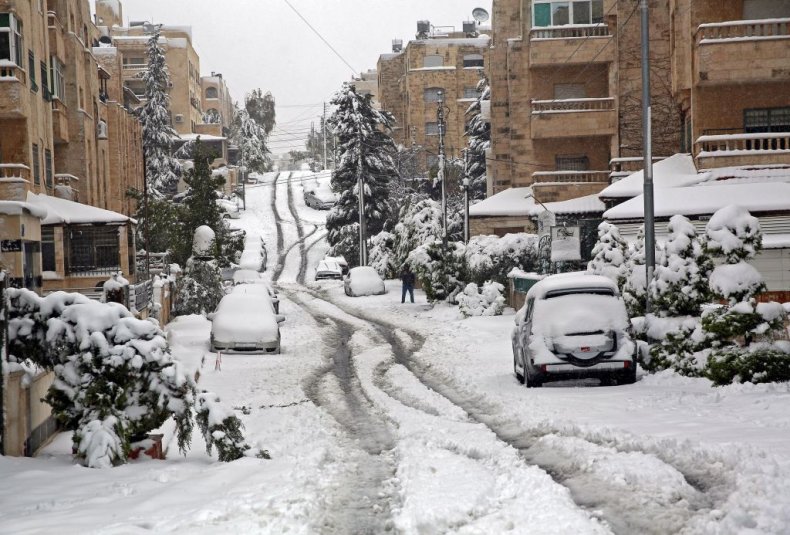 As much as 15 centimeters of snow fell in Syria while the capital Damascus had its first wintry showers of the year.
Neighbouring Israel also saw snowfall including in Jerusalem and the Golan Heights. On Wednesday night, Israeli police closed the main road linking Tel Aviv and Jerusalem due to snow.
Parts of Turkey and Iraq saw similar scenes while in Libya residents in the far northeast of the country took their children out to make snowmen and have snowball fights.
Parts of the region saw significant snowfall last month, including the Algerian Sahara desert where temperatures dropped below freezing and sand dunes were dusted with snow.
The town of Ain Sefra experienced snow for only the fourth time in more than four decades.
It comes as parts of Texas were hit with heavy snowfall after the state was hit by an unprecedented winter storm.
Pictures and videos shared on Twitter show cities like Houston, Austin, Dallas, San Antonio, El Paso and Del Rio covered in a blanket of snow.