Parents of Late Disney Star Cameron Boyce Are on a Mission to End Epilepsy
Described as "sunshine in shoes," Disney star Cameron Boyce's life came to a sudden end in 2019 and his parents want to make sure it does not happen to anyone else.
The 20-year-old who starred in Disney Channel shows such as, Descendants and Jessie, died in his sleep from an epileptic seizure known as SUDEP (Sudden Unexpected Death in Epilepsy).
It's called this because it tends to happen in a person who was otherwise considered healthy, as was the case for Boyce, who according to his dad Victor, "never let his epilepsy affect his life," especially his singing and acting career as he prepared for his ascent in Hollywood.
About 1 in 1,000 people with epilepsy die from SUDEP every year in the U.S. and it is the leading cause of death in people with uncontrolled seizures.
It takes more more lives every year than sudden infant death syndrome (SIDS), according to the Epilepsy Foundation.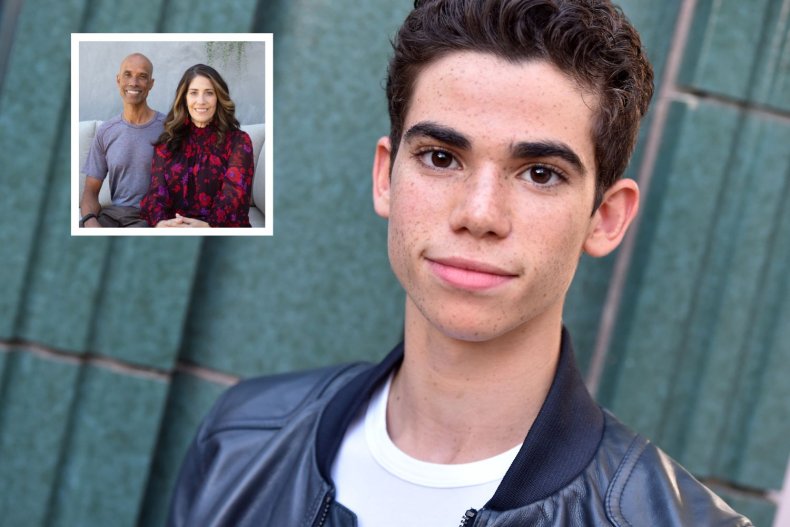 Victor and his wife Libby described the "excruciating" pain of losing their beloved son whom they described as the "rock" of his family and friendship circle.
They also detailed how shocking it was when Boyce developed epilepsy at age 16, and until his death had only experienced about "five or six seizures."
"From zero to 16 he was perfectly normal. He got into child acting young. He was doing print ads and TV commercials and he grew into a teenager," Victor explains.
Then one morning after a sleepover, one of Boyce's friends ran into their room to tell them, "Cameron is spitting up blood and it looks bad."
The parents jumped into action doing everything they thought was right, including giving their son water to drink but it wasn't until he got to hospital that the doctors told them he'd had an epileptic seizure.
"We were surprised to say the least. We didn't understand why he had a seizure. We didn't know anything about epilepsy at that point," Victor explains, adding, "it changed our lives."
"We got to the hospital. They told us a couple of things, they explained he had a seizure ... and gave us a little pamphlet and sent us on our way." That moment would go on to seal Boyce's fate, according to Victor and Libby, who felt underinformed for the rest of their son's life, especially as he continued to have sporadic seizures.
"We had no idea how it could affect him and we had no idea it could kill him. We're still shocked more than three years later," Victor says.
They wished they had been better "armed with the tools to help him more," and there could have been many things they could have done as a family to help prevent his death.
"There's so many things they didn't tell that we found out after the fact," Libby explains.
Their feeling of powerlessness and a need to honor Boyce's memory was a major "catalyst" for the parents who decided to start a foundation to raise money for epilepsy research and awareness of the condition.
Called The Cameron Boyce Foundation, Victor and Libby established it so that epilepsy could have a "face" and knowing their son would want to help others.
"Cameron was very involved in his community ... he was all about giving back because he knew he had a platform to do that," Victor explains, adding his son was anti-violence, involved in programs to get clean water to communities that needed it, and was "all about getting young people of color into the arts."
"Our initial response to his death was like, 'we can't just let all his programs stop.' As we were fumbling trying to start that up we realized we should focus on what took our son's life."
The couple has not stopped since setting up the foundation and has raised more than $1 million for epilepsy research and other issues Boyce was passionate about.
Some of the foundation's successes include launching the Now What? campaign.
The online platform provides next steps for people diagnosed with epilepsy, information about treatment centers, and also features a support group for those with epilepsy. They also aim to destigmatize the disease by encouraging people to share their stories of using the #epilepsystrong hashtag.
"In science, we just don't know what causes epilepsy, and this is why we think it has a stigma. It's very mysterious. People used to think people were possessed or it was which craft, or craziness like that," Libby says, adding that "a lot of good research" was now happening on the disease.
Much like their late son, Victor and Libby are daring to dream big and hope the money they raise will find a cure for epilepsy.
"The goal is staggering because it has to be," Victor says, adding "young people are getting snatched left and right, especially young men."
"Otherwise healthy individuals are just dying in their sleep."
The grieving parents hope others will heed their call and donate to The Cameron Boyce Foundation so that no one else has to go through the pain they suffered.