Camila Cabello Was Offered 'Nip Covers' Ahead of Her Live TV Wardrobe Malfunction
Camila Cabello is certainly reflecting on her mistake, but still managing to see the funny side after accidentally flashing her breast on live television.
The singer has responded to the incident, which occurred while she was appearing remotely on the U.K. television's The One Show to promote her new song, "Bam Bam."
After she stood up to showcase her favourite dance move from the song, she accidentally exposed a nipple.
Laughing off the incident on her TikTok account, Cabello wrote that she was even offered "nip covers" by her stylist, but she said no.
The One Show's presenters and a fellow guest reacted to the mishap in the moment and Cabello became a trending topic on social media.
How Camila Cabello Reacted
Cabello's accident happened during the early evening on British television, and the "Havana" singer addressed the issue later on Monday night on her TikTok account.
She posted a video lip-syncing to the song "Time Machine" by Muni Long.
She mouthed the lyrics, "I wish I had a time machine," and on the bottom part of the video, she wrote the caption, "when my stylist asked me if I wanted nip covers and I said no."
Proving that she's already laughing off the incident, she commented on the TikTok video, "Least they're cute tho."
Her TikTok reaction has already gained over 12 million views, over 1.2 million likes, and over five and a half thousand comments. Her cheeky comment alone received over seventy three thousand likes.
During the segment on The One Show when Cabello's nipple was briefly exposed, she joked, "I just flashed you, I hope you didn't see nipple."
British comedian Alan Carr, who was an in-guest studio, could be heard laughing and then said, "Cyber-flashing. I've been a victim of cyber-flashing," which was ironic as The One Show had just presented an item on it.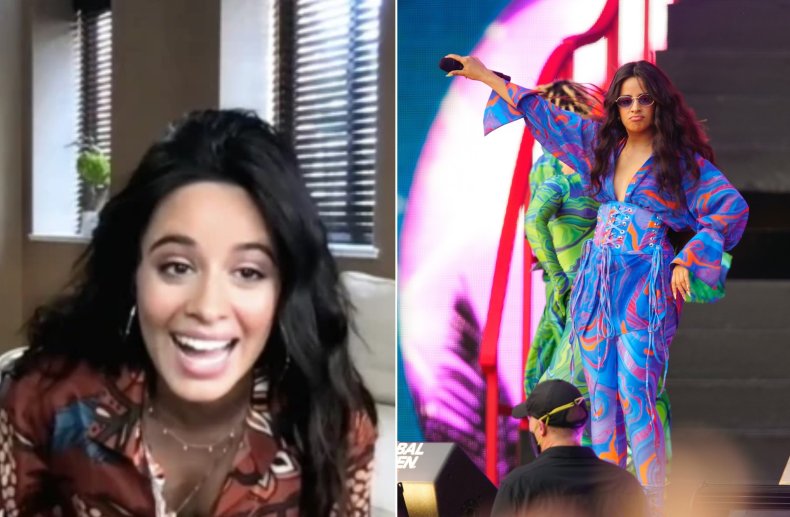 Social Media Reaction to Camila Cabello
The Twitterverse was in shock after the incident, with people rushing to share their reactions online.
Many viewers called the moment "iconic" while others praised Cabello's reaction for carrying on with the interview, and for her perseverance to continue her dance despite briefly exposing herself.
Twitter user @YoJonez wrote, "Camila Cabello flashing a boob on and laughing it off is truly iconic," while @Conormckenna101 and @Sarah_EmilyP also called the moment "iconic."
Some compared it to a "Janet Jackson moment" referencing her Super Bowl halftime performance in 2004, while others like @JakJackman commented on how she "handled it like a pro!"
Cabello's new song "Bam Bam" featuring Ed Sheeran is also out now. The official music video premiered on March 4.