Camila Cabello paid Taylor Swift a high compliment recently in a new interview.
In a short clip posted Thursday to Twitter by the streaming service Deezer, an off-screen interviewer asks Cabello who wrote the soundtrack to her life. After a brief pause, she nods, seemingly sure in her answer: Taylor Swift.
It's not the first time she's been asked the question. In a 2018 interview with Tiger Beat, she revealed five songs that "shaped her life," and, of course, Swift was on that list. She listed "Hey Stephen" as her No. 3 song, describing it as her "go-to crush anthem" as a teen.
Other songs in her list include "Wake Me Up" by Ed Sheeran, with whom she recently collaborated on her single "Bam Bam"; "Damaged" by Danity Kane; Michael Jackson's "The Way You Make Me Feel" and her own "Never Be the Same."
Cabello has never been shy about her love for Swift's music. In a 2019 Instagram post, she said Swift's music was "the soundtrack to so many moments across my life."
"You have always been my biggest inspiration on my own journey in music as a writer and artist!" she continued, alongside a clip from her performance with Swift and Halsey at the American Music Awards. Swift was being honored that year as Artist of the Decade.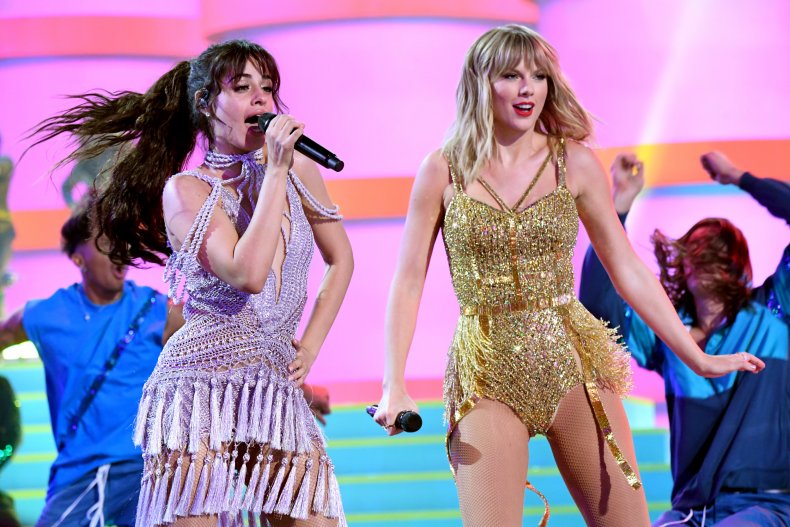 The year prior, Cabello excitedly tweeted about Swift's then-upcoming tour to promote the Reputation album, wondering what songs from earlier in Swift's catalog she would play.
The feeling appears to be mutual, as Swift and Cabello became friends via their mutual friend, Austin Mahone. Cabello also supported Swift on some dates on the Reputation tour.
"Taylor is always the person that I go to for boy advice," Cabello told Seventeen magazine in 2017. "The reason we became friends was purely because we think the same way about a lot of things: We're both really sensitive and emotional when it comes to love. We love love, and we love writing songs about love."
Swift once praised Cabello in an essay she wrote for Elle magazine's U.K. edition.
"In modern pop, songs/bops/chunes including extremely personal details like 'Kiki, do you love me' and 'Baby pull me closer in the backseat of your rover' have been breaking through on the most global cultural level. This year on tour, I got to hear stadium crowds passionately sing along to a young woman from Cuba singing about 'Havana'," Swift wrote.
Newsweek reached out to Deezer and Taylor Swift's representatives for comment.