Camille Vasquez's Comments Clarified After Calling Johnny Depp an 'Abuser'
A clip of Johnny Depp's lawyer Camille Vasquez calling Johnny Depp an "abuser" in court went viral this week but a source close to Vasquez said she did not mean to use that word.
The source has confirmed to Newsweek that Vasquez had meant to say "abuse victim."
Vasquez was one of the lawyers that represented Depp in his legal proceedings against his ex-wife Amber Heard which saw a jury award the actor $10 million in compensatory damages, as well as $5 million in punitive damages. The punitive damage award was later lowered to $350,000 under a Virginia law that caps punitive damages.
The attorney emerged as a celebrity in her own right during the trial and was lauded for her performance in the courtroom.
The slip of the tongue came during Vasquez's closing arguments to the jury in court on May 27, 2022.
In her closing statement, Vasquez said: "Amber never thought she would have to face her abuser."
The clip went viral on Twitter this week after user @k4mil1aa highlighted moments from the televised trial that appear unflattering to the actor and his legal team.
Vasquez mistakenly used the word "abuser" when referring to Depp. A clip posted this week with the caption "Johnny's girlboss lawyer has a Freudian slip and calls him an abuser" has now amassed more than 308,000 views on Twitter.
The viral thread highlighting some Depp moments in court comes a week after more than 6,000 pages of pre-trial documents were unsealed, with legal experts agreeing that they did not present the actor in a favorable light.
Some of the findings in the documents include accusations of photo editing on Depp's part, claims that he suffers from erectile dysfunction that would lead to him becoming violent and claims that Depp attempted to use Heard's stint as a stripper against her in court.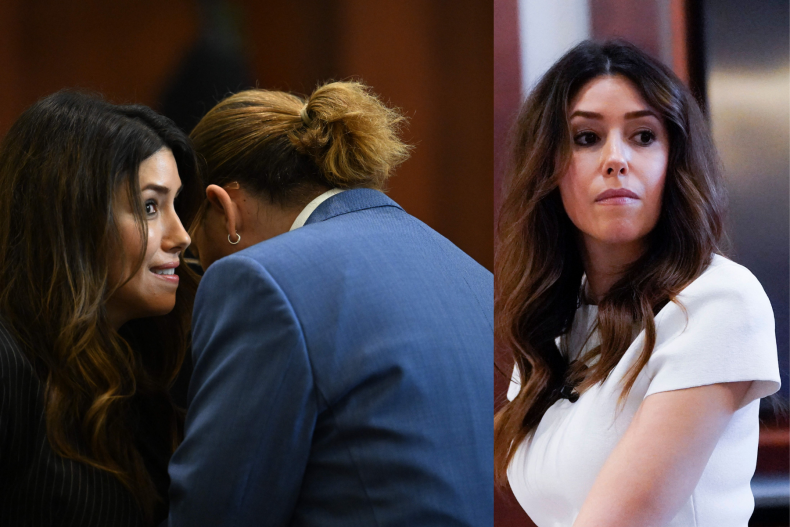 Meanwhile, several celebrities appear to have withdrawn their likes from Depp's post-trial statement on Instagram.
Last week, some legal experts told Newsweek that fans may have inadvertently damaged the actor's reputation by paying to have pre-trial documents unsealed, a lawyer has said.
"I believe the unsealed court records released over the weekend damaged Johnny Depp more as it appears that certain, unsealed court records dealt primarily with irrelevant information regarding Heard, which juries can sometimes resent as a form of victim shaming," Frank Salzano, entertainment attorney at New York City-based Salzano Lampert & Wilson LLP, told Newsweek.
While Seattle-based attorney Kirk Davis added: "If the fans thought unsealing the records was going to significantly help Depp, they were certainly mistaken."
Newsweek has reached out to Depp's representatives for comment.