With Campus Reporting Systems in Question, Who to Turn to After a Sexual Assault?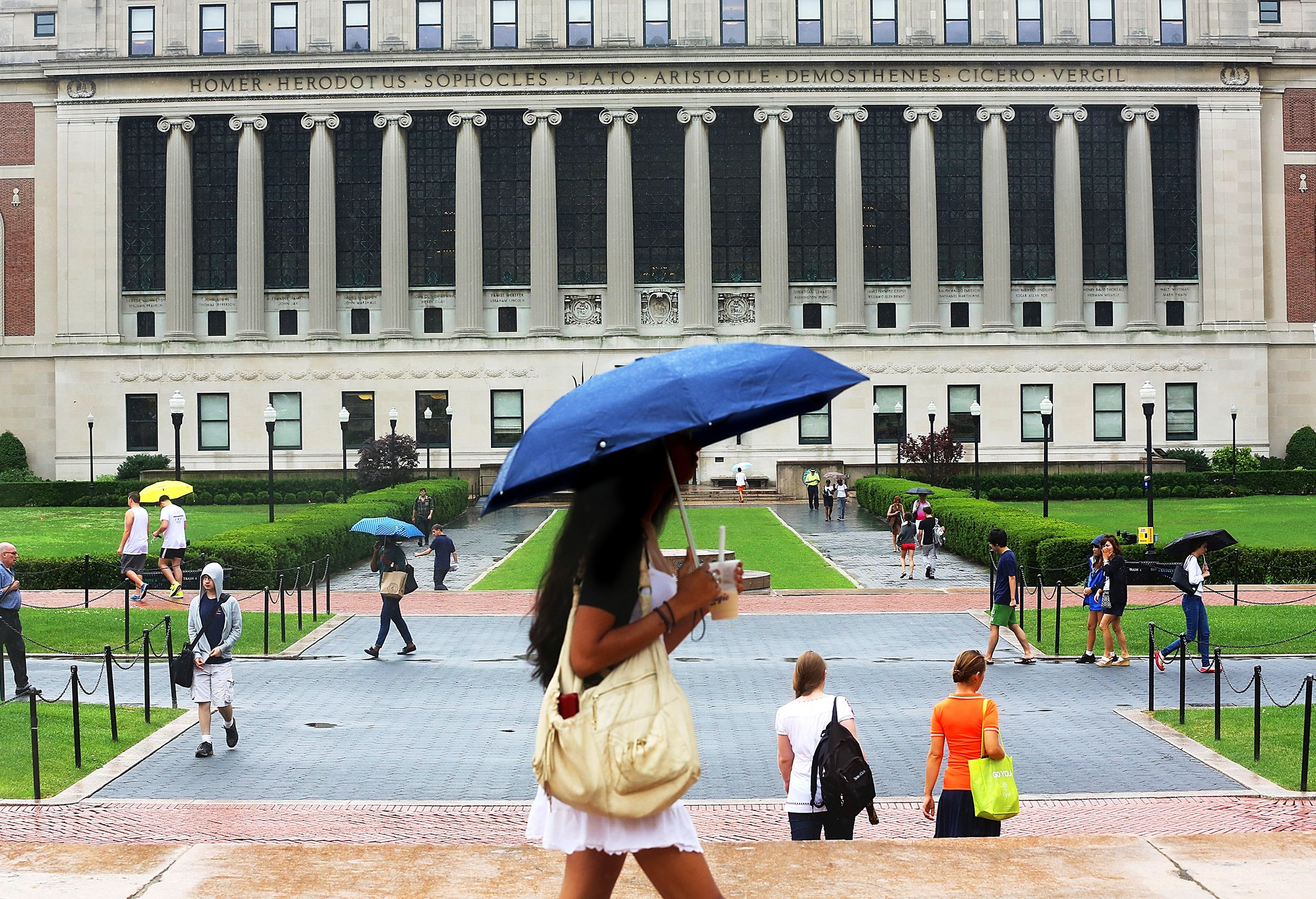 Last week the Obama administration revealed that 55 colleges and universities are under federal investigation for mishandling reported sexual assault cases. Tufts University, meanwhile, has been found to have been in violation of the gender equity law Title IX, and Columbia is facing similar allegations in a massive federal complaint.
College authorities, in other words, are now being asked to answer for the myriad ways they've botched reports of sexual violence on their campuses.
Their students are facing a concern of their own: How—or to whom—should they report a sexual assault after their institution has been accused of failing dozens of previous survivors in favor of the school's public image?
There is no simple or universal answer to this question, experts and activists emphasize. All depends on the particular circumstances of the assault and on what the survivor wants, or needs, after the fact.
At Columbia, No Red Tape, an outspoken student group that describes its mission as "fighting sexual violence and rape culture," is at work on a resource guide for survivors who want to report following the complaint by 23 students. In the meantime, the group's members have been guiding individual survivors through the reporting process.
"The first reason it's complicated is that every survivor needs something different," said Zoe Ridolfi-Starr, a student and member of the group. "Healing and justice look different for different people."
If the goal is to see the perpetrator arrested, for instance, "then they have to report to the police," she said. But that requires telling, and retelling, the circumstances of one's rape, an activity that might easily re-traumatize the survivor.
Some individuals may simply want to go home and go to sleep, Ridolfi-Starr said. "But three months from then, they may want to report. And if you don't go get a forensic exam, it's significantly harder to pursue a court case."
Ridolfi-Starr, a junior, has become a leading activist voice at the New York Ivy League college. Early last month, she spoke on the topic at a press conference with U.S. Senator Kirsten Gillibrand. Several weeks later, she became a lead complainant, accusing Columbia of mishandling more than a dozen assault cases and retaliating against survivors.
Those allegations, coupled with the 55 federal investigations in progress, illustrate a pervasive concern in academia—that colleges are prioritizing their reputations over the physical or emotional safety of their students.
That's the view of Claire Potter, a professor of history at the New School for Public Engagement and a blogger for The Chronicle of Higher Education. Potter taught for 20 years at Wesleyan University, a school that in recent semesters has faced two high-profile rape lawsuits, the first of which she says partly prompted her exit from the institution. (Disclosure: The author of this story studied with Potter in several courses before her departure.) In an August blog post, Potter disputes the "lie" that universities will help those who have experienced sexual assault:
Repeat: if raped, the college is not your friend, and every administrator you meet is tasked with protecting the college from a lawsuit. Their procedures are intended to sweep what happened under the rug make this bad thing go away, contain the damage, and eliminate as much evidence as possible that might be used to prove them liable. They also know perfectly well that their crappy procedures run the risk of doing great harm to the reputations of young men who have been accused of rape, so they trend towards rituals of reconciliation, remorse and if necessary, removal.
The best advice, Potter writes, is to have a rape kit done—and quickly, since colleges know that "the longer a rape report is delayed, the more likely it is that the student's only option will be a university coverup campus disciplinary hearing."
"I think it's always a good idea to involve law enforcement," said Jen Marsh, vice president for victim services at the Rape, Abuse & Incest National Network (RAINN). "Reporting is a very personal decision. But if somebody wants to report a crime, they should do so in a legal manner."
Marsh also urges survivors to visit a local rape crisis center, where a trained expert can talk them through their options. Ridolfi-Starr echoed that suggestion, pointing out that such centers are confidential and don't have to balance the conflicting interests of university administrators.
But those reporting decisions won't necessarily preclude having to deal with campus authorities.
"If you report it to the police and get a restraining order, if your perpetrator was in your class, you would still have to interact with the university to make those changes materialize," Ridolfi-Starr said. "A survivor will still have to go to the university for changes that involve any kind of university system."
Those steps can be daunting—and fruitless. In April, in an anonymous account for The Harvard Crimson, a survivor described her unsuccessful efforts to have her rapist moved out of her residence house.
No surprise, then, that a majority of campus rapes go unreported.
Erik Campano, a Columbia grad student who was the victim of extensive sexual misconduct at a prior institution, says survivors should extensively educate themselves about how both local law enforcement and the institution have handled reports in the past before making a decision. There are advantages and disadvantages to each, he said, and many people will decide not to make a report.
"That's often the wisest choice [for some survivors]," Campano told Newsweek, "because reporting almost necessarily involves the risk of re-traumatizing the survivor in having to retell the story and possibly deal with a process that doesn't function to their benefit."
For a disturbingly large number of college students who experience assault, not reporting is the only option they can imagine. But Potter argues that this decision can put others at risk.
"A person who has been raped needs to understand that, like the bystander who walks away, to do nothing is to take an action that has consequences," Potter says in the same blog post. The perpetrator, for instance, is likely to rape again, free of consequences. Research suggests that nine out of 10 campus rapes are committed by repeat predators.
Which, ultimately, is another symptom of the status quo that campus activists are trying to take on—a system that values retroactive action over prevention and yet still can't keep college rapists from raping again.