Can Donald Trump Pardon Himself After Being Impeached a Second Time?
Donald Trump has become the first president to be impeached twice—but can he still pardon himself?
Since early on in his presidency, Trump has toyed with the idea of pardoning himself and his family. Speculation that he would do so has intensified in recent days after Democrats aided by a handful of Republicans successfully impeached him.
In his final weeks in office, Trump has issued a series of pardons and commutations to allies. Pundits believe that list could be expanded to include members of his immediate family—and even the president himself.
His daughter, Ivanka Trump, and her husband, senior adviser Jared Kushner, are said to be among the names being considered, according to Bloomberg News.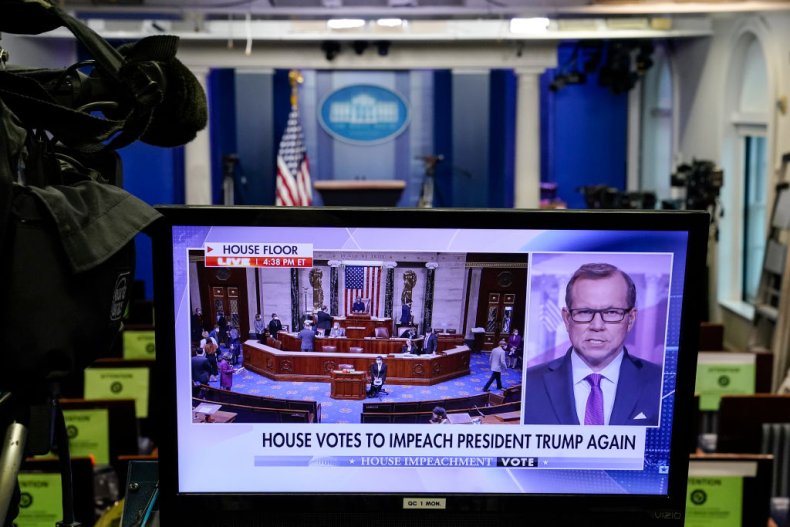 A president has the power to pardon someone even before they are charged, but that covers only federal crimes, so anyone pardoned could still face charges at a state level.
The prospect of Trump pardoning himself is even more fraught with risk because a president has never done so before and legal scholars are divided on whether it would be permissible.
Were Trump to pardon himself, any future federal charges against him could end up in the Supreme Court—which leans 6-3 in Trump's favor, including three judges who were appointed by him.
Brian Kalt, professor of law at Michigan State University, told Newsweek it was not "an open-and-shut question."
"My standard answer here is, 'Well, he can try.' If I were the judge, I would say no, but there have never been any cases and there are arguments on both sides," Kalt said.
Michael Gerhardt, professor of constitutional law of the University of North Carolina, who testified at Trump's 2019 impeachment, also said he did not believe the president could take this step.
"There is a division of opinion on whether a president can pardon himself, but slightly more think he cannot," he told Sky News.
Gerhardt said the precise wording of the constitution appeared to rule out the possibility.
"To grant, when the constitution was written, and now, means to give someone else the power to be pardoned—that doesn't mean to grant himself something," he said.
John Yoo, a former lawyer who worked at the Department of Justice during George W. Bush's administration, disagrees. He wrote in 2018: "President Trump can clearly pardon anyone—even himself."
There is another element of the constitution that scholars say may act as a roadblock to Trump self-pardoning.
Under Article II, Section 2, Clause 1, the president "shall have power to grant reprieves and pardons for offenses against the United States, except in cases of impeachment."
With Trump having been impeached twice, that clause becomes a vital part of the discussion. It is not clear, however, whether it applies only to a president who has been impeached by the House of Representatives and then convicted by the Senate—a fate Trump has until now avoided.
Mary Lawton, the acting assistant attorney general for the Office of Legal Counsel during the Watergate scandal, wrote in a 1974 memo that "under the fundamental rule that no one may be a judge in his own case, the president cannot pardon himself."
However, she went on to explain another route for a president to be pardoned: "If under the 25th Amendment the president declared that he was temporarily unable to perform the duties of the office, the vice-president would become acting president and as such could pardon the president.
"Thereafter the president could either resign or resume the duties of his office."
This would still be limited by the constitutional impediment to pardons in cases of impeachment.