U.S. Supreme Court: Justices question whether prayers at the 50-yard line were 'coercion" by high school coach
The U.S. Supreme Court took up one of its most significant cases on prayer in decades Monday in a clear test for how the court's new conservative majority may rule on prayer in public schools.
The case focused on whether a high school coach could openly pray after the end of a football game. Arguments included examples from elsewhere in the sports world, with mentions of former Denver Broncos football player Tim Tebow, known for kneeling on the field in prayer, and Egyptian soccer player Mohamed Salah, who kneels in a thanksgiving prayer to Allah after he scores a goal.
At issue is the First Amendment – whether its provisions guaranteeing the free exercise of religion and free speech give the coach the right to pray on the 50-yard line or whether its establishment clause – which prohibits the government from making any law "respecting an establishment of religion" – bars it.
Justices heard nearly two hours in arguments on Kennedy v. Bremerton School District, more than six years after Coach Joe Kennedy, now 52, was told he could not walk to the 50-yard line after a game to drop to one knee and briefly pray. At issue is whether students felt coerced by such activity versus whether a coach has the right to do religious activity in full view of the students.
Former U.S. Solicitor General Paul Clement, who spoke first before the justices and represented the coach, said the Bremerton School District, which is just west of Seattle, was "retaliating" against the coach's protected speech. When Justice Sonia Sotomayor asked whether protected speech included – hypothetically – flashing a Nazi sign, Clement responded that the latter action was not religious in nature.
Much of the arguments in the case concerned how the coach prayed on the 50-yard-line of the school football field for six years with no complaints from anyone versus the reaction of students, parents and the media after the district told the coach on Sept. 17, 2015, to stop his prayers.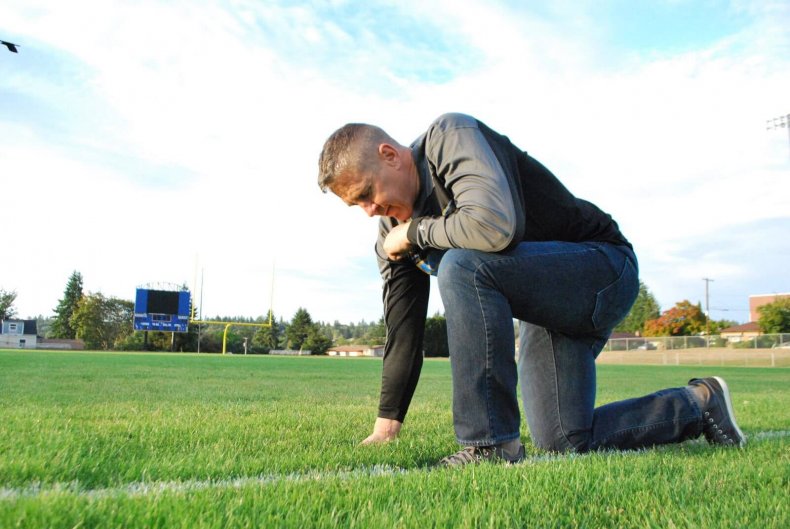 "One of my problems in this case," noted Justice Stephen Breyer, "is that the parties seem to have different views of the facts."
The facts seemed confusing enough that Justice Samuel Alito, addressing Richard Katskee, the lawyer for the district, tried to set them out clearly.
"A football game ends," said Alito. "The coach is not required at that point to go to the locker room with his students. It's not part of his duties at that time. He is allowed to remain on the field for a period of time. He is allowed to walk onto the field. He does that by himself. He goes to the 50-yard line. He kneels down and he prays. He doesn't invite anybody to go with him, but he also doesn't tell people who are also permitted on the field to go away. And all of this is visible to people in the stands. Is that a violation of the - can he be fired for engaging in those activities?"
"Well, your honor," Katskee replied, " it's necessary to start with the question whether that's government speech. And it would seem, given the facts that you gave, Justice Alito, not to be government speech."
But he added that the district should be able to "script" what happens on school property, even regarding a part-time coach such as Kennedy.
"The question is whether he is acting as a school official or not," Katskee said.
Alito and other justices wondered whether the district would have taken similar action had the coach walked to the 50 yard line and whipped out a Ukrainian flag or spoken about racial discrimination.
Justice Clarence Thomas addressed the latter more directly.
"If the coach, instead of taking a knee for prayer, took a knee during the National Anthem because of moral opposition to racism, how would your school district respond?" he asked Katskee.
"If the coach goes to the center of the field in front of everyone, that is government speech," Katskee responded. "But on Mr. Kennedy's theory, it's private speech."
"How is that government speech?" Thomas asked.
"That has to entail the manner, the time and the place of the speech, and how reasonable observers would see it - whether they would view it as a speech by a government employee," Katskee said.
"But what if the school district, as it did here, objected to the conduct taking place?" the justice asked "How would that be government speech?"
Anything said or done during a football game by a school employee would qualify as thus, said Katskee. What must be recognized, he added, is "that school districts and other governmental entities have to be able to control their programs, and when they hire someone to run that program, they have to make sure that it is their message that is being communicated."
There was also discussion as to whether students felt coerced into joining the coach in his post-game prayers.
"The idea is why the school can discipline him is that that puts a kind of undue pressure, a kind of coercion to participate in religious activities when they may not wish to, when their religion is different or when they have no religion, is that correct?" Justice Elena Kagan asked Clement.
"I think it's quite simpler than that, quite frankly," the lawyer replied.
Previous cases, the justice added, aren't getting "to the heart of what we care about, what our cases have long cared about in thinking about these questions, which is coercion on the students and having the students feel religious activities that they do not wish to join, that their parents do not wish them to join."
And so if a coach is having a prayer time, albeit even a private one midfield, she said, such activity sends a message that students must join in.
"We're worried that the students will feel he gets to put me into a football game or not ...and this kind of coercion - that's improper for 16-year-olds."
Students hadn't felt forced at all to join the coach in post-game prayer, Clement told her and other justices. "There is no evidence of coercion in this record," he said. "My client has waited for 6 years to get his job back."
The school district's defense made much of the press coverage and unwanted attention that the coach's case had drawn to the tiny school district, but Chief Justice John Roberts suggested such details were secondary.
"If nobody had complained, if there was no press conferences, there was no dispute, would your position be the same, or would it be different?" he asked Katskee.
"If, for instance, the coach is kneeling on the sideline or if the coach is going to that place in the center of the field when the students are heading back to the locker room or the bus - like he did for a month after the district's September 17 letter - then that wouldn't be reasonably perceived as government speech, and the district wouldn't have substantial interests in regulating it," Katskee said.
The issue of student coercion is a real one, said Alan J. Reinach, executive director and general counsel for Church State Council, a religious freedom group affiliated with the Seventh-day Adventists.
"Kids are not going to speak up about coercion," he said. "The fact that kids either went along with [Kennedy's prayers] or never said anything about it reflects that the [local] culture is predominantly favorable to his religious persuasion. Plenty of kids saw no problem with participating with his prayer and those who did kept their mouths shut."
In his opinion, Kennedy "is making a real show of this conflict. If the court rubber-stamps it, that is a bad thing. If I were on the school board, I would have fired him for insubordination."
Notre Dame Law School Professor Richard W. Garnett, who oversaw the filing of an amicus brief in support of Kennedy, said he hopes the justices clear up the current judicial confusion over what constitutes an "establishment" of religion in public schools.
"Did the district violate Coach Kennedy's First Amendment rights?" he asked. "I think a majority of the justices will say yes." But it's unclear, he added, as to which religious activities - such as wearing ashes on one's forehead during Ash Wednesday - are allowed and which - praying on the 50-yard line - are not.
"Case law is messy on this topic," he said. "The courts need to give guidance to lower courts and government officials .They haven't given a clear reason as to why ashes are fine but after-game prayer is problematic. The court has not been helpful in indicating which establishments [of religion] to avoid.
"Because the court's rules are uncertain, school districts don't want to get sued. If the rules are unclear, the districts feel vulnerable to lawsuits and they may overcompensate."
The court is expected to give its judgment on the case by the end of June.
Kennedy, a retired Marine Corps veteran, began work in 2008 at Bremerton High School as an assistant coach for the high school varsity team and head coach for the junior varsity team.
He was not a particularly religious man, until he watched "Facing the Giants," a Christian family movie about how a coach turns around a losing high school football team after resolving to trust God. Kennedy says he vowed to God that he would give thanks, at the close of each game, by dropping to one knee at the 50-yard line.
For six seasons, no one seemed to mind or notice. Some of his players would join him and those players would invite members and coaches of opposing teams. As the years went on, Kennedy added short motivational speeches laced with religious references. After the school district got wind of the prayers at the start of the fall 2015 high school football season, it told Kennedy he could not pray publicly after games.
Kennedy acquiesced briefly, then – after getting legal representation - resumed the prayers at an Oct. 16 game, an act that drew a crowd of supporters and a bevy of media. He continued to do so for two more games until the district put him on paid administrative leave.
The head football coach, Nathan Gillam, recommended Kennedy not be rehired, then turned in his own resignation, claiming the controversy caused him to fear for his safety. Kennedy did not apply for the 2016 season, instead suing the district the following August. He became a national celebrity among religious groups, and two Republican presidential candidates: Donald Trump and Ben Carson, defended him.
As the case dragged on for seven years, Kennedy and his wife, Denise, moved to Pensacola, Florida, in 2020 to be near her father after a cancer diagnosis. If the job were restored, he would move back to Bremerton "as soon as a plane could take me there," he says.