Can Joe Biden's Student Loan Forgiveness Be Stopped by Republicans?
Republicans in Congress may struggle to prevent President Joe Biden from canceling federal student loan debt if Democrats are correct that he can do so through executive action.
Biden is reportedly considering taking action on student loan debt "soon," according to California Democratic Representative Tony Cardenas, who met Biden along with six other members of the Congressional Hispanic Caucus on Monday.
Cardenas said in an interview on Wednesday that he had asked Biden about canceling up to $10,000 of debt per student borrower, noting that the caucus believes Biden can take that step using his executive authority.
"He said, 'Yes, I'm exploring doing something on that front,'" Cardenas said. "And he also smiled and said, 'You're going to like what I do on that as well."
Some Democrats, including Senate Majority Leader Chuck Schumer and Senator Elizabeth Warren have urged Biden to cancel up to $50,000 in student loan debt per borrower through executive action and have argued he has the power to do so.
However, Biden has previously expressed skepticism that he has the necessary authority to cancel that amount of debt. He promised during the 2020 election to eliminate up to $10,000 in federal student loan debt per borrower.
In April 2021, Biden asked the Department of Education to prepare a memo on his legal authority over debt forgiveness and despite many Democrats seeking the release of the memo, it has not yet been made public.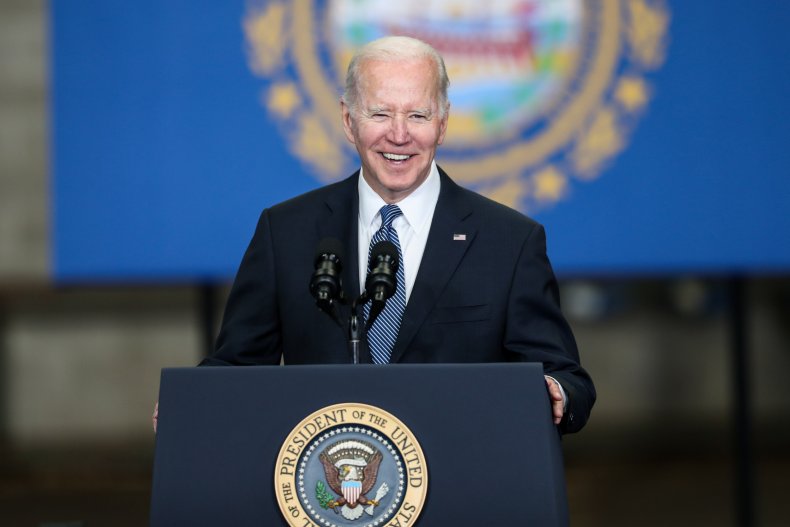 Despite lingering questions about Biden's legal authority, five Republican senators introduced a bill on Wednesday that would restrict the president's ability to cancel student debt.
Senate Minority Whip John Thune joined Senators Richard Burr, Mike Braun, Bill Cassidy and Roger Marshall in introducing what they described as a "common-sense bill" that would prevent the president and secretary of education from suspending or deferring federal student loan payments for borrowers with annual household incomes over 400 percent of the poverty line.
That measure could potentially exclude a majority of U.S. households as 62.3 percent of households had an annual income of at least $50,000 in 2020.
Figures from the Department of Health and Human Services (HHS) annual poverty guidelines for 2022 show that the poverty line for a one-person household in the 48 contiguous states and D.C. was an annual income of $13,590.
At that level, 400 percent over the poverty line would be an individual annual income of $54,360.
The graph below, provided by Statista, shows how many people student loan forgiveness could reach.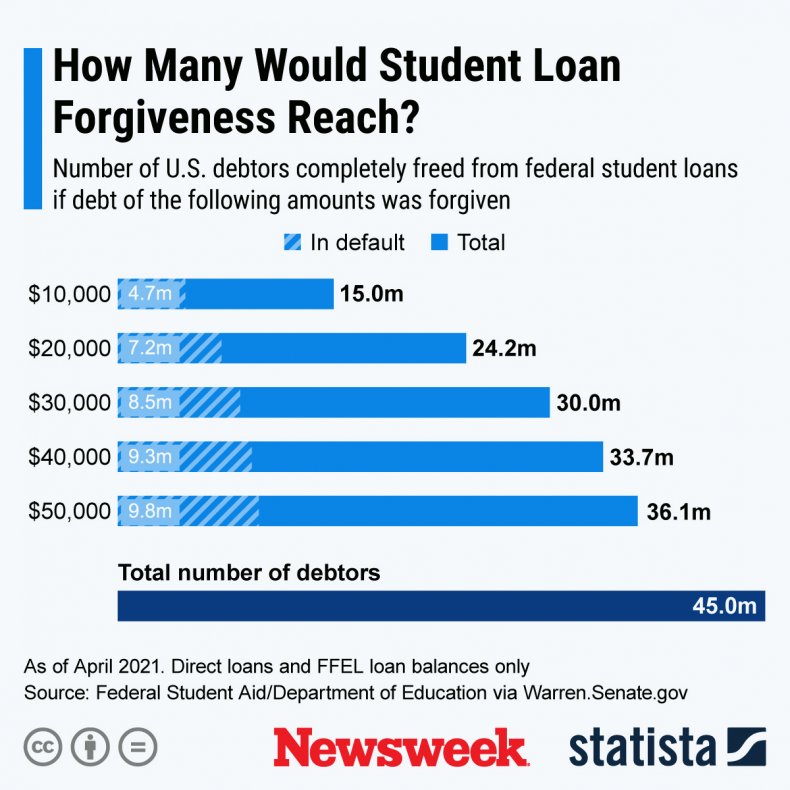 However, as Democrats currently control both the House of Representatives and the Senate, the bill would appear doomed to fail and Biden may take action on debt forgiveness before the November midterm elections.
If the Biden administration concludes that the president has the necessary authority to cancel student loan debt, there may be little Republicans can do to stop him, though the matter could end up before the courts.
The current moratorium on student debt repayments expires on August 31 but it is not clear if Biden will take action by that date. Cardenas said on Wednesday that Biden had suggested the moratorium could be extended beyond August 31.
Newsweek has reached out to the White House for comment.