Joe Biden Says Student Loan Forgiveness Coming 'Soon'—Tony Cardenas
President Joe Biden has indicated that he may take action to cancel up to $10,000 of student debt per borrower "soon" in a meeting with Democratic Representative Tony Cardenas.
Canceling some student debt could provide Democrats with a boost in the upcoming midterm elections where the party is facing potential defeat. Republicans have come out strongly against student loan forgiveness.
Cardenas, who represents California's 29th congressional district, said in an interview on Wednesday that Biden had told him during a meeting on Monday that steps on student loan forgiveness could be coming in the near future.
The congressman asked Biden about extending the current moratorium on student loan repayments, which is due to end on August 31, according to the Associated Press (AP).
"He immediately smiled and said, "I've extended in the past, and you're going to like what I do next,'" Cardenas said. "So I said, 'Okay, wonderful. Next question.'"
Cardenas then asked about debt forgiveness of $10,000 per borrower. Similar measures have been pushed by many Democrats in Congress.
"He said, 'Yes, I'm exploring doing something on that front,'" Cardenas said. "And he also smiled and said, "You're going to like what I do on that as well.'"
While Cardenas said Biden did not offer specifics, he said the president indicated he would act "soon."
"I got the strong feeling, and so did my colleagues, that he enjoyed answering those questions with his body language, with his words, with the smile on his face, and encouraging us that we're going to like what he's going to do," Cardenas said.
The president made the remarks during a meeting with seven members of the Congressional Hispanic Caucus. Cardenas also told MSNBC on Wednesday about his meeting with Biden and the president's answers to his questions about student loan forgiveness.
Some Democrats, including Senate Majority Leader Chuck Schumer (D-NY) and Senator Elizabeth Warren (D-MA), have previously urged Biden to cancel up to $50,000 in student loan debt per borrower through executive action.
The graph below, provided by Statista, shows how many people student loan forgiveness could reach.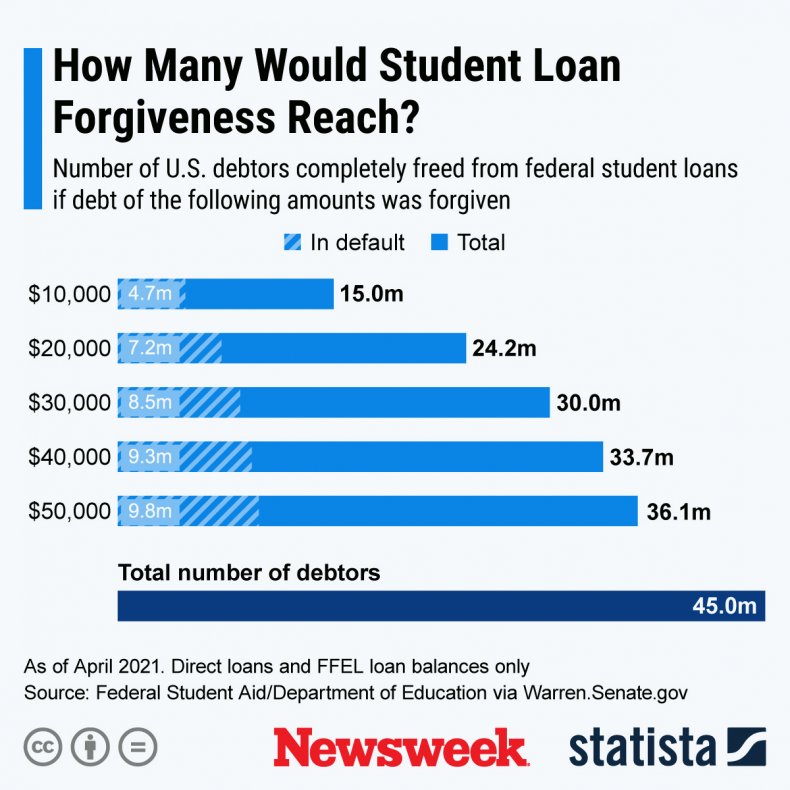 However, the president has expressed skepticism that he has the power to do so and a memo on the issue that the administration asked the Department of Education to prepare in April last year has still not been released.
On April 19 this year, the Department of Education announced that it would take steps to address "historical failures in the administration of the federal student loan programs," that would result in the "immediate debt cancellation for at least 40,000 borrowers under the Public Service Loan Forgiveness (PSLF) Program."
White House Press Secretary Jen Psaki was asked about the potential cancellation of student loan debt at a press briefing on Monday.
"What I would tell you is that not a single person in this country has paid a dime on student—federal student loans since the president took office," Psaki said.
"And what we have said is that he would make a decision about any cancellation of student debt before the conclusion of that pause on student loans, but I don't have anything to preview for you at this point in time," she said.
During an appearance on the Pod Save America podcast on April 15, Psaki said Biden canceling student debt through executive action was "still on the table."
Newsweek has asked the White House for comment.
Update 04/28/22 8.10a.m. E.T.: This article has been updated to include more information.