Can Trump Win? New Electoral College Forecast Puts Biden Clear on 279 Votes
Joe Biden is projected to lead with 279 electoral college votes to President Donald Trump's 163, with 96 votes still a toss-up, according to a new CBS News/YouGov poll of battleground states.
The poll showed that 52 percent of likely voters would cast a ballot for Biden, while 42 percent would vote for Trump.
In Wisconsin, where protests are ongoing since the shooting of Jacob Blake in August, Biden polled at 50 percent while Trump polled at 44 percent.
Arizona, Ohio, Iowa, North Carolina, Georgia and Florida—accounting for 95 electoral college votes in total—are the states which are a toss-up if the election was held today. In the 2016 election, all five states' electoral votes went to Trump.
The poll surveyed 2,493 registered voters nationwide and 1,006 registered voters in Wisconsin between September 2 and September 4. The margin of error for national registered voters was 2.4 points, and for Wisconsin, it was 3.7 points.
In the U.S. election system, each state has a number of electors—equal to the total number of representatives the state has in the Senate and the House of Representatives—for a total of 538. In all but two states, Maine and Nebraska, when voters cast their ballot for a candidate, the candidate with the most votes will get that state's entire electoral college votes.
A majority of at least 270 electoral college votes are needed by a candidate to win the election. This means that Biden could win the election if it were held today, based on the above poll numbers.
Trump would need to secure the 163 electoral votes projected to go his way, plus the 96 toss-up votes (also usually called swing states), plus he would have to turn states currently polled to vote Democrat.
The president would need 11 more votes from a state or states which are currently leaning towards Biden, for example, Michigan or Pennsylvania, two states with 16 and 20 electoral college votes respectively which Trump won in 2016.
Protests around the country, not only in Wisconsin, have become a closely measured factor by some polls.
A recent ABC News/Ipsos survey found that 55 percent of Americans believe that the president's rhetoric is worsening unrest around the country, while another poll found that most prefer the Democratic nominee over Trump on issues of law and order and his ability to quell violence across the U.S.
The poll also asked registered voters who they believed would make them feel safer, with 48 percent saying Biden and 43 percent for Trump.
A contentious area for voters is the economy, with 45 percent saying the president would do a better job handling it, versus 44 percent for his Democratic rival in the CBS News/YouGov poll.
When it comes to handling the coronavirus situation in America, 50 percent believe Biden would do a better job than Trump, who received 38 percent.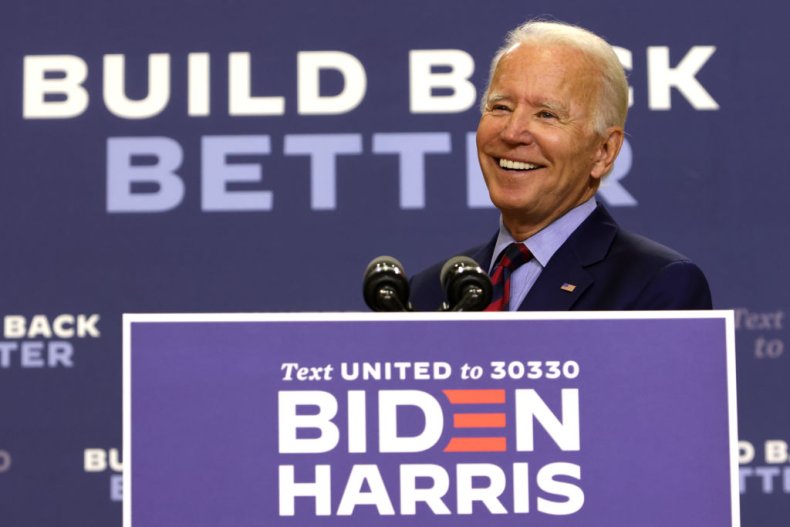 On Sunday, Treasury Secretary Steve Mnuchin defended the record U.S. deficit levels reached under the Trump administration, saying the COVID-19 pandemic requires as much funding as a "war."
The U.S. government budget deficit, the difference between what the government spends and what it brings in through taxes and other revenue streams, has been projected to reach $3.3 trillion, according to projections by the Congressional Budget Office.
"Before we got into COVID I thought the debt was very manageable," Mnuchin told Fox News Sunday. "This is like a war. In a war, you've got to spend whatever you need to spend."
According to the Johns Hopkins University coronavirus resource centre, some 188,941 people have died from the virus in the U.S. with 6,276,835 confirmed cases.