Canadian Sniper, an Afghanistan War Veteran, Leaves Family to Help Ukraine
A Canadian sniper left his computer programmer job, his wife and year-old son to cross the Ukrainian border at night and fight Russian invaders alongside other foreign volunteers.
The 40-year-old—identified only as "Wali" to protect his family's safety—is one of more than 20,000 foreign-born fighters who answered Ukrainian President Volodymyr Zelensky's call to fight Russia as part of Ukraine's International Legion of Territorial Defense, according to the Canadian Broadcasting Corporation (CBC).
"I know, it's just awful. But me, in my head, when I see the images of destruction in Ukraine, it is my son that I see, in danger and who is suffering," Wali told the French publication La Presse. "When I see a destroyed building, it is the person who owns it, who sees his pension fund go up in smoke, that I see."
Wali, who is capable of killing a person with a rifle from more than 2 miles away, served with the Royal Canadian Infantry's 22nd Regiment in Kandahar during the war in Afghanistan between 2009 and 2011, according to The Independent. He also volunteered to fight alongside Kurdish forces to combat the Islamic State militant group (ISIS) in Iraq in 2015.
When he left for Ukraine, the only combat equipment he had was a backpack, a gas mask, a ghillie suit (a camouflage suit typically used by snipers), binoculars and his combat jacket from Afghanistan, La Presse reported.
"I want to help [the Ukrainians]. It's as simple as that," he told the CBC. "I have to help because there are people here being bombarded just because they want to be European and not Russian."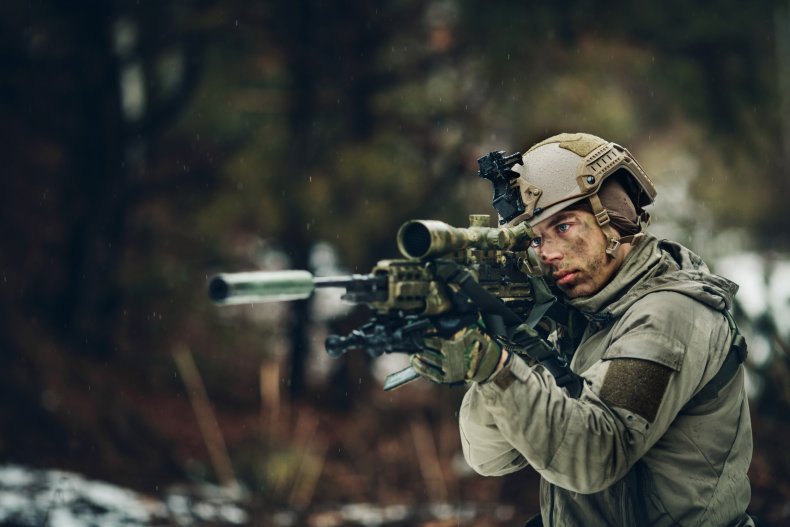 Wali took the trip with three other former Canadian soldiers. Crossing from Poland into Ukraine on March 2, they saw Ukrainian refugees already fleeing toward the border checkpoint, crowding inside of numerous buses and walking in the cold while bundled in winter clothes, he told the CBC.
Upon finally meeting the Ukrainian forces, they greeted his group with hugs, handshakes and Ukrainian flags. "They were so happy to have us," he told CBC. "It's like we were friends right away."
He soon sheltered with other British and Canadian veterans inside a renovated home. In the days that followed, he found himself grabbing anti-tank missiles in a warehouse, stocking up on oil and fuel to make Molotov cocktails and buying amateur drones to help with surveillance, La Presse reported.
He told the publication that Russia's unique style of warfare levels cities with extensive cannon and artillery fire before bringing in infantry ground troops. As such, he said he'd have to "brush up...on how to shoot down a chopper or a tank."
Wali said he's "not very keen on the idea of ​​shooting the Russians," according to The Guardian. As Christians and Europeans, he said he felt a "certain affinity" for Russians, adding, "I don't hate them."
He is one of more than 20,000 people from 52 countries who have volunteered to assist the country's foreign legion, according to Ukrainian Foreign Minister Dmytro Kuleba.
While the Canadian government has advised its citizens to avoid all travel to Ukraine, Canadian Foreign Minister Mélanie Joly said that her country's citizens may join Ukraine's forces as an "individual choice," the CBC reported.
Ukraine has offered its volunteer forces the chance to wear a Ukrainian uniform and secure citizenship. This helps ensure that volunteer soldiers are treated more humanely under the Geneva Conventions of war if captured by Russian forces, Tyler Wentzell, a doctoral candidate of law at the University of Toronto Faculty of Law who studied the foreign fighters and the legal responses to them, told the CBC.
Newsweek contacted the Ukrainian Embassy in Washington, D.C., for comment.
Update 3/11/22, 10:20 a.m. ET: This article was updated for the sake of clarity and the headline was updated to remove a quote from the Daily Mirror.