Canadian Truckers Leave Last U.S. Border Blockade, Crossing Reopens
On Wednesday, Canadian trucker protesters left the last U.S.-Canada border blockade, allowing the crossing to reopen.
The Royal Canadian Mounted Police in Manitoba tweeted Wednesday that the Emerson, Manitoba, U.S.-Canada border crossing has reopened. The RCMP also tweeted that it would stay in the area to ensure the border stays open.
The border crossing had been blockaded since February 10 by Canadian trucker protesters, a news release from the RCMP said. Protesters used trucks, farm equipment and other vehicles to block Highway 75, which is north of the Emerson Port of Entry. RCMP estimated that there were around 75 vehicles blocking the highway at the protest's peak and that nearly all border traffic was halted for six days, during which time traffic was diverted to alternate border crossings.
Some emergency vehicles, agriculture transports and other vital goods had been allowed to cross through after dialogue between authorities and the protesters, the RCMP added.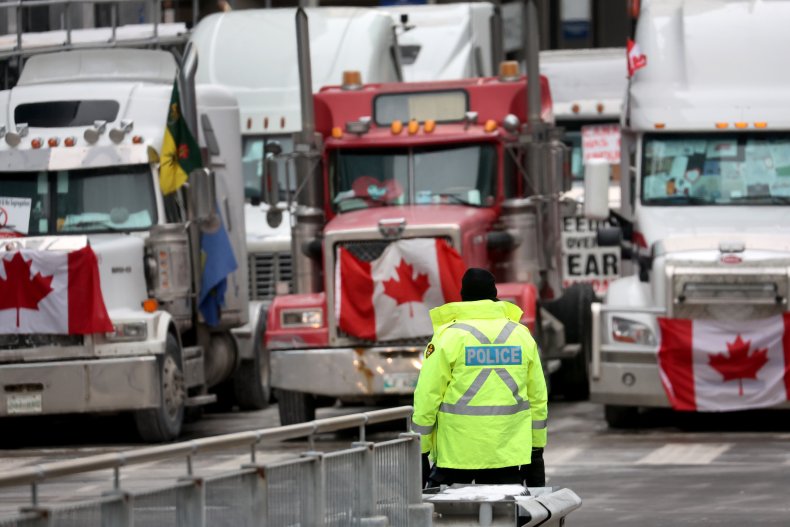 The protesters were part of the Freedom Convoy that originally protested against Canadian Prime Minister Justin Trudeau's requirement for truckers to quarantine if they were unvaccinated and crossing the border with the U.S. The protests eventually came to be against COVID restrictions in general, such as mask mandates.
The RCMP reached the resolution with the demonstrators at the border crossing on Tuesday, RCMP Chief Superintendent Rob Hill said in a statement.
"Throughout the past six days, our officers continued to use open communication, and a measured approach to find a peaceful resolution to this situation. This continuous dialogue between our officers and the demonstrators enabled us to reach a resolution yesterday," said Hill in a news release.
The border crossing is an important trade route between the U.S. and Canada, according to CBC News. Canadian Deputy Prime Minister Chrystia Freeland said Monday that $73 million in trade is affected each day the border remained closed at Emerson. A Manitoba provincial spokesperson told CBC that a total of $18.5 billion worth of trade moved through the border crossing in the first 10 months of 2020, the most recent data available. In all of 2019, $24.9 billion worth of trade crossed the border.
Another major border crossing, the Ambassador Bridge into Detroit, had also been blockaded for nearly a week. Newsweek previously reported that over a $1 billion was lost each day of the blockade.
That reopening did not happen quite as peacefully as the Emerson crossing, though. Canadian police ended the blockade on the Ambassador by making multiple arrests, and the vehicles parked at the demonstration were removed. It reopened Sunday.
Update 02/16/22 3:00 p.m. ET: This story was updated to include background information.